Posted on
Sat, Nov 14, 2009 : 6:19 p.m.
After lastest horror, Michigan football is down to one game to save its season
By Michael Rothstein
MADISON, Wis. - Rich Rodriguez headed to the Michigan bus, his head bouncing up and down, wearing the look of a man wounded, a man frustrated and a man, for the sixth straight time in the Big Ten, walking out of a stadium defeated.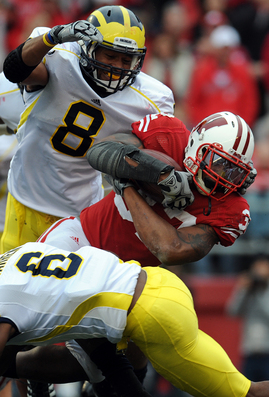 Melanie Maxwell | AnnArbor.com
A season that started with such promise in September is down to this.
One game. One rival. One season, and the hope of any progress whatsoever in the balance.
The way the Michigan football team played Saturday against Wisconsin proved that, again, the Wolverines have a long way to go after a 45-24 loss to the Badgers. It showed, again, that it can't handle adversity and that Michigan defense's most-known trademark is its tendency to fall apart in the second half.
But now, the Wolverines have no more gimmes, no more "next weeks." Saturday against Ohio State is it. It's the final chance to make that bowl game and show that they, in fact, can rise up from an abomination of a Big Ten season.
There's no other word for it at this point.
The players aren't improving, especially on defense. The same mistakes in coverage, especially defensively, remain. And the second halves are continuing in their abysmal nature for Michigan. Since the Delaware State game, Michigan has been outscored 99-19 in the second half. They've been outgained 1,122-598 - opponents almost doubling Michigan's output.
Yet there's this. Michigan, apparently, plans to try really, really hard this week to beat that rival, Ohio State.
"We've got one more week," linebacker Obi Ezeh said. "This will be the most committed I think a lot of guys have been all season. It's our last chance to get to a bowl and the last chance to send the seniors away with a better taste in their mouth."
Thing is, to do that Michigan will have to beat a team that has owned the Wolverines since 2003, a team that has been considered the class of the Big Ten over the last decade.
They'll have to beat Ohio State. They'll need to have that sort of rivalry-shifting moment that seem to come about once every 10, 15 years. They'll need to channel something within themselves.
Usually, you can see these kinds of things coming, these types of classic games or big upsets potentially shaping up. But do you really see anything close to that out of this Michigan team?
Right now, that's tough to believe, although the players and coaches started talking about it less than a half-hour after their latest drop into the depths of the Big Ten basement ended.
It's a place that seemed improbable when looking at Rodriguez' history as a head coach and offensive coordinator. It seemed unlikely after Michigan's play in September, which included a win over ranked Notre Dame and a cameo appearance in the Top 25.
Who knew the cameo would be a slasher, horror story?
"We would have never thought we'd have to fight to be able to go to a bowl game after winning four straight," junior cornerback Troy Woolfolk said. "We thought we had a chance to win the Big Ten and now we're sitting here fighting to go to a bowl game.
"It was unexpected, but you just have to roll with the punches and try to do your best to get into that bowl game."
Is their best good enough? So far, tough to say. Besides playing a full game against incredibly tough Delaware State - which dropped to 3-6 on Saturday with a 21-16 loss to Norfolk State for those curious - Michigan has yet to play, as Rodriguez likes to say, consistent "championship football."
Iowa? Nope, five turnovers took care of that. Notre Dame? The Irish see-sawed with Michigan. Indiana? Same thing.
Rodriguez is asking his team to be the most focused it's been all year. It's Ohio State, so one would think that's a baseline for Michigan. There's a reason this game is such a big rivalry - and it's because of the distaste exhibited between the two programs.
"We got a lot at stake," Rodriguez said. "… The focus this week should be great.
"I just hope the play next Saturday is."
For the past two months, that's been the problem. If it isn't there, it'll be Michigan's last game in 2009. Period.
At Michigan, though, they get that.
"We're not idiots," Michigan quarterbacks coach Rod Smith said. "We understand exactly what's at stake and who we're playing. We understand it."
Michael Rothstein covers University of Michigan sports for AnnArbor.com. He can be reached at (734) 623-2558, by e-mail at michaelrothstein@annarbor.com or follow along on Twitter @mikerothstein.