Posted on
Wed, Feb 15, 2012 : 5:15 p.m.
Michigan hockey junior A.J. Treais beginning to live up to Red Berenson's expectations
By Pete Cunningham
A.J. Treais is typically a man of few words, and his few carefully chosen comments are often soft spoken.
That wasn't the case Saturday night. After scoring two goals in the Michigan hockey team's 3-2 overtime win against Michigan State at Joe Louis Arena, the Wolverines' junior forward was fired up.
It was the stage. He grew up playing at Joe Louis Arena and admitted he loves coming back. It was the opponent. He compared playing Michigan State to the football team playing Ohio State.
For Michigan coach Red Berenson, it was about time.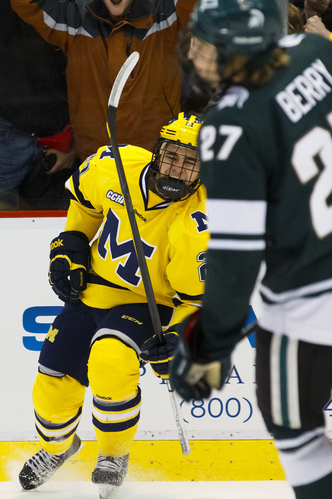 AP Photo
"A.J., he's really starting to be A.J.," Berenson said not just in reference to the series-capping win, but to the past couple of weeks.
Treais has scored six goals in Michigan's last five games, compared to eight in his previous 26. It's the type of production Berenson saw the potential for when he first recruited Treais, and exactly what this team needs.
"We need A.J. to play well and he's a junior, it's time," Berenson said. "He needs to be fiery. He needs to be abrasive. He needs to be hungry. He needs to be into it. And if he is, he's a better player."
Treais, along with line-mates Luke Glendening and Phil Di Giuseppe, carried the torch for the Michigan offense on a weekend when the Wolverines needed them most. The line with the team's top three scorers -- Alex Guptill, Chris Brown and David Wohlberg -- didn't register a single point against Michigan State.
It was the first time all three have been held pointless for a weekend all season.
Brown wasn't worried about the mini-drought of his own line and said the production of Treais' unit should help solve that problem immediately.
"Sometimes (opponents will) have to put out their top defensive line against them, so it could help (our line) and it's great," Brown said. "(A.J.)'s playing awesome. That line's been playing great for us."
While Brown, Guptill and Wohlberg spread the wealth with 14, 11 and 11 goals respectively, Treais does the bulk of his line's scoring, though that's completely by design.
"Glenno can bury, too, so (I pass to) whoever's open," said Di Giuseppe, who has scored eight goals on the season, but none since Dec. 2. "Tree's finding ways to get open and it's working out for him."
Berenson is hesitant to heap praise on Treais, his line or any other aspect of Michigan's game at this point of the season, with the CCHA and NCAA playoffs looming. He referenced the team's penalty kill as a perfect example of why not. The unit hadn't given up a power play goal since Jan. 15, killing 26 straight at one point, before giving up power play goals on three of four opportunities at one point against Michigan State.
Berenson compared the weekend's reality check to when a player admires a pass on the ice and, because his head is down, is sent "ass over tea kettle."
"That's what you get for admiring your pass, or your past," Berenson said. "I'd really rather not admire anything right now. We can deal with it, but not get too carried away."

Looking back
Michigan will have a chance to avenge its first loss of the season when it hosts Northern Michigan on Friday (7:35 p.m., BTN) and Saturday (5:05 p.m., FSD) at Yost Ice Arena.
When the teams last met, the Wolverines were undefeated and the top-ranked team in the country.
The Wildcats changed all that when they handed the Wolverines their first loss of the season in the opening game of the series, and forced a shootout in the finale, which Michigan won.
Berenson called the series a "wakeup call," but Glendening said the team isn't too concerned about what happened four months ago -- yes, the hockey season is that long -- up in Marquette.
"I don't think we can dwell on what happened at the beginning of the year, that was a long time ago," said Glendening. "We're a different team and I'm sure they're a different team as well."
One way Michigan will better its chances of not being taken down by Northern again is if they can keep goaltender Shawn Hunwick from getting thrown out of the game, as he was following an altercation during the teams' first meeting.
Glendening laughed when reminded of the scuffle.
"Hopefully it won't happen again," he said.
Contact Pete Cunningham at petercunningham@annarbor.com or by phone at 734-623-2561. Follow him on Twitter @petcunningham.