Posted on
Sat, Feb 11, 2012 : 10:09 p.m.
Kevin Lynch overtime goal gives Michigan hockey team a 3-2 win over Michigan State
By Pete Cunningham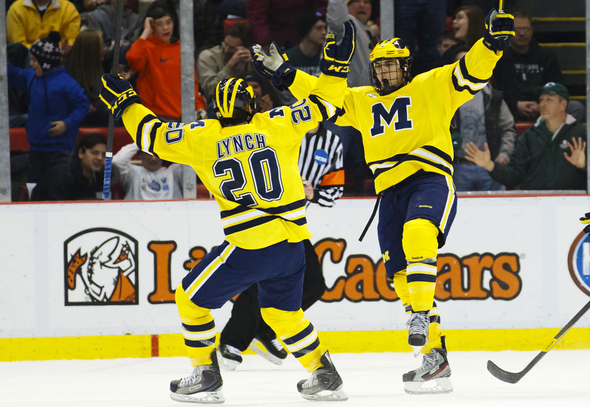 AP Photo
Updated 11:30 p.m.
DETROIT -- Michigan hockey coach Red Berenson thought about benching Kevin Lynch during overtime on Saturday night.
Lynch had struggled defensively in the third period against Michigan State, and with a crucial three points in the CCHA standings on the line, Berenson nearly kept the junior forward on the bench.
"I thought, 'I don't know if I can trust him in overtime,'" Berenson said.
Berenson decided to trust in him and Lynch justified the decision, scoring the game-winning goal one minute, 50 seconds into the extra session in a 3-2 win in front of a sell-out crowd at Joe Louis Arena.
It was Lynch's sixth goal of the season, four of which have come against Michigan State.
"Everyone in our locker room gets up for (Michigan State). I've been kind of fortunate to get points when I play 'em," Lynch said. "It's that rivalry that gets me going. It was actually a great moment because I was having a rough game."
Related coverage: Photo gallery
Three periods weren't enough to determine a Great Lakes Invitational champion when the teams played at Joe Louis Arena in late December and it wasn't enough Saturday night, as they battled in front of a crowd of 20,066.
All five of the games played between the teams this season have been decided by one goal or less and three have gone into overtime.
"That's how close the games are," Berenson said. "There's not much room for error."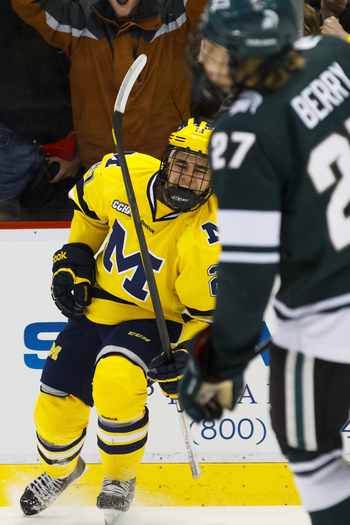 AP Photo
Michigan's two other goals came from junior A.J. Treais, who extended his career-high point streak to five games with a first-period goal that put Michigan (18-10-4, 12-8-4-1) up 1-0.
His second-period goal tied the score at 2-2 after Michigan State (16-12-4, 11-10-3-2) took a lead it held for less than two minutes.
"A.J., he's really starting to be A.J. and that's huge for our team," Berenson said.
Treais said Saturday combined two things he never tires of -- playing Michigan State and playing at Joe Louis, where he played during his youth in Little Caesar's amateur leagues.
"I don't know, it just comes easy to me here," Treais said. "These are my favorite games. This is our Michigan-Ohio State football."
On Treais' first goal, Luke Glendening sent a centering pass to him and Michigan State goaltender Will Yanakeff blocked the initial shot. Treais scooped up his own rebound and banged a backhand off of the back of Yanakeff's skate and into the net.
Three minutes, 32 seconds into the second period, the Spartans' Kevin Walrod dug the puck out of the corner and sent a wobbling pass to Greg Wolfe, who put a knuckling slap shot above Shawn Hunwick's gloveside to even the score, 1-1.
Michigan State took a 2-1 lead with a Brett Perlini power play goal -- coming on the game's first penalty -- less than three minutes later. After having a penalty kill streak of 26 end in Friday night's 3-2 Spartans' victory, Michigan's special teams had given up its third goal in four opportunities.
But it was a successful penalty kill in the final stages of the third that acted as a catalyst for a late Wolverines rush. Hunwick was not pleased with the call and let the refs know about it.
Michigan seemed galvanized by the perceived slight, successfully killing the penalty, then getting its best scoring opportunities of the period, including a Greg Pateryn shot off the post, in the final four minutes of regulation.
"That was huge," Berenson said. "Six minutes left, with the momentum they had on the power play, I thought we did a great job."
Hunwick had much to do with that. The Hobey Baker candidate made 33 saves on the night, including 14 in the third period.
"Hunwick was bigger than life, let's face it. He wasn't very 'big,'" Berenson said, poking fun at Hunwick's 5-foot-7 frame. "But he played like he was big."
Appropriately, Hunwick had exactly one more save on the night than Yanakeff, who was caught off guard by Lynch's game winner that came to is stick after funny bounce.
With the way both goalies played down the stretch, a fluke bounce seemed the only way either would let a puck past them.
"It was like a heavyweight fight in my mind, very physical, the ice is getting bad, the guys are getting tired and those are sometimes the way the bounces go," Michigan State coach Tom Anastos said. "We just couldn't put it away, and we had the chances to do it."
Contact Pete Cunningham at petercunningham@annarbor.com or by phone at 734-623-2561. Follow him on Twitter @petcunningham.