Posted on
Mon, Jun 24, 2013 : 3:06 p.m.
Ann Arbor Olympian wrestles with decision to become pro fighter
By Pete Cunningham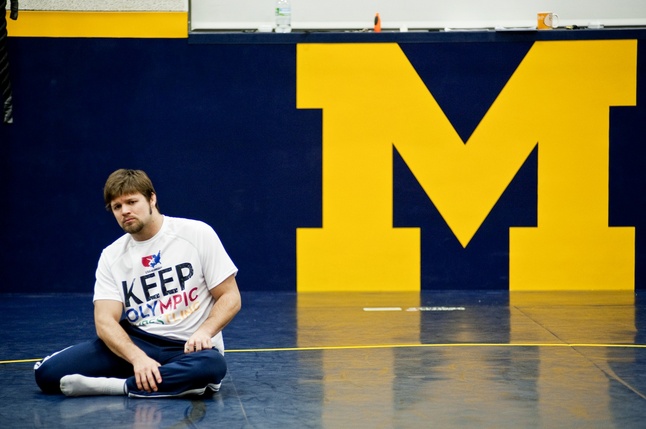 Joseph Tobianski | AnnArbor.com
Ann Arbor-based Olympic wrestler
Jake Herbert
is at a critical juncture in his life and it happens to be coinciding with a critical juncture in the sport he loves.
Herbert, who competed in freestyle wrestling at the 2012 London Olympics, can work to make the Olympics again in 2016 and also try to save the sport from the chopping block for the 2020 games. Or he can turn in his singlet and try to make a living of beating people up in a cage.
Decisions, decisions.
The ever-growing sport of mixed martial arts at its highest level pays quite well and even lower-tier professional fighters make more money than USA Wrestling offers its Olympians through stipends. Herbert -- who trains with the Cliff Keen Wrestling Club at the University of Michigan's Bahna Wrestling Center -- knows this, but there's more to the decision than money.
"If I wanted to make money, I wouldn't be wrestling - I'd be using my degree," Herbert, a Northwestern graduate, recently told USA Today.
There's also the long-term ramifications of getting punched and kicked in the face for a living. Plus, Herbert is still upset with his seventh place finish at the Olympics, and is also very involved with the "Save Olympic Wrestling" movement.
While he wants to take advantage of the opportunity the sport has afforded him, he wants to ensure others will have those same opportunities.
"Wrestling, it's given me options. I could go to Singapore and start fighting right now, or I could call up almost any college in the nation and say, 'Hey, I want to come coach,' and they'd find a way to make it happen. That's all from wrestling, and from being an Olympian."
Pete Cunningham covers sports for AnnArbor.com. He can be reached at petercunningham@annarbor.com. Follow him on Twitter @petcunningham.