Posted on
Sat, Nov 21, 2009 : 6:22 p.m.
Patience? Entering Year 3, Rich Rodriguez in danger of running out of it
By Michael Rothstein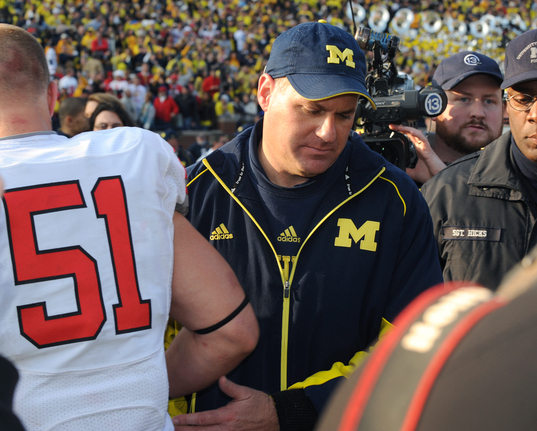 Lon Horwedel | AnnArbor.com
Rich Rodriguez lingered on the field, his players passing him by. As he walked toward the Michigan Stadium tunnel for the final time in 2009, he glanced back.
He said he was searching for Ohio State seniors, trying to find a couple to congratulate and wish luck for the future.
As for Rodriguez' future, it's tough to tell how it will end up.
The second-year Michigan coach can turn to Year 3, Rodriguez's second year a failure as the Wolverines will sit home in December and January again, watching bowl games promoted by odd sponsors like Valero - for the record, a gasoline company - on television instead of playing in them.
Yes, Michigan's win total rose from 3 to 5, but the Wolverines finished tied at the bottom of the Big Ten with Indiana at 1-7. So to see Rodriguez, a man who looks, frankly, exhausted, is unsurprising.
College football coaches are often bold and confident. Humble is usually thrown around
for award ceremonies and conference championship lip service. Not in the case of Rodriguez.
"How many times does a man got to get humbled," Rodriguez said after his team's latest defeat, a 21-10 loss to bitter rival Ohio State. "I got humbled last year, been humbled before, will get humbled again. In this profession, there's enough humility to go around for everybody.
"I'm sick and tired of being humbled."
He'll have to wait at least nine more months to lose that feeling.
That's been the new theme at Michigan. Humility has never been something associated with a school whose motto is "Those who stay will be champions."
Yet that is exactly what has happened with Rodriguez at the helm. The frustration comes through in every question about his job status, every explanation of what went wrong again and every time he preaches patience about building a program.
He has a point - successful programs aren't built overnight. Except Michigan was a successful program before Rodriguez arrived in Ann Arbor.
Actually, the most successful program in college football history. Now, Rodriguez became the first Michigan coach to lose to Ohio State his first two times facing the Buckeyes.
"We've got to get better," Rodriguez said. "We'll beat Ohio State when we're better than them. When we have a better team than them, we'll probably beat 'em. That's, it's as pretty simple as that."
Right now, what Rodriguez is doing isn't close. Ohio State won or shared the Big Ten for the sixth straight year. Michigan has now owned or shared one of the bottom two spots in the Big Ten for the past two seasons.
Patience should start to wear thin. Michigan made the same mistakes over and over throughout the second half of the season.
Some of that is on the players, but a lot of that is on the coaching staff. Michigan, from the beginning of the season to its merciful end, regressed.
As for Rodriguez, he points to what he sees daily in practice - something that won't happen again until spring - as the reason for encouragement. He continues to explain his quarterback's struggles away with using the youth excuse, although freshman quarterback Tate Forcier was in his 12th start, came on campus early and finished Saturday with five turnovers.
"Everybody's got an opinion," Rodriguez said. "Everybody has got an opinion on how long it is."
Fair enough. Everyone does. Given this society's need for instant fulfillment, it's the nature of things, especially at a place like Michigan where they suffer losing horribly.
Remember, this is a program whose fan base criticized former coach Lloyd Carr for not winning enough. Carr won a shared national championship, six bowl wins in his 13 years and never finished worse than third in the Big Ten. He never lost more than three Big Ten games and just once - in 2005 when the Wolverines were besieged with injuries - lost more than four games.
But Carr, according to some, didn't win enough.
So when Rich Rodriguez asks for patience, again, it rings hollow. The West Virginia native deserves one more year to show progress, but with a new athletic director coming in, potential NCAA violations looming and a two-year bowl drought a reality, patience is gone.
Production is now what needs to be seen.
Michael Rothstein covers University of Michigan sports for AnnArbor.com. He can be reached at (734) 623-2558, by e-mail at michaelrothstein@annarbor.com or follow along on Twitter @mikerothstein.