Posted on
Sun, Feb 27, 2011 : 8:09 p.m.
Eastern Michigan retires the jersey of basketball's little legend, Earl Boykins
By Bison Collins Messink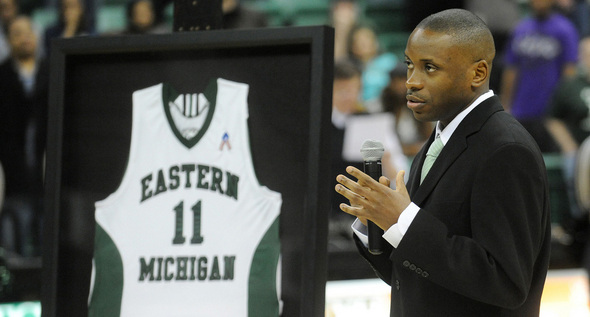 Melanie Maxwell I AnnArbor.com
At 5-feet and 5-inches tall, Earl Boykins is famous for being the second-shortest man ever to play in the National Basketball Association. But people in Ypsilanti remember him for dazzling crowds at Eastern Michigan's old Bowen Fieldhouse during his four-year career with the Eagles.
Sunday afternoon, at halftime of EMU's loss to Western Michigan, Boykins' No. 11 jersey was hung from the rafters at the Eagles' new home, the Convocation Center. A crowd of 1,570—noticeably larger than EMU's typical home attendance this season—welcomed him back with an enthusiastic standing ovation.
"It's really humbling because this is something that you can't prepare for and you don't expect," Boykins said in an interview prior to the ceremony. "When I came to Eastern, I just wanted to be on a team that won 20 games a year. As far as having my number retired, this is beyond belief. "
Boykins joins Kennedy McIntosh, George Gervin and Grant Long as the only men's basketball players to have their number retired at Eastern Michigan. Laurie Byrd became the first women's player to have her number retired, when the Eagles raised her jersey earlier this season.
Boykins, who played at Eastern Michigan from 1994 to 1998, still has the most assists and made free throws in school history, and is second only to McIntosh for points scored.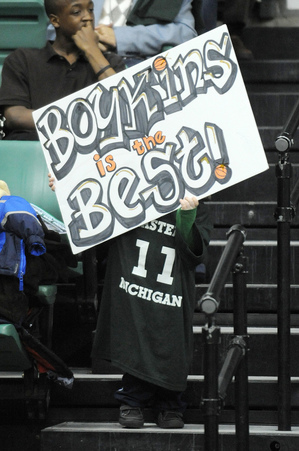 Melanie Maxwell I AnnArbor.com
But Boykins is best remembered for leading the Eastern Michigan program to heights that it has not reached since he left. His teams never won fewer than 20 games, compiling a record of 87-36 over the span. And Boykins twice led EMU to the NCAA Tournament—his sophomore season in 1996, and his senior year in 1998.
The ninth-seeded Eagles beat Duke in a 1996 first round meeting at the RCA Dome in Indianapolis, then had No. 1 seed Connecticut on the ropes in the second round, before Ray Allen got hot and led the Huskies to a come-from-behind win.
Hard as it is to imagine now, the win over Duke really wasn't an upset.
"I still don't feel it was an upset," Boykins said. "I've felt that we should have been seeded higher than we were. I thought we got a bad seed."
Brain Tolbert, who was a senior on the Eastern Michigan team that season, agrees.
"I guess everybody thought since they were Duke and we were Eastern Michigan, their name would win," Tolbert said. "But no—you gotta play that game."
Besides Boykins and the sharp-shooting Tolbert, who has been playing professtionally in Israel this season, the Eagles featured James Head, Derek Dial and the shot-blocking extraordinaire Theron Wilson in their lineup.
That was enough for EMU to keep up in a talented era in the Mid-American Conference.
"When I was here at Eastern, the MAC was different," Boykins said. "If you didn't have an NBA prospect on your team, you couldn't win.
"Bowling Green had Antonio Davis. Miami had Wally Szczerbiak, Ohio had Gary Trent, Ball State had Bonzi Wells. If you didn't have an NBA guy, you weren't winning.
"So I came along in the MAC at a very good time, when the level was high, and the NBA scouts were already on the MAC, so that made it easy on me."
Boykins, who currently plays for the Milwaukee Bucks, is now in his 12th year in the NBA.
He was undrafted out of college, before the New Jersey Nets gave him his first NBA contract. Boykins bounced around early in his career, playing for five different teams in his first five NBA seasons, before finally getting a chance to stick with the Denver Nuggets. Boykins played four seasons in Denver, the first two of which he appeared in all 82 games.
Paradoxically, even though Boykins is a short man who plays a tall man's game, he says his height is actually an advantage for him, not a limitation to overcome.
"When you go from high school to college to the NBA, you always change positions," Boykins said. "And because of my height I've played the same position my entire life.
"And when I step on the court, it's always different for the opposing guards, no matter who it is. I always have the advantage because they always have to make an adjustment, but for myself, I'm always the shortest so it's a regular game."
Wherever Boykins has played in his career, it never took long for people to realize he was a great player, not a novelty act.
"At first a lot of people thought it was a joke," said current Eastern Michigan coach Charles Ramsey, who was an assistant coach at EMU during Boykins playing days. "But people quickly moved on from that idea. Early on you knew he was special."
Tolbert could tell Boykins was the real deal just by seeing how he carried himself.
"I knew he was a special guy because when he came in, from the first day, he had this unbelievable amount of confidence in himself," Tolbert said. "That's one thing I can say I learned from him. No matter what's going on, you gotta be confident in yourself, or nobody else is going to have confidence in you."
And once Boykins got his shot in the NBA, he says he didn't get much grief about his height from other players.
"Once I got to the NBA, I think guys were intrigued to see just what I would do. And I gained the respect of guys early on, so I really didn't get much of a hard time by the veterans," he said.
Now, as a 12-year veteran, players coming into the league are eager to meet him and see him play.
"Every year when new guys come into the NBA, there's always someone from their class saying I've been watching you play and I can't believe you're still playing," Boykins said. "So it's a great credit to being healthy. That's the biggest thing, I've been healthy, and the Lord has blessed me with the talent to play this game."
Boykins' gig as a pro basketball player is so good, he's in no hurry to call it quits, even though he turns 35 in June.
"Retire and do what?" Boykins said when asked how long he wanted to continue playing. Then he laughed, and said, "when you got a job that makes what I make, let me know about it. Until then I'm going to keep playing."
He can laugh. He's earned it. And after all, if you were capable of doing what Boykins did earlier this season to the 6-11 superstar Tim Duncan, you'd be laughing too.
Bison Collins Messink covers sports for AnnArbor.com. Contact him at bisonmessink@annarbor.com.