Posted on
Thu, Dec 2, 2010 : 5:58 a.m.
Big Chill at The Big House rink construction nears completion amid changing weather conditions
By Jeff Arnold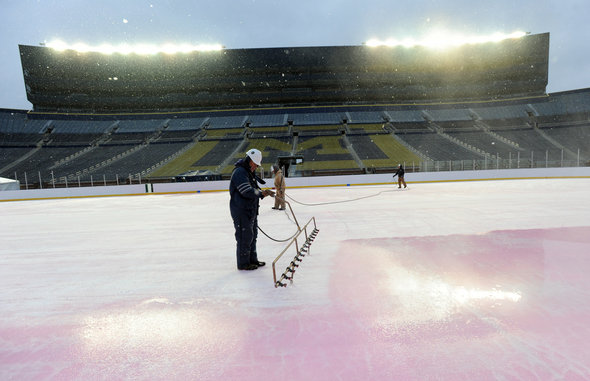 Lon Horwedel | AnnArbor.com
From the start, the fickle Michigan weather was part of the rink-building plan for the Big Chill at the Big House.
Tuesday, rink builders dealt with unseasonably warm temperatures in the 50s and a light rain. Wednesday morning, Yost Ice Arena operations manager Craig Wotta and his crew used leaf blowers to remove snow from the ice surface, which stretches between the 17-yard lines on the floor of Michigan Stadium.
The flexibility built into the schedule ensures the rink will be ready for this weekend's preliminary activities and the main event on Saturday, Dec. 11, when the Michigan hockey team plays host to Michigan State in front of the largest crowd to see a hockey game.
"Mother Nature was really good to us the last couple of days - today, not so much," Wotta said, bundled by a heavy winter jacket and layers of clothing. "So that's why we knew everything we could control we wanted to go ahead and plan ahead so when something comes up like this, it would be a minor deal and not an emergency."
Wotta's plan called for the Olympic-sized rink to be painted by noon and for vinyl logos to be in place by early afternoon. The light snow and winds delayed that plan.
Workers used an industrial-sized sprayer and hose and cover the playing surface with paint. A layer of water was applied to seal the paint before lines could be added. Brisk winds kept workers from applying the lines before late afternoon.
By late evening, all the logos, including The Big Chill logo at center ice, were in place, all but completing the surface.
Michigan associate coach Mel Pearson was impressed with what he saw.
"That is cool," Pearson said after a quick visit Wednesday. "You just get goose bumps coming down here."
The first of 26 games will be played Saturday morning when Adrian College's men's hockey team will face Concordia (Wis.) University.
Once the ice painting and logo installation is complete, workers will flood the rink again, creating a thicker ice. Wotta anticipates that by Friday, four inches of ice will be built up.
Intermittent snow is expected through Thursday. Once the ice is painted, the only thing Wotta said he would worry about is too much sunlight hitting the painted logos.
"Nothing has happened that has surprised us," Wotta said. "We knew the weather was going to be a variable, but everything has gone perfectly. We were prepared as can be. But I'm proud of how everything has gone - it's just dealing with stuff that pops up."
Public skate schedule | Shuttle schedule | Web cam of rink
Jeff Arnold covers Michigan hockey for AnnArbor.com and can be reached at (734) 623-2554 or by e-mail at jeffarnold@annarbor.com. Follow him on Twitter @jeffreyparnold.