Posted on
Fri, Dec 10, 2010 : 12:11 p.m.
Big Chill at the Big House will be a spectacle even for fans who watch the outdoor game on TV
By Jeff Arnold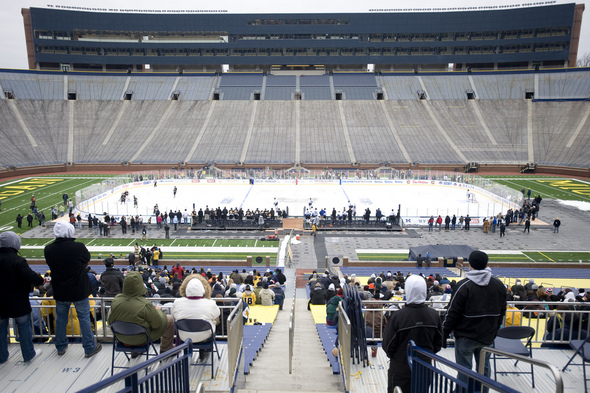 Angela J. Cesere | AnnArbor.com
For nearly two weeks, workers in Michigan Stadium have planned for every conceivable scenario that could pop up for Saturday's Big Chill at the Big House.
John Tuohey certainly understands their challenge.
Tuohey, the Fox Sports Detroit executive producer for Saturday's outdoor hockey game between rivals Michigan and Michigan State faces nearly as big of a task. While more than 109,000 are expected to watch the game live, the television broadcast will reach another 3.2 million homes in the Fox Sports Detroit market.
Another 70 million homes nationwide will receive the feed from The Big Ten Network as well as on Leafs TV in Ontario, on FKXF-TV in Alaska and on tape delay on Fox Sports Arizona.
With that many potential viewers, Tuohey isn't holding anything back to make the broadcast memorable.
Fox Sports Detroit will use 16 cameras to capture high definition video. The 16 cameras are nearly twice what the network would use for the broadcast of a regular-season Detroit Red Wings game.
Cameras will provide viewers with footage from rink-level, from inside each team's goal and from overhead.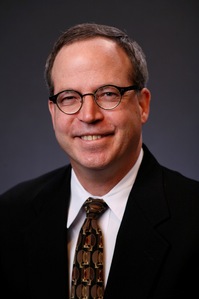 "It's a balancing act between the spectacle of the event which it is surely will be and the terrific hockey we expect to see on the ice," Tuohey said Thursday. "We have to try and capture the scope of what's happening here as best we can."
Fox Sports crews will spend Friday afternoon at Michigan Stadium, preparing for Saturday's 3 p.m. game. In addition to placing their normal allotment of cameras, Saturday's broadcast will involve a robotic camera angle to provide unique views from above the nets as well as jib cameras on crane stands that will give viewers at home glances around the venue.
Camera views will also originate from a helicopter that will fly over the stadium during Saturday's game and festivities. Yet, as much technology as Tuohey will have at his disposal, he doesn't want to lose sight of the reason his crew his there.
"It's just not about camera angles and whether we can throw six or eight replays out there," he said. "You need to be able to enjoy the game."
The actual game remains paramount to the Fox Sports Detroit broadcast team of Matt Shepard and Billy Jaffe, who will call the game. Both announcers worked the Cold War in 2001 when Michigan and Michigan State played to a 3-3 tie at Spartan Stadium.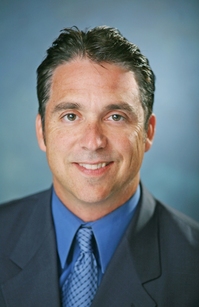 Nine years ago, Shepard remembers trying to envision a packed football stadium with college hockey game being played inside of it. Just as he prepared to go on the air, Shepard glanced around the crowd of 77,544 and couldn't imagine anything bigger.
"You have to step back and say, 'This is it,'" Shepard said Thursday. "This is the biggest event this sport has ever seen, and I'm part of it."
That game drew a 3.5 Nielsen rating, which meant it was seen in roughly 66,000 homes. The game remains the highest-rated college hockey game the network has broadcast.
Even with everything going on around him - including fireworks before, during and after the game Saturday - Shepard will focus on what's happening in front of him on the ice.
"This is one of those games and one of those events when everybody says, 'Oh, man, I remember where I was when I saw that,'" Shepard said. "I think this will like no other event anyone has ever been at because of the magnitude and the uniqueness.
"This will have a feel to it."
Part of that will be because of where the game is being played. Former Red Wings star Mickey Redmond made a trip inside Michigan Stadium on Thursday night to play in a media game on the Olympic-sized rink.
Redmond, who scored a then team-record 52 goals during the 1972-73 season, will be part of the Fox Sports Detroit pre-game team. He looked around the empty stadium Thursday night and marveled at its size, saying it seats twice the amount of people that hail from his hometown of Peterborough, Ontario.
"For those of of us my age, it's like turning back the clock, because for every one time we played indoors, we played 100 times outdoors," Redmond said Friday. "I know it's not the same for these kids today, but I think they've heard and seen enough of the past that (outdoor hockey) becomes very easy to attach yourself to this kind of situation.
"It's so far from the norm from being in an arena, it will just be amazing."
Jeff Arnold covers Michigan hockey for AnnArbor.com and can be reached at (734) 623-2554 or by e-mail at jeffarnold@annarbor.com. Follow him on Twitter @jeffreyparnold.