Posted on
Wed, Jan 6, 2010 : 9:39 p.m.
Big Ten Commissioner Jim Delany: 'It was a very good postseason'
By Michael Rothstein
As Ohio State's offense held the ball and Iowa's defense trounced all over the Georgia Tech triple-option, validation arrived.
The years the Big Ten spent as the college football punchline in the postseason - from Rose Bowl routs to national title game annihilation - began to fall away.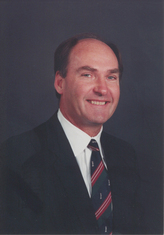 File photo
This was the season of Big Ten revenge.
"We did better than we were predicted to do. We won a lot of big games, lost some close games but I would say it was a very good postseason, certainly better than the past couple years," Big Ten commissioner Jim Delany said by phone from the national championship game Wednesday. "We weren't far off from having a spectacular year. Northwestern and Minnesota and Michigan State all played well, at least well enough to be competitive and in some circumstances well enough to win.
"But to win the Rose Bowl is always a great thrill."
The Rose Bowl was the big one, but the Big Ten played large, finishing with a 4-3 record in bowls and all four wins came over ranked teams. The league knocked off two league champions in BCS bowl games - Ohio State taking out Oregon and Iowa beating Georgia Tech.
Only one Big Ten team - Michigan State in a 41-31 loss to Texas Tech - lost by double-digits.
All four Big Ten teams that won - Iowa, Ohio State, Penn State and Wisconsin - beat
teams ranked higher than them. Considering the biggest knock against the league has been its inability to win big games against other BCS conferences, the league will have quieted its detractors for a minute.
It's something Delany recognized.
"If we had been as successful as we wanted to be the last couple of years I think it wouldn't stand out but I think it stands out a little more because we haven't been as successful as we would have liked to be," Delany said. "A lot of the stuff is cyclical. We had a great first five years of the decade. I didn't think we had a very good last five years.
"But it comes and goes, comes it fits and starts."
The whole league grasped what the final days of 2009 and the start of 2010 meant. As the wins piled up, the label began to fall away. And when Iowa won last night, securing the winning record, even the Hawkeyes' coach, Kirk Ferentz knew the significance.
"Maybe this will put some of those theories to rest for at least six more months, four more months, I don't know," Ferentz told reporters after the 24-14 Orange Bowl win.
"It's a good feeling."
That the league won the Rose Bowl was an even bigger deal. The Big Ten had lost six straight Rose Bowls dating back to 2000. Michigan had lost three of them, in 2004, 2005 and 2007.
Ohio State, the team most often associated with the league's woes, being the one to break the drought was even more important.
The Buckeyes were crushed in two national title games in the 2000's, often taking the brunt of criticism for the league - something that will at least quiet until August.
"We needed it, just for the Big Ten as a whole in general, because I mean, I know we battled them all year long, but we're also playing for each other because it's a rep," Ohio State quarterback Terrelle Pryor told reporters after the Rose Bowl. "We're playing for each other, and when schools like Penn State are playing in other Bowls. It's a reputation for us.
"It was huge for us to get over that hump and win this game."
Michael Rothstein covers University of Michigan sports for AnnArbor.com. He can be reached at (734) 623-2558, by e-mail at michaelrothstein@annarbor.com or follow along on Twitter @mikerothstein.