Posted on
Thu, Nov 19, 2009 : 8:50 p.m.
Bo Schembechler sculpture to keep watch over University of Michigan Cardiovascular Center
By James Briggs
This explains all you need to know about Bo Schembechler's contribution to the University of Michigan.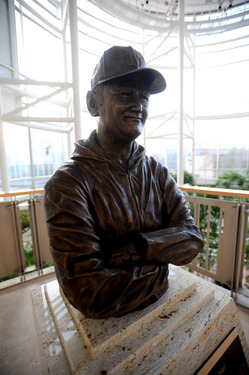 Angela Cesere | AnnArbor.com
Outside of Michigan Stadium, where Schembechler coached for 20 years, there is no statue bearing the coach's resemblance. But there is now a bust of Schembechler on display at the Michigan
Cardiovascular Center
.
Schembechler transcended football, and his contributions to Michigan reach well beyond the athletic complex, said friends and doctors of Schembechler, who on Thursday gathered to honor him with the unveiling of a life-sized sculpture.
Schembechler, who battled heart disease for 37 years, worked with the Cardiovascular Center to engage the public on issues related to heart health. He died three years ago this week.
"It doesn't seem long ago Bo was talking about his plans for the Cardiovascular Center," said Cathy Schembechler, Bo's widow.
Schembechler's Heart of a Champion Fund raises money to support young scientists whose research is geared toward treating heart disease.
The bust, created over 10 months by Northville sculptor John Thomas, is meant to inspire patients and staff, said Fritz Seyferth, an advisor to the Cardiovascular Center and a player on Schembechler's first Michigan football team.
"I'm a patient here, too," Seyferth said. "There are too many people with cardiovascular disease. All of us know someone who has had it, or died from it."
Schembechler's legacy continues to fund some of the world's most important research on heart disease, said Cardiovascular Center Director David Pinsky.
"The idea is to conquer heart disease, the leading scourge of our country," he said. "This fund enables us to invest in young, bright minds so we have the power to defeat this scourge."
The sculpture, depicting Schembechler in a perfect sideline pose - arms crossed, staring intently toward the field - will be displayed on the third-level patient reception area of the Cardiovascular Center.
Contact James Briggs at jamesbriggs@annarbor.com.