Posted on
Wed, Feb 22, 2012 : 4:18 p.m.
Defensive depth on display for Michigan hockey team
By Pete Cunningham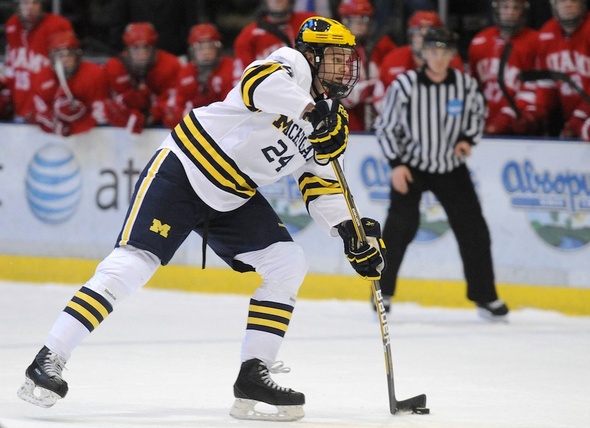 Angela J. Cesere | AnnArbor.com
Since sophomore defenseman Jon Merrill returned to the Michigan hockey team from suspension on Jan. 6, there hasn't been much variation in the defensive pairings.
Merrill has been matched with junior Lee Moffie and Greg Pateryn with Mac Bennett on the top two lines.
The only fluctuation has been on he third line, where freshmen Brennan Serville and Mike Chiasson have split time pairing with sophomore Kevin Clare.
That changed last Saturday, when Clare was held out of the lineup due to an undisclosed upper-body injury suffered in a 4-1 win over Northern Michigan the night before. For the first time since Merrill's return, both Serville and Chiasson were in the lineup. Rather than pairing the freshmen together, Michigan coach Red Berenson decided to split up Moffie and Merrill.
"I wanted to keep guys in their position, essentially, and not have two right handers playing together," Berenson said. "You've gotta be able to play with different partners."
Merrill said the adjustment wasn't a difficult one.
"We all know what we have to do individually, so who you're out there with, it doesn't really matter," Merrill said.
Michigan goaltender Shawn Hunwick enjoys having confidence in whoever is in front of him.
"You never know what's going to happen down the stretch, so it's good that guys can play with anyone," Hunwick said.
Moffie said when he's paired with Merrill, he plays a little more defensive-minded and might not be as quick to join the offensive rush. He still managed to register a pair of assists in Saturday's 3-2 win -- one to Merrill on the power play -- to take over the team lead in points with 29.
"We're obviously a really close unit," Moffie said of the defense. "It just shows how strong we are and how well we communicate that we can just mix it up whenever and still be confident to make it happen."
Clare is expected to return to the lineup against Bowling Green, which hosts the Wolverines in 7:05 p.m. games on Friday and Saturday.

Weight watchers
Listed as 5-foot-8 and 163 pounds, Michigan junior forward A.J. Treais isn't a very big guy. That's why it might be surprising to learn that Berenson wanted him to lose weight not too long ago.
Treais said he was 10 pounds heavier in January than he was at the beginning of the season. Berenson said it's hard to know if weight will be a benefit or hindrance to a player, but made it clear to Treais that it was the latter in his case.
Treais has lost seven pounds since Berenson told him to get "leaner and meaner" and is riding a career-high seven-game point streak during which he's had seven goals and four assists. He had eight goals and seven assists in his 26 previous games.

Eyes on the prize
Heading into the final weekend series of the regular season, Michigan has locked up a top-five finish and first-round bye in the CCHA playoffs. Currently in second place, the Wolverines need just two points out of a possible six against last-place Bowling Green over the weekend to clinch home-ice advantage in the quarterfinal round of the conference tournament.
To finish first in the standings, Michigan needs two wins against Bowling Green and for first-place Ferris State to get swept by third-place Western Michigan.
"Obviously, we understand the implications of being in first, but there's not a lot we can do," said senior captain Luke Glendening. "We need help from other teams, so I think it's just really important for our team to stay focused."
Contact Pete Cunningham at petercunningham@annarbor.com or by phone at 734-623-2561. Follow him on Twitter @petcunningham.