Posted on
Mon, May 27, 2013 : 5:59 a.m.
Disabled veteran uses golf as therapy and motivation
By Pete Cunningham
As Ann Arbor resident Tim Lang lay in a veteran's hospital bed in Maryland, all he could think about was how much he could no longer do.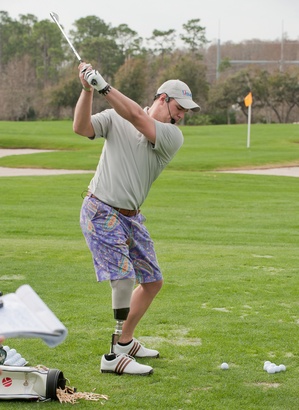 Photo by Montana Pritchard | The PGA of America
For his entire life prior to and after joining the Marine Corps, Lang's identity was tied to his athleticism. But after his company's Humvee drove over a roadside bomb in Fallujah, Iraq in 2006, that identity was stripped from him. Lang suffered injuries requiring him to have his right leg amputated above the knee. The prospect of playing a game of football or basketball was gone for Lang.
All he could think about was what he could no longer could do. Lang let his handicap define him.
Now, it's 2013 and you'll sooner find Lang on a golf course walking on his own two feet - be it, one of them prosthetic - displaying what he can do on the green instead of lying on his back thinking about what he can't do.
Lang still lets his handicap define him, but if you ask him what it is, he won't tell you he's an amputee.
He's a plus-5.
Golf is a 'sissy sport'
Lang lay on his back in Bethesda, Maryland for nearly 10 months after returning home from Iraq. Surgery after surgery, his feelings of despair mounted. In less than a year, he'd gone from a fit, strong 232-pound 21-year-old in the best shape of his life, fighting for his country, to a 109-pound amputee, unable to even go to the bathroom without assistance.
"You're talking about a person who all they can think about is wanting to be back bigger, better, stronger, faster than ever," Lang recalls. "I was just dying to get back to that physical type of lifestyle I had just a few months earlier."
Lang, 27, comes from a large family where he said every child had his own way of standing out. His was sports. He loved playing basketball and football, and was haunted by the thought that he could never enjoy them like he once had.
"I was coming to that slow realization that I won't be able run anymore. I wasn't going to be able to play football anymore, I wasn't going to be able to play basketball," Lang said. "That was a rather depressing time in my life."
Former professional golfer Jim Estes lives near the hospital Lang was staying at in Bethesda. Lang had seen Estes before in the hospital as Estes made regular visits for a charity for which he is the co-founder, the Salute Military Golf Association. SMGA offers post-9/11 war veterans the opportunity to use golf as a tool for both physical and mental therapy.
Photo courtesy of Salute Military Golf Association
Estes had heard Lang was an athlete and so he stopped by his bed to talk to him about golf. Lang had just come out of surgery for amputation of more of his leg. He was in no mood to talk about something he didn't even consider a sport.
"I told him if you know a football coach tell him to come out my way," Lang said. "Golf was always kind of a sissy sport to me. It wasn't aggressive enough…I had no interest in playing."
Estes left Lang alone, but came back a few months later with a different approach.
"I said 'if you're such a great athlete, and golf isn't a sport, why don't you show me something. Show me how easy it is.'" Estes said. "I said look around, you can't play football and you can't play basketball, but you definitely can play golf with one leg."
That's not all Estes said, according to Lang.
" I can't really repeat what he said," Lang recalls with a laugh.
Estes had Lang figured out: challenge his competitive spirit, his manhood even.
"That kind of lit a fire," Lang said. "I was like 'alright, as soon as I can get up off my IV and blood pump I'll be out there."
Estes, of course, destroyed Lang competitively once they finally made it to the course, but Lang found something out that day.
Deep down, he's a golfer.
"I quickly recanted everything that I had said about it," Lang said. "I started to love the game."
Golf as therapy
Golf isn't considered the most strenuous of sports, but walking 18 holes while you're at the same time re-teaching yourself how to walk altogether is no easy task. But even moreso than the physical benefits of being outside and moving around, as Lang got more into the game he began using it as a mental therapy. A therapy he wasn't willing to admit he even needed before he started golfing.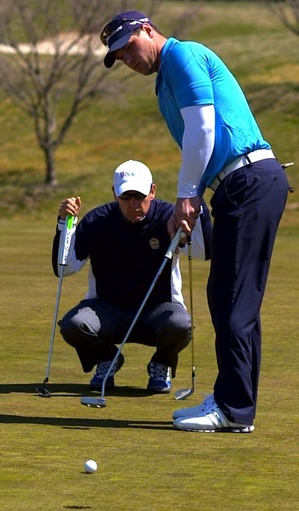 Photo courtesy of Salute Military Golf Association
Lang would lie in his bed with no desire to go to his physical therapy sessions before he started golfing. Once he started golfing, he started scheduling them earlier, so he could get out to the course sooner.
Lang said he's been a competitive and ambitious person his whole life, but was not motivated to do anything after his injury. That is until he began competing against others in golf and being driven to improve.
"Depression is a weird animal. Most of the people that are depressed don't even know they're depressed and they won't admit it, and I wouldn't have admitted it," Lang said. "(Golf) helped me realize how messed up I was earlier. How dark of a hole I was in."
"But after getting up and getting on my feet again, being up in nature on a Saturday or a Friday…I was excited to get up every day, I was excited to go out and knew that golf was now a new sport where I could depend on myself," Lang said.
Lang didn't just start being good for an amputee or a beginner, but flat out good, period. Good enough to where he's competing in amateur events. Estes thinks he has a shot at the National Amputee Golf Association championship.
Lang - who is also a student at Easter Michigan University, studying criminal psychology - now delivers his message across the country as an ambassador for the Salute Military Golf Association. He speaks to veterans in circumstances like he once was, motivating fellow veterans like Estes did for him.
"It's a very inclusive game and I love to be able to share my message of how disabled people or people with challenges can benefit from the game," said Lang.
Lang's message isn't just motivational to his fellow veterans. Before the beginning of the high school golf season, Lang spoke with the Saline High School boys golf team. His speech just happened to coincide with a conditioning session in which the team was "dogging it," according to coach Debbie Williams-Hoak.
"The guys were whining and saying 'oh it's too hard' and then they listen to Tim and one of the first questions I asked the guys was 'if we went back and did our conditioning workout now, would your effort be a little different?'" Williams Hoak said. "And everyone of them were like, 'yeah.'"
"Listening to him talk about it was really inspiring because he had to battle through almost losing all of his physical abilities to get back to playing some great golf," said Saline senior Ryan Peruski. "I think it's really inspirational for anybody who thinks that 'I can't do this, I can't do that, I'm too overweight, it's too late in my career, I'm too old, I'm too young' or whatever."
"It shows anything can be done if you want to put a lot of hard work into it."
Professional aspirations
Lang was a quick study on the course. He credits Estes' teaching style - to the point, no sugarcoating - and Estes credits Lang's athleticism.
"He always was an exceptional athlete. From my perspective those are easy guys to teach golf," Estes said. "He's got a huge upside potential, I told him he can win the amputee championship."
In a relatively short time, Lang has gone from a skeptic to true believer in the benefits of the game and from casual golfer to competitive. When he and Estes play, Lang refuses to take any strokes. Estes still wins, but Lang is getting there.
"He's the exception, one of about 10 out of 1,500 in our program that have used golf in more than just a recreational capacity," Estes said.
Lang is working to get his single-digit handicap even lower and plans to play in several competitive amateur events. Golf will be a Paralympic sport in 2016, which he has listed among his many goals in the sport.
"I'm so young I don't know what I can do. What I've done in four years is excelled at a really fast pace, so I think the sky is the limit for me," Lang said. "As far as I can go is what I want to do. I really want to have a big part in the Paralympics, want to win some amateur events and who knows after that. "I'm trying to get down to a three, four or five, be able to win amateur events consistently and I would love to take it to the next level, but I'm not trying to get ahead of myself," Lang said. "I'm just going one step at a time and doing as much as I possibly can with it."
So yeah, Lang has a handicap: it's a plus 5.
But if all goes according to plan it won't be for long.
Pete Cunningham covers sports for AnnArbor.com. He can be reached at petercunningham@annarbor.com. Follow him on Twitter @petcunningham.