Posted on
Fri, Apr 19, 2013 : 5:45 a.m.
Golf advice: Don't let the wind blow up your game
By Kyle Dobbs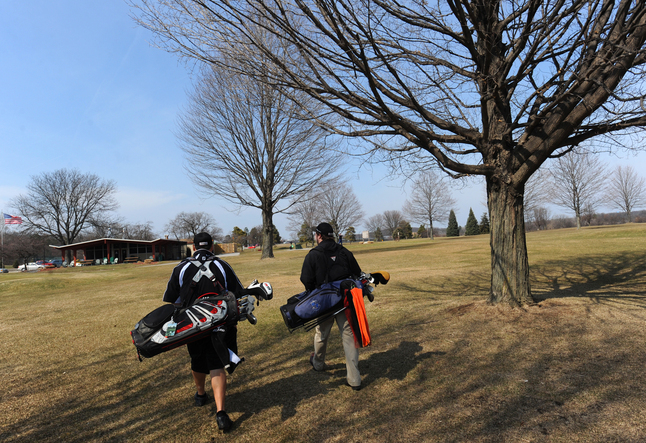 Melanie Maxwell | AnnArbor.com file photo
Editor's note: With the long winter finally coming to a close and with people looking to get out to the golf course, we are introducing a weekly golf advice column from contributor Kyle Dobbs. Dobbs is a former professional and University of Michigan golfer. He grew up in Ann Arbor and won the individual Big Ten title for the University of Michigan men's golf team his senior year in 1997. Hopefully his expert advice can help you maximize your potential on the course this season.
Spring time is when the links play to their historical reputation: nay wind nay golf aye laddie! Finding your spring game is challenging enough, compound this with gusty winds and you are facing a strong challenge.
GOLF ADVICE
Back in my days of competing professionally, I was on my way to Denmark for an event. As the plane descended over the countryside, a strange humming noise could be heard throughout the cabin to the point of almost shaking the plane. You could hear the murmurs of passengers commenting on noise and the curiosity of its source. As we broke through the cloud layer, I could look out and see the plane's wings chattering up and down so fast against the cross winds they were just a blur! Touching down, we were informed of 70 mile-per-hour winds with higher gusts.
Golfing wasn't quite as daunting a task as landing a plane in such conditions - shout out to the pilot for successfully managing that - but it was no picnic.
My first bit of advice would be to run for cover and stay as far away from a golf course as possible if there are 70 MPH winds outside. But the same strategies I used in those conditions can be applied to a gusty Michigan day.
Here are few techniques that every golfer can use to adapt to a windy day:
Grip the club lighter: A natural tendency is to grip the club tighter and swing faster on a windy day, but that can prove counterproductive. Make a mental note to grip the club lighter and swing easier in the wind. Manage this thought in your practice swings. Take two or three practice swings slower, extra soft with the hands and this will help alleviate the temptation to tighten the grip and swing faster in the wind. As a golfer, tension is the last characteristic we want in our game. The more we can relax and swing easy, the better results we will have.


Build a wider stance: Stand wider than you're accustomed to, especially when putting. Gusty conditions knock the balance off of your swing and stroke. Building a solid foundation gives you the ability to withstand the gust and maintain balance that is needed for a sound fundamental swing.


If competing, don't rest the club on the ground: In competition, if you address the ball and it moves as a result of an outside agency - such as the wind - you are penalized a stroke. A way to avoid this is to simply not rest your club on the ground before taking a shot on a windy day. Hovering the club off the ground, by the rules of golf, defines you as never addressing the ball, so if the ball moves it doesn't matter because technically you never addressed it. Not having your muscles in a static position will also help you maintain balance should a sudden gust of wind come your way.
This last strategy can really come in handy if you're playing against a rules stickler on a windy day. A couple penalty strokes can quickly throw a wrench in your run for a club championship.
Jack Nicklaus liked the feel of never placing the club on the ground so much that he incorporated the strategy to his game permanently. It certainly seemed to work out for him.
Try these techniques the next time you are at the driving range or playing a round. The key is to cognitively recognize wind creates tension and to slow the entire process down with a wider stronger stance.
Contact your local golf professional and them assist you in developing your game.
Feedback
Have any questions for Dobbs about his advice or want some more tips? Leave questions in the comments below and he'll gladly help you out.
Kyle Dobbs is a former professional and University of Michigan golfer. He grew up in Ann Arbor and won the individual Big Ten title for the University of Michigan men's golf team his senior year in 1997. He can be reached at kdobbsgolf@gmail.com.