Posted on
Tue, Aug 14, 2012 : 3:17 p.m.
Reports: After 1 season, EMU basketball coach Rob Murphy leaving for position with Orlando Magic
By Rich Rezler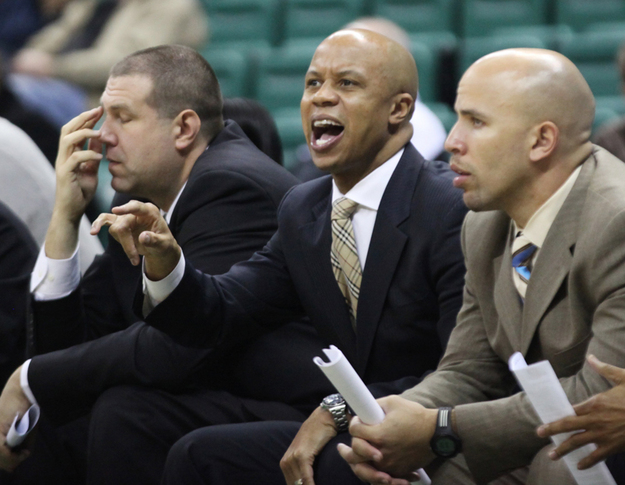 Jeff Sainlar I AnnArbor.com
Rob Murphy's list of accomplishments in his first year as the Eastern Michigan University men's basketball coach was an impressive one.
There reportedly will be no second-year list.
According to multiple reports, Murphy has accepted a position with the Orlando Magic, leaving the Eagles without a coach just three months before the start of the 2012-13 season.
MLive.com sports reporter Graham Couch first reported Murphy's exodus early Tuesday, although other sources hinted afterward that the coach was still contemplating the offer.
An EMU spokesperson said Tuesday he could not confirm or deny the reports and Murphy could not be reached for comment.
Brian Schmitz, the Magic beat writer for the Orlando Sentinel, confirmed the report via Twitter just after 3 p.m., saying Murphy would join the NBA franchise's scouting department "barring (a) change of heart."
Murphy became just the fourth Mid-American Conference coach to lead his team to a division title in his first year as head coach. He was also named the MAC Coach of the Year after a 14-18 season ended with a first-round MAC Tournament loss to Northern Illinois.
After signing a contract worth $210,000 per year before incentives in April 2011, Murphy told a crowd assembled for his introductory press conference that the EMU position was "not a stepping stone" for him and that he "will not let you down."
Inheriting a program that had one winning season since 2000, Murphy started to lure transfers from major Division I programs to Ypsilanti.
Michigan native DaShonte Riley, a 7-footer who Murphy recruited to Syracuse, was the first to join the Eagles' program. Riley played half of last season. Murphy also signed 6-foot-7 Glenn Bryant from Arkansas and 6-foot-6 Daylen Harrison from Wyoming. They're both eligible to play in the 2012-13 season.
Last April, Mike Talley - a three-time Michigan Class C Player of the Year at Melvindale Academy of Business & Technology -- announced he was leaving Duquesne to join Murphy at EMU.
Jalen Ross, a 5-foot-11 point guard from Greensboro, N.C., is the only member of the Eagles' 2012 recruiting class, joining a roster that included just four seniors (Antonio Green, Quintin Dailey, Darrell Lampley and Kamil Janton) in 2011-12.
Murphy was named EMU's coach after serving as an assistant coach at Syracuse (2004-11) and Kent State (2002-04).