Posted on
Wed, Sep 21, 2011 : 12:21 p.m.
Eastern Michigan coach Ron English has history of slowing down Penn State's offense
By Rich Rezler
Did Ron English call Penn State unimaginative? Predictable? Boring?
That would certainly make for some provocative bulletin board material when the Eastern Michigan football team travels to Happy Valley on Saturday (noon, ESPN2).
The quick answer is: No, he didn't. But that didn't stop a reporter from trying to get Joe Paterno's reaction to such a statement. JoePa didn't bite.
Here's the background: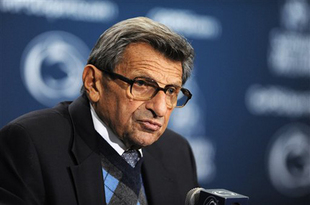 Associated Press
On the Mid-American Conference coaches teleconference this week, English opened his appearance by gushing about how physical the Penn State defense has been this season.
Later, he was asked if he purposely hadn't included the Nittany Lions' offense in his praise because it had struggled in back-to-back games -- a 27-11 loss to Alabama and a 14-10 win over Temple.
Here is English's reply: "Penn State doesn't change much over the years. I had a chance at Michigan to coach against (offensive coordinator Galen) Hall. … I see them running very similar plays that they always have. Knowing that, I know philosophically what they want to do and that's to play good, sound offensive football and not turn the ball over, run the ball and be able to throw it a little bit, too. They'll be able get back to that. They certainly have some excellent speed on the outside, (mentions wide receivers Derek Moye and Devon Smith by number), those guys can run. And Penn State's always going to have a back, and I'm always impressed with their offensive line."
The next day, that quote was paraphrased during a Paterno press conference and followed up with this question: "Am I reading between the lines here, or is he basically kind of suggesting maybe there's not a whole lot of innovation on offense?"
Paterno's response: "There's nothing wrong with that. I'm not going to disagree with him. But I think there comes a point when you're coaching, you know that people are playing you for certain tendencies and you adjust to them and you're ready to adjust to them, and we have been. We have been. That doesn't concern me."
So, there are no hard feelings between the granddaddy of college coaching and the third-year Eastern Michigan coach.
It is true, however, that Penn State's offense has lacked productivity this season. With the quarterback position rotating between Rob Bolden and Matt McGloin, the Nittany Lions have gained 306 yards per game, which is 103rd out of 120 Football Bowl Subdivision teams. They're 90th in points per game (22), 66th in average rushing yards (148) and 106th in average passing yards (158).
It's also true that English has shown the ability to scheme against Penn State's offense. While he was defensive coordinator at Michigan, the Wolverines beat Penn State 17-10 in 2006 and 14-9 in 2007.
In 2006, a night game at Beaver Stadium, Penn State had 186 yards of offense against English's Michigan defense. Back in Ann Arbor in 2007, an unranked Michigan team limited No. 10 Penn State to 270 yards.
Eastern Michigan's defense showed similar signs of stoutness during the first half of its 31-3 loss to Michigan last weekend. The Wolverines -- thanks primarily to quarterback Denard Robinson (198 rushing yards) -- eventually strung together three long second-half scoring drives to pull away.
At the same time Saturday, Penn State was rallying to beat another Mid-American Conference team. A game-winning Michael Zordich 1-yard touchdown run with 2:42 left to play gave the Nittany Lions (2-1) their first lead of the game against Temple.
English said he won't read much into Penn State's struggles against Temple, a team picked to finish third in the MAC East. Eastern Michigan (2-1) was picked sixth in the MAC West.
"If you put different jerseys on Temple, Temple is a quality opponent. They have excellent defensive personnel," English said. "The point I'm making is that Penn State, as we all know, will be consistent, get it ironed out and certainly be able to play good offensive football."
Rich Rezler is a sports producer for AnnArbor.com. Contact him at 734-623-2553 or richrezler@annarbor.com.