Posted on
Sun, Apr 14, 2013 : 7:30 p.m.
Eastern Michigan content with 'vanilla' football game to cap injury-free spring
By Matt Durr
After a disappointing 2012 campaign, the new-look Eastern Michigan football team held its annual spring game Sunday inside the team's practice facility. Coach Ron English admitted his team didn't showcase most of what it worked on during spring practice.
"We're healthy, nobody went down so it was a good thing," English said. "We were far ahead of where we thought we would be. We feel good about where we are right now and today we just kind of wanted to be vanilla and get out of here healthy."
With new offensive coordinator, Stan Parrish and new special teams coach, Ryan Oshnock among his five new assistant coaches, English said he was happy with the way his team practiced over the last couple of weeks considering all the turnover. English did however admit the team still had much to work on for the fall.
Junior quarterback Tyler Benz was efficient in the "vanilla" offense completing more than 70 percent of his passes and engineering two scoring drives. Without giving away too much, Benz said he likes the way the new offense is shaping up."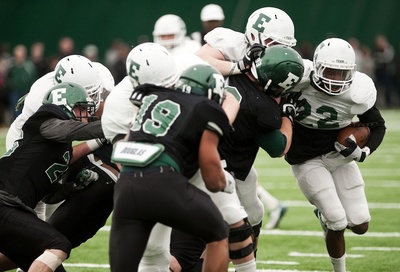 Daniel Brenner | AnnArbor.com
"I think we're going to be pretty explosive, we got a lot of playmakers and we're just going to get the ball in their hands and hopefully put up a lot of points," Benz said. "The whole playbook is kind of simplified and it's easier for the players to understand. There's less plays, but we rep them a lot so we get really good at them."
Benz is looking forward to working with new offensive coordinator Stan Parrish, whose coaching pedigree includes working as the quarterbacks coach for the University of Michigan from 1997-2001.
"I've seen the biggest improvement in my footwork, whether its run footwork or passing footwork," Benz said. "He's taught he me a lot on my stride length when I throw the ball I've shortened it a lot so I get more touch on the ball and I'm more accurate."
With spring practice over, Benz and the rest of the offense have already begun talking about working together over the summer.
"Summer is always fun, we got a lot of time with the receivers to get timing down and we work with the defensive backs as well," Benz said. "And when we're out there the lineman are out there as well. It's fun, we're out there like a team without coaches, so it's always a fun time."
Parrish unveiled some smaller elements of his spread offense, but as expected, the Eagles ran the ball the majority of the time.
Junior Bronson Hill carried the ball a handful of times before yielding the rest of the carries to sophomore Derrick Jackson and junior Ryan Brumfield who opened the scoring with a short touchdown run. After being stopped at the line, Brumfield bounced it the outside and broke contain for the score.
It was a one of the few glaring defensive mistakes on the day as the Eagles defense was stout during Sunday's game, highlighted by a goal-line stand against the second team offense. English took over as defensive coordinator for the Eagles in the offseason and has already seen a change in his team.
"They're doing some good things. I don't think today we played as well as we have been, but we didn't pressure at all and we just played base defense. We've got some good players and we're doing some good things and I expect us to really grow as we head into the season.
Much like last season, the special teams struggled Sunday allowing a blocked punt as well as a fumbled snap on the first punt of the game. English said he expects the special teams to improve once the incoming class arrives on campus.
"We really don't have a snapper here yet. We signed a long snapper who is going to be our snapper, so we've kind of been moving guys around in there. We're still a work in progress in there with the punt team. We got a long way to go in that area."
Although spring practice is over, English said being down on the sidelines has made him even more optimistic about his team's future.
"I certainly do have a lot of pep in my step and I'm excited about this team. We've got good players and we've got some speed. We're going to be a good football team, we're going to be a good defensive team."
Matt Durr is a freelance reporter for AnnArbor.com.