Posted on
Thu, Oct 6, 2011 : 10:25 a.m.
Eastern Michigan football team braces for Toledo's spread offense
By Rich Rezler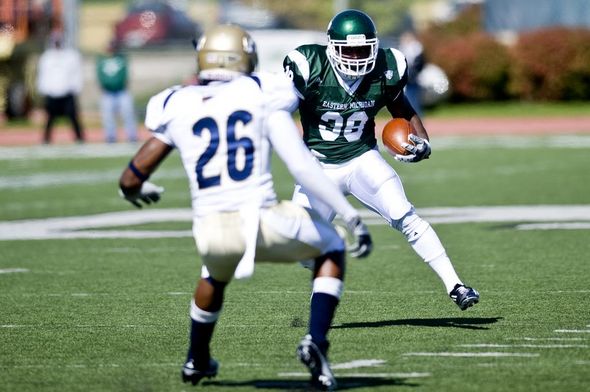 Joseph Tobianski I AnnArbor.com
The Rockets will get their yards. How the
Eastern Michigan
football team reacts, coach
Ron English
says, will determine how successful it is Saturday against Toledo.
Toledo's spread offense is averaging more than 350 yards against a string of solid opponents (Ohio State, Boise State, Syracuse and Temple). The Rockets won 36-13 last week at Temple, which brought the Mid-American Conference's top-ranked defense into the game.
"We have to be patient and know that they're going to move the ball, I think," English said. "Once the ball is thrown or run, we have to get guys sprinting to the ball to leverage the football. When you play an offense like Toledo's, you can't get discouraged by them moving the ball. They're going to do that."
EAGLES PREVIEW
WHO:
Eastern Michigan (3-2, 1-0 MAC East) at Toledo (2-3, 1-0 MAC East)
WHERE: Glass Bowl, Toledo
WHEN: 3 p.m. Saturday
RADIO: WEMU (89.1 FM)
ODDS: Toledo is favored by 20 1/2 points.
LAST MEETING: Toledo won, 42-7, on Oct. 30, 2010
The Rockets rotate quarterbacks, with junior
Austin Dantin
getting significantly more snaps than redshirt sophomore
Terrance Owens
the past two weeks. Both frequently target wideout
Eric Page
, the nation's ninth-leading receiver with 43 catches in five games and a dangerous kick and punt returner.
While the Rockets will spread the field in four- and five-wide receiver sets when the teams meet at 3 p.m. Saturday at the Glass Bowl in Toledo, junior Dominique White became the third Eastern Michigan back to eclipse the 100-yard mark out of the Eagles' more traditional sets.
"It's very important for us defensively to swarm the football, to gang tackle and tackle in open space because (Eastern Michigan) puts you on your heels a little bit with all the misdirection and all the motion that they use in their offensive scheme," Toledo coach Tim Beckman said.
Once the team's third-string back, White turned in a career-best 164 yards rushing and three touchdowns on 28 carries in a win against Akron last week. Before the game, he had rushed just 18 times in his 10-game career for 57 yards.
While the Eagles have generally preferred to remain grounded - they've run the ball 235 times this season and attempted 86 passes - English believes he'll need to call on junior quarterback Alex Gillett to help keep pace with an explosive Toledo team and keep the Rockets' defense guessing.
Gillett has completed just 51.8 percent of his passes and is averaging 100.2 yards per game.
"We're going to have to make some plays in the air. I don't know that we're going to be able to run the ball as much as we've been running it," English said. "I think we're going to have to throw it a little bit to keep them honest."
A THIN LINE: Starting offensive guards Corey Watman and Bridger Buche missed the Akron game with injuries and neither is on the Toledo game depth chart released by the school. Campbell Allison and Scott MacLeod, who filled in against the Zips, are listed as the starters. Tight end Orlando McCord is listed as the backup at both positions.
LOCAL FLAVOR: Junior offensive lineman Fadi Farha, a Pioneer High School graduate, is listed at No. 3 at right tackle for the Rockets. Backup punter Corey Smith is from Dexter and attended Detroit Catholic Central.
Rich Rezler is a sports producer for AnArbor.com. Contact him at richrezler@annarbor.com or 734-623-2553.