Posted on
Sun, Jul 8, 2012 : 3:44 p.m.
Eastern Michigan gets commitment from 4-star quarterback recruit
By Rich Rezler
When the Eastern Michigan football team didn't sign a quarterback among its 24-member 2012 recruiting class, coach Ron English said it was a purposeful move.
"We'll hold that spot and really recruit a guy next year," English told AnnArbor.com on signing day last February. "We've got some guys we like."
English can't comment on 2013 recruits according to NCAA rules, but it appears the Eagles have a commitment from one of those guys.
And he's the program's highest-profile recruit in more than a decade.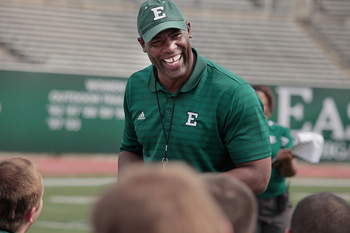 Brogan Roback, a 6-foot-4, 185-pound quarterback from St. John's Jesuit High School in Toledo made a verbal commitment to attend EMU on Saturday, according to the Toledo Blade and numerous recruiting websites.
Scout.com rates Roback as a 4-star recruit and the No. 29-ranked quarterback in the nation. Rivals.com lists him as a 4-star prospect and the country's No. 11 pro-style quarterback.
According to Scout's and Rivals' recruiting databases - both of which date back to 2002 - Eastern Michigan has never had a 4-star recruit sign a letter of intent with the program.
EMU's 2012 class had four players that were rated a 3-star by either service: Quincy Jones (WR, Cleveland), Juwan Lewis (RB, Muskegon), Ike Spearman (LB, Saint John, Ind.) and Matt Thornton (OL, Owosso).
Roback's arrival will coincide with the graduation of four-year starter Alex Gillett.
English gave redshirt sophomore Tyler Benz a shot to compete for the starting job during spring practice, but Gillett appears to have a strong grasp on the position heading into the fall after a strong spring game.
Roback reportedly chose EMU over scholarship offers from Akron, Bowling Green, Miami, Ohio and Toledo.
The Eagles had one inside edge on their Mid-American Conference rivals. Brogan's sister, Paige Brogan, is a junior on the Eastern Michigan volleyball team.
The Eagles' 2013 recruiting class now includes four players. Roback is joined by Duwhan Alford, a 2-star tight end from Elkhart, Ind.; Brandon Bossard, an unranked quarterback from Norristown, Pa.; and Chris O'Risky, an unranked long snapper from Poseyville, Ind.