Posted on
Fri, Oct 12, 2012 : 5:43 a.m.
Eastern Michigan, still searching for first win, hosts Toledo on Saturday
By Matt Durr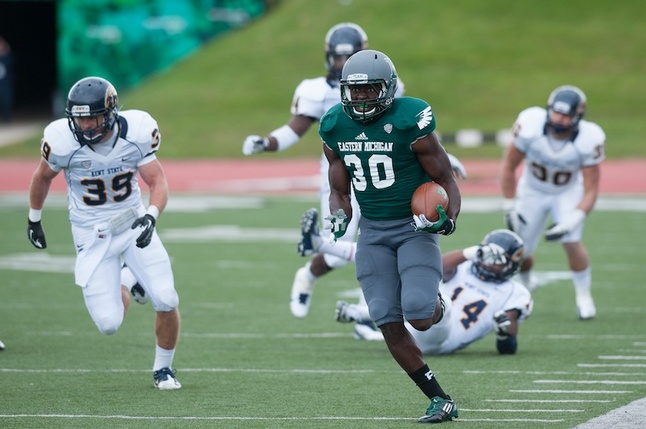 Courtney Sacco I AnnArbor.com
It's been hard to explain why the Eastern Michigan University football team has been unable to recapture its offensive success from a year ago for coach Ron English.
After last week's 41-14 loss to Kent State, EMU head coach Ron English admitted he was perplexed by the inability to move the football as they gained a mere 200 yards of offense.
"We just have not been able to block for the run game. Until we solve that, we are going to struggle scoring points," English said during his weekly teleconference. "The only way I know how to do it is continue to coach with great detail and continue to keep the players engaged."
It doesn't get any easier Saturday for the Eagles (0-5, 0-2 Mid-American Conference) as they host MAC West Division rivals, the Toledo Rockets (5-1, 3-0) at Rynearson Stadium. Kickoff is set for 1 p.m.
The Eagles enter the contest averaging 265 yards of offense a game, second worst in college football. Luckily for the Eagles, Toledo isn't much better defensively as the Rockets allow a little more than 450 yards a game to opponents.
Sophomore Tyler Benz has been the signal caller at quarterback the last two weeks and is likely to get the start against Toledo, but senior Alex Gillett is expected to once again see some snaps at quarterback.
Whomever is under center to start the game should have chance to throw the ball against the Rockets who surrender more than 300 yards a game through the air.
After having a career day against Michigan State, senior tight end Garrett Hoskins was silent against Kent State. Hoskins, along with junior Donald Scott and sophomore Demarius Reed have been the most effective weapons in the passing game for EMU thus far.
On the ground, sophomore Bronson Hill electrified the Rynearson crowd last week with a 68 yard run for a touchdown, but it is unclear whether he will see more snaps this week. That run against KSU is Eagle's longest play of the year, but it was only Hill's seventh carry of the season.
As troubled as the offense has been, the defense has been just as porous. EMU surrenders the eighth most yards in the country, giving up 487.6 yards per game.
Still, English was happy with the growth he saw on defense against KSU.
"I think defensively we continued to grow. We put them in very bad positions. I feel good with the progress the defense is making, English said. "Offensively we're not making that same progress. We really have to look at what we're doing, what we're asking them to do and if we're reaching the players."
Toledo boasts one of the MAC's top offenses having scored 33.8 points a game and averaging 445 yards of offense per contest.
Led by junior quarterback Terrance Owens, the Rockets are dangerous through the air and can attack in variety of ways according to English.
"When you talk about a really good athlete, who has physical tools, and then he's really sharp, which means he understands the offense, he's really hard to stop," English said about Owens. "He'll throw the short passing game a bunch and then all of a sudden they'll go vertical on you."
Owens has thrown for 1,499 yards and nine touchdowns on 127-of-193 passing, good for a 65.8 percent completion rate. He has thrown just one interception this season.
His two favorite targets, Bernard Reedy and Alonzo Russell will look to stretch the Eagles secondary if given the chance.
Toledo head coach Matt Campbell understands that EMU has struggled this season but expects a fight on Saturday.
"I'll be honest, Eastern Michigan is one of the best coached football teams that I've seen on film. They've had a really tough schedule early in the season," Campbell said. "The thing I love about watching their kids is they play so hard.
"The thing that we know right now is we're going to play a very, very good football team this Saturday. For us it's another huge conference game and it's the next step for our football program."
English said he knows his team is facing a tough test this week, but feels that if they execute properly, they'll have a chance to secure that elusive first victory.
"What we want to do is show up and fight and have a chance to win in the fourth quarter," he said.
Matt Durr covers sports for AnnArbor.com.