Posted on
Sat, Oct 6, 2012 : 4 p.m.
EMU's stagnant offense struggles as Eagles fall to Kent State 41-14
By Matt Durr
All season long, Eastern Michigan head coach Ron English has criticized his team for its inability to finish ball games. Slow starts in the second half have been especially troublesome for the Eagles.
That trend continued Saturday as the Eagles allowed two touchdowns in the first six minutes of the second half, as Kent State knocked off EMU 41-14 at Rynearson Stadium Saturday, during EMU's homecoming game.
The Eagles are now 0-5 on the year and 0-2 in Mid-American Conference play, while KSU improves to 4-1 and 3-0 in MAC play.
"We're not performing at all offensively and its taking its toll on the team. That's the reality of it. We hit the one big play and we're just not moving the ball and we're not putting any points up and that has had an affect on the team," English said.
After taking a 17-7 lead into halftime, the Golden Flashes outscored EMU 21-0 in the third quarter to put the game out of reach.
KSU star and national all-purpose yards leader Dri Archer scored three touchdowns on the day including a stadium-record 98 yard kick return for a touchdown to open the second half. Archer had 222 all-purpose yards on the day. Aside from his kick return, Archer added scores of 64 yards on the ground and a four-yard touchdown catch. Archer was pulled from the game after three quarters.
"If you saw the return, that was a fabulous return by the returner and that's why he is who he is," English said about Archer.
KSU running back Trayion Durham complemented Archers speed with a power rushing game. Durham ran for 116 yards on 24 carries to go along with two touchdowns.
The Golden Flashes dominated the time of possession battle, holding on to the ball for a little more than 42 minutes.
EMU entered the contest with the fourth worst offense in the FBS averaging only 281.2 yards a game. Those problems continued Saturday, as the offense was inept for the majority of the game.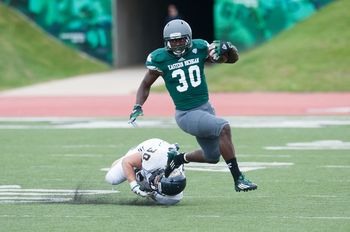 Courtney Sacco | AnnArbor.com
The lone EMU highlight came midway through the second quarter when backup running back
Bronson Hill
broke off a 68-yard touchdown run.
The Eagles managed just 84 yards of offense in the first half on 19 plays, most of which came on Hill's touchdown. On their seven first-half possessions, they went three-and-out six times did not gain a first down outside of Hill's run until six minutes into the third quarter.
"What's happening right now is the defense is being put in an awful lot of short fields and they're on the field an awful long time," English said. "They play well for long stretches and they make mistakes for stretches.
"There were several situations in the first half where the defense battened down."
Sophomore Tyler Benz started the game for the Eagles for the second consecutive week, but Benz struggled against Kent State going 9-of-17 passing for 93 yards, one touchdown and two interceptions.
Former starting quarterback Alex Gillett saw more action this week than he did in the Eagles last game, but was largely ineffective again.
The Eagles finished the game with 200 yards of offense, a large part of which came when the game was out-of-hand. Five weeks into the season, English said he has no answer for why the offense has stumbled this season.
"It is unnerving. Its unbelievable that a team that ran the ball so well and practices the way we practice is struggling running the ball as much as we are," English said. "We have four of our five offensive lineman back all of our tight ends back, two of our top three backs back and we don't perform. At the end of it we have to evaluate that and we have to make some hard decisions.
"I don't know that we're going to make any drastic movements there, but we are going to continue to coach and develop the guys that are playing."
EMU hosts Toledo next Saturday at Rynearson Stadium at 1 p.m.
Matt Durr covers sports for Annarbor.com