Posted on
Mon, Sep 17, 2012 : 8:27 p.m.
Eastern Michigan University paying a pretty penny to keep Rob Murphy as head basketball coach
By Pete Cunningham
Angela J. Cesere | AnnArbor.com
Rob Murphy is still the head men's basketball coach at
Eastern Michigan University
, but keeping him and his staff in Ypsilanti won't be cheap.
The Eastern Michigan Board of Regents is expected to approve an amended contract with Murphy on Tuesday that will keep him as coach through the 2016-2017 season, one year longer than his original deal. Murphy's base salary of $210,000 will remain the same, but several performance-based bonuses have been added, in addition to an annual $10,000 raise and an extra $10,000 per year tacked on to his radio show deal, for which he already receives $15,000 annually.
Click here to download Rob Murphy's new contract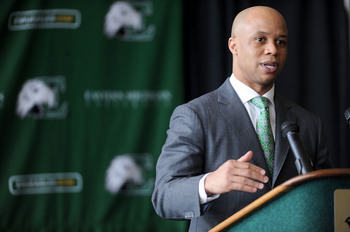 Murphy was contacted by the NBA's Orlando Magic over the summer and was
rumored to have accepted a position in August
after just one year at the helm for the Eagles. The move that would have
cost Murphy $210,000
over the remaining four years of his deal with Eastern Michigan.
Days after several media outlets reported that Murphy was on his way out, Murphy released a statement through the university stating he was staying with Eastern.
His new contract gives him tens of thousands of new reasons to succeed in his time with the Eagles, and increases bonuses already in place.
Among the new bonuses:
Murphy will be owed $7,500 if the Eagles reach theCollege Insider Tournament or College Basketball Invitational, and $2,500 for every win in said tournaments.
…$10,000 if the Eagles are a top-four seed and $5,000 for a top-five seed in the Mid American Conference Tournament.
…$25,000 if he wins the Naismith Men's College Basketball Coach of the Year award.
...$5,000 if the Eagles at any point during the season appear in the ESPN Mid Major College Poll. Only eligible once per season.
…$10,000 if the Eagles are ranked in the top 25 of the Associated Press or ESPN Coaches poll at any time during the season. Only eligible once per season.
Existing bonuses which will be increased:
Murphy will be owed $25,000 annually for a radio show, for which the university is to make all arrangements, up from $15,000.
…$10,000 if the Eagles make the National Invitation Tournament -- up from $5,000 -- and $5,000 for every win in said tournament, up from $2,500.
…$12,500 if the Eagles are sole regular season champions of the Mid American Conference West Division or are the highest seed among West Division schools in the MAC Tournament, up from $10,000.
…$10,000 if the team ties for the MAC West Division title, up from $5,000.
…$10,000 if he wins MAC coach of the year award or National Association of Basketball Coaches national coach of the year. In his current contract, Murphy receives $5,000 for the MAC coach of the year award and an additional bonus of $10,000 for any national coach of the year award.
…$7,500 if the Eagles win 12-14 games against Division I-A opponents, up from $5,000; $10,000 for 15-17 wins, up from $7,500; $15,000 for 18 or 19 wins, up from $10,000. Bonuses of $25,000 for 20-24 wins and $30,000 for 25-plus wins remain.
In addition to raising the price tag on several performances, Eastern is lowering the bar for Murphy's bonuses based on attendance at home games.
The new contract grants Murphy a $10,000 bonus if attendance at home games at the Convocation Center averages between 1,500-1,999, and counts paid ticket holders as well as those with complimentary tickets toward that total. Murphy's original contract required 1,000 more attendees on average and only counted paid ticket holders for the same bonus.
The attendance bonus increases incrementally to a maximum of $30,000 if attendance grows to more than 6,000 people per game.
If the average attendance threshold is not met, Murphy receives $1,000 for every game at the Convocation Center at which at least 1,500 people attend. Eastern's average attendance for home games during the 2011-12 season was 1,114 and only twice did more than 1,500 people attend a game, against Michigan State and Ball State.
The Convocation Center has a capacity of roughly 8,800 for basketball games.
The new contract also calls for every assistant coach on staff as well as the school's director of basketball operations and director of player development to each be paid five percent of the bonuses owed to Murphy.
Last season, Murphy became just the fourth Mid-American Conference coach to lead his team to a division title in his first year as head coach. He was also named the MAC Coach of the Year after a 14-18 season ended with a first-round MAC Tournament loss to Northern Illinois.
Pete Cunningham covers sports for AnnArbor.com. He can be reached at petercunningham@annarbor.com. Follow him on Twitter @petcunningham.