Posted on
Thu, Nov 11, 2010 : 4:56 p.m.
Eastern Michigan women's basketball team moves past distractions, aims for MAC West title
By Jeff Arnold
AnnMarie Gilbert would have preferred to have a drama-free pre-season, free to go about the business of preparing her Eastern Michigan women's basketball team for a run at a Mid-American Conference West Division title.
All of the pieces were in place -- four returning starters, including the conference's leading scorer in junior guard Tavelyn James, and a full supporting cast that shaped the Eagles into one of the league's top teams.
But when the university self-reported four major NCAA violations in late September, Gilbert's best-laid plans had to be adjusted. She was cut off from her team during a 30-day suspension, leaving associate head coach LaTonya Tate to try to hold everything in place.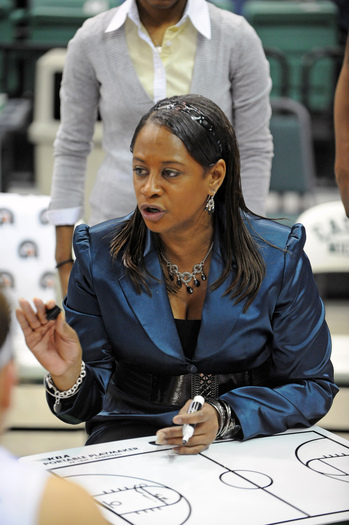 Photo courtesy Eastern Michigan University
Over those 30 days, though, Gilbert's team refused to allow a pending NCAA investigation to distract them. Rather than get caught up in their coach's absence, the Eagles focused on building off of last year's 22-9 season, when Eastern played in the Women's National Invitation Tournament.
"I think we took (Gilbert's absence) as encouragement to work harder while she wasn't here," James said Thursday. "We wanted to show her we could do it without her."
Eastern had no other choice. Picked to finish second behind Toledo in the MAC West, the Eagles went about their business, preparing like they normally would. The team traveled to Canada over the summer, using exhibition games during the tour to polish a game plan that needed tweaking rather than overhauling.
The Eagles begin the regular season Friday night, hosting Loyola-Chicago at 7 p.m. at the Convocation Center before traveling to Ohio State on Sunday. This week's practices have restored a sense of normalcy to the program after Gilbert returned from her suspension 10 days ago.
Not wanting to create any disturbance of what her team had been working on under Tate, Gilbert eased back into her duties before taking charge again this week.
The third-year coach anticipated returning may be awkward, but after sitting at home Gilbert said being back around her players was a cleansing step forward.
Getting through those 30 days was the toughest thing Gilbert has ever had to endure as a coach.
"At first, you're angry, you're disappointed, you're thinking about how unfair it is and how hard you worked," Gilbert said Thursday in her first public comments since the violations were announced. "But I think I'm better for my staff, I think I'm better for my student-athletes and I'm going to be better for me."
Getting to that point of self-realization wasn't easy. For the first time, Gilbert was away from her team for an extended period of time. She wasn't allowed contact with her players, leaving her to spend part of every day working on herself and understanding how much the game had consumed her life.
"Basketball was everything in my world," she said. "It had become a little bigger than my faith, bigger than my family and children. Every waking moment was about being the best and, in some ways, winning."
The time away provided Gilbert with a new perspective, helping her understand how basketball fits into her life rather than the game dominating everything she did. Although she still has lofty expectations for her program, Gilbert said she realizes she must be more cognizant of how she approaches reaching that point.
Photo courtesy of Eastern Michigan University
The Eagles will also face the new season from a different viewpoint. Picked to finish as a middle-of-the-pack also-ran during Gilbert's first two seasons, Eastern is expected to be a title contender.
For Gilbert's players, playing with a constant target on their backs may be a new feeling, but it's a sign of that Eastern is moving in the right direction.
"We're just so much older than we were last year and so we're just excited to see what we can bring," junior guard Cassie Schrock said. "We just have better pieces this year. This year, we're predicted second (in the division) and so that's a little different for us.
"People expect great things from us this year. So it's different."
With two games this weekend, Gilbert believes the Eagles can slowly put the distractions of the past month behind them. Gilbert's players also had to deal with the sudden passing of former Eastern Michigan coach Leonard Drake, who died Sept. 30 at the age of 56.
The Eagles have dedicated their season to Drake, who served as an associate head coach until last season before moving on to work as a high school athletic director in Indiana.
Schrock said both the NCAA probe and Drake's death serve as fuel to push the Eagles this season. But especially with the negative attention that came with the self-reported violations, James said there is only one way to put the off-season distractions behind the Eagles for good.
"That was an eye-opener for Eastern and that put us on the map in sort of a bad way," James said. "But when people see us, if we win games, all they can do is forget about it."
Jeff Arnold covers sports for AnnArbor.com and can be reached at (734) 623-2554 or by e-mail at jeffarnold@annarbor.com. Follow him on Twitter @jeffreyparnold.