Posted on
Wed, Mar 20, 2013 : 6:59 p.m.
EMU confirms athletic director Derrick Gragg's departure to Tulsa University
By Kyle Austin
Derrick Gragg is leaving Eastern Michigan to become the athletic director at Tulsa University, the schools announced Wednesday.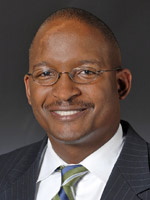 Gragg, who spent seven years as EMU's athletic director, will be introduced to the public at Tulsa on Friday.
"I am very excited to accept the position of director of athletics at TU. It is a wonderful opportunity to lead a program of this caliber," Gragg said in a release issued by Tulsa. "The university's combination of academic and athletic success dovetails perfectly with my own personal and professional core values. My family and I are eager to become an integral part the Tulsa community and the TU family."
Gragg's departure was first reported by the Tulsa World Wednesday and later confirmed in news releases from both schools. According to the paper, Gragg met with his staff at Eastern Michigan Wednesday afternoon.
In seven years under Gragg, Eastern totaled 24 Mid-American Conference team championships, 32 MAC Coach of the Year Awards, 38 MAC Player of the Year honors and 164 individual MAC champions.
"Dr. Gragg has had an outstanding impact at Eastern Michigan since arriving in 2006," EMU President Susan Martin said in a release. "He has led student-athlete success on the playing field and in the classroom.
During his tenure, EMU's women's basketball program was also sanctioned for exceeding practice time and other NCAA violations.
Gragg came to Eastern Michigan in February, 2006, after spending six years as an assistant athletic director at the University of Arkansas. He also spent time at Columbia and Michigan.