Posted on
Thu, Nov 8, 2012 : 12:29 p.m.
NCAA adds additional sanctions to Eastern Michigan women's basketball program
By Kyle Austin
The Eastern Michigan women's basketball program will have reduced recruiting visits, reduced practice time and two more years of probation after the NCAA and university came to a final resolution this week on the school's 2010 program investigation.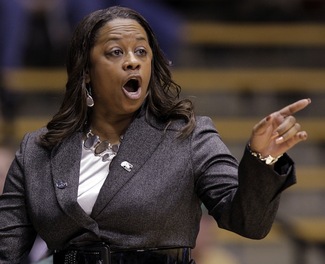 AP Photo/Michael Conroy
EMU self-reported four major NCAA violations in September 2010, including exceeding practice limitations, exceeding offseason conditioning limitations and allowing recruits to participate in organized workouts under former coach AnnMarie Gilbert.
The school self-imposed penalties in 2010, and the NCAA added four more this week.
"Eastern has cooperated fully with the NCAA during this two-year process," EMU Athletic Director Derrick Gragg said in a statement. "When we first learned of the allegations two years ago, we immediately began an internal investigation, the findings of which we self reported to the NCAA along with our self-imposed penalties. Additionally, since that time, we have voluntarily implemented many processes and procedures that have significantly strengthened our compliance and tracking processes across all of our athletic programs. The NCAA has positively recognized these efforts."
Under the sanctions, Eastern will be limited to seven recruiting visits during the 2012-13 academic year, after limiting itself to 10 during the last two years. The NCAA allows 12 visits.
The program will also be limited to three hours per day and 18 hours per week of athletically related activities. The NCAA maximum is four per day and 20 per week. The school had limited itself to 14 hours per week two seasons ago and 15 last season.
The sanctions also limit EMU to four hours of offseason athletically related activities per week after this season, half of the NCAA maximum.
The program has also been publicly reprimanded and censured.
EMU finished 23-9 last year, qualifying for the NCAA Tournament. The Eagles open the season Sunday against Northeastern under new head coach Tory Verdi.
Kyle Austin covers sports for AnnArbor.com. He can be reached at kyleaustin@annarbor.com.