Posted on
Sat, Oct 22, 2011 : 7:32 p.m.
Yes, Eastern Michigan is actually a good football team; and people care
By Pete Cunningham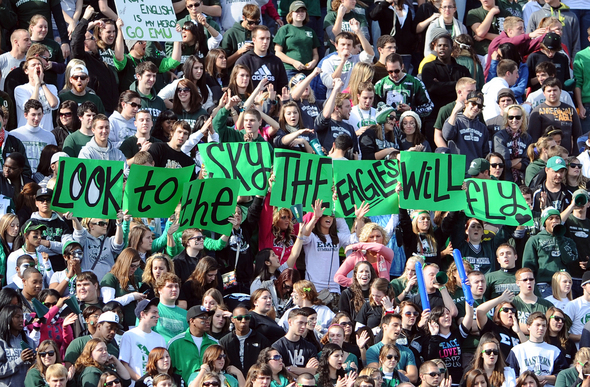 Melanie Maxwell | AnnArbor.com
All the standing fans in the Eastern Michigan student section at Rynearson Stadium remained after the final whistle blew on the Eagles' 14-10 win over Western Michigan. The football team joined them to sing the fight song and celebrate a sweep of their two in-state rivals in consecutive weeks.
Every seat in the student section was occupied, from the first row to the last, and not a single student sat as they celebrated the team's fourth home win of the season.
Who could have seen any of this coming? A 5-3 Eastern Michigan team (3-1 MAC), an excited fan base or a 4-0 home record?
"I'm a dreamer, so I dreamed about this," said third-year Eagles coach Ron English. "You know, I just think it's going to get better and better here and so I'm just glad for all the people that can get involved."
Sure, English was pleased that people turned out for the game. Is the reported attendance of 6,772 something to get that fired up about? Not really. But for Eastern, it is progress.
It's the product on the field that English has pined over. A defensive coordinator by trade, appropriately, it was the defense that shined brightest on Saturday. Western was held to its lowest point total since its season opener against Michigan, a game that was stopped before the start of the fourth quarter.
More coverage: Game story | Photo gallery

Western moved the ball, compiling 329 yards of total offense, and had more first downs (19-16) than Eastern. But as senior defensive back Latarrius Thomas put it after the game, "you don't get points for first downs."
Thomas came up with the play of the game with just over five minutes remaining in the fourth quarter, launching himself at short-yardage specialist/linebacker Chris Prom, who caught an Alex Carder pass in the flat on third-and-goal from the 3-yard-line. Prom appeared bound for the end zone, but Thomas' hit sent him backwards.
A touchdown would have given Western the lead, but Thomas' tackle stalled him inches from the goal line. Thomas was also part of the gang-tackle that stopped Western's dive play from inches off the goal line on the ensuing fourth down.
Even louder than the cheers for the goal-line stand were the boos when both plays were sent up to the booth for replay review. The crowd of 6,772, which appeared to be closer to 10,000, sounded even louder than that.
The palpable energy of the crowd wasn't something lost on Thomas.
"It's hard to play, you know, when it feels kinda like practice," Thomas said of previous home games. "But today, the fans were with us, we played with great emotion and it all worked out."
The Western game wasn't just a test for the football team on the field, but for the program off of it. It was homecoming, there was no Michigan game to compete for local interest and the weather -- mid 50s and sunny throughout -- wasn't a hindrance, as it has been in previous home games. And, most important, the team is winning.
Basically, there was no excuse not to have a good turnout, and that's exactly what Eastern got. Relatively, of course.
It was still nowhere near the 15,000-attendance level required to remain an Football Bowl Subdivision program, but it nearly doubled the average attendance of 3,903 at the Eagles' first three home games.
Just outside of Rynearson before kickoff, a man in a multi-colored hooded sweatshirt stood with an arm raised, two fingers extended. Eastern Michigan alumnus Ronnie Martin couldn't believe what he was seeing: A scalper ... at an Eastern Michigan football game.
"You can usually get four tickets and T-shirt for 25 bucks," Martin said.
And "Tailgate Town," which is usually more like a ghost town on fall Saturdays, smelled of spilled beer and grilling brats. It was a college football atmosphere, off the field and on it.
Eastern Michigan junior Susie Coleman attended her first Eagles game on Saturday. When asked why she was there, it wasn't the weather, it wasn't the festivities.
"Because they're good," she said.
Yes, believe it or not, Eastern is actually good. And people are starting to take notice.
Pete Cunningham covers sports for AnnArbor.com. He can be reached at petercunningham@annarbor.com or by phone at 734-623-2561. Follow him on Twitter @petcunningham.