Posted on
Sat, Oct 6, 2012 : 6:12 p.m.
Kent State's Dri Archer sets Rynearson Stadium record during blistering performance against Eastern Michigan
By Matt Durr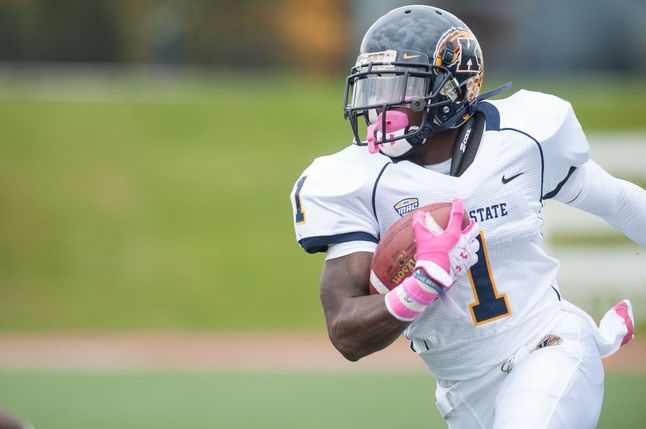 Courtney Sacco | AnnArbor.com
It may have looked strange to a casual fan to see the
Eastern Michigan
football team pooch its first kickoff of the game short.
But to anyone who's ever heard of Kent State return man Dri Archer it came as no surprise and seemed a smart move.
Archer came into the game averaging 42.7 yards a return and had already returned two kicks for scores this season. The surprise came on EMU's second kickoff, which was kicked directly to Archer who was standing on his own 2-yard line.
Ninety eight yards later, anyone who wondered why Eastern did what it did on that first kickoff had the mystery solved abruptly.
"The first time they pooched it, I thought they were probably going to come back and pooch it again," Archer said, "But when I was back there I saw the alignment and I knew they were going to kick it to me.
"We had a perfect return set up and everyone made the perfect block. I just had to make one guy miss so that was it."
Archer returned the opening kick of the second half for a 98 yard touchdown that put KSU up 24-7 just 13 seconds into the half. The Golden Flashes won the game 41-14.
It was his third kick return for a score this season; all three of which have been longer than 98 yards.
His average return is now 47.8 yards.
"If you saw the return, that was a fabulous return by the returner and that's why he is who he is," said EMU head coach Ron English, who earlier in the week spoke about the danger of kicking to Archer.
Archer wasn't done.
Having already caught a touchdown pass earlier in the game, Archer was sitting on two touchdowns when KSU called his number late in the third quarter. In a shotgun formation, Archer took a handoff on a delay and sprinted for the middle of his offensive line. Sixty four yards later, Archer had his third touchdown of the game.
"We ran that play before. That time the tight end missed a block.," Archer said. "But this time that we ran it, the center came up on the linebacker and so did the tight end, the safeties were so wide out that I all I had to do was split them."
Entering the game Archer was averaging 233 all-purpose yards a game for Golden Flashes. Despite his dominating performance Saturday, Archer's average yards a game will drop slightly as he gained 222 all-purpose yards against EMU on 13 total touches.
He didn't play the entire fourth quarter.
Archer missed the entire 2011 season after being ruled academically ineligible despite maintaining an a good grade-point average. Unfortunately for Archer he wasn't taking enough hours to qualify to play.
Now that he is back on the field, Archer is finally able to showcase his tremendous skills.
Kent State is currently 4-1 on the year and 3-0 in MAC play. As much as Archer is enjoying his personal success, he is more impressed with the way his team is playing early in the season
"I know we have a great team, but we just have to keep it moving. We're clicking on all cylinders right now," he said. "We just have to take it one game at a time, nothing less and nothing more."
Matt Durr covers sports for AnnArbor.com.