Posted on
Thu, Aug 25, 2011 : 3:47 p.m.
Ex-Michigan defenseman Steve Kampfer celebrates with Stanley Cup, honors sister in the process
By Nick Baumgardner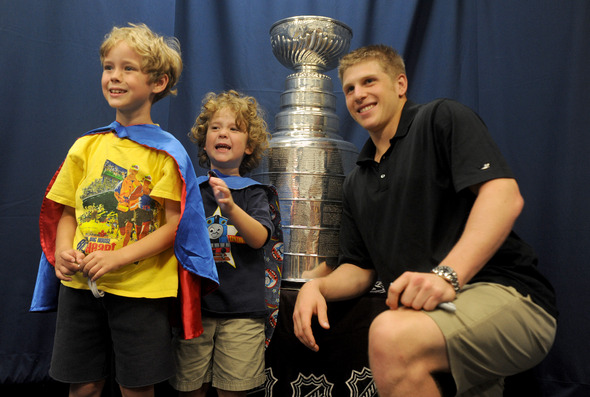 Angela J. Cesere | AnnArbor.com
When Steve Kampfer got a chance to live a childhood dream by lifting the Stanley Cup this past June, his thoughts stretched far beyond a lifetime of hockey.
Rather than solely reflecting on the countless hours spent on the ice over the years, Kampfer - an ex-Michigan defenseman and current member of the Boston Bruins - couldn't help but think of his older sister Kristin, who's gone through far more than any two people should.
"(He carries it) on a daily basis," Kampfer's mother, Karyn, said. "When he got hurt a couple years ago, he said, 'I saw what Kristin went through, and if she can do it, I can do it.' "
Kampfer, a Jackson native, returned to Yost Ice Arena on Thursday. With Stanley Cup in hand, he spent two hours posing for pictures and signing autographs for hundreds of hockey fans.
But just as it was in Vancouver last June, Kampfer's thoughts were in two places. As all proceeds from the $10 fee at the door were split two ways - half to the Michigan hockey program, and the other to C.S. Mott Children's Hospital, the place that saved his sister's life on multiple occasions.
"As soon as we won I knew I had three or four spots I knew I wanted to go to," said Kampfer, who also had plans to bring the Cup back to Jackson and to the Brown Jug in Ann Arbor on Thursday. "And I've been able to hit them all, it's just a dream come true.
"Mott's has definitely touched home with my sister, with everything she's gone through. And, I always want to be able to give back to the hockey program here to do what I can to make it better, and that's what we want to do."
Kristin Kampfer, 25, was born with multiple anomalies. At birth, the Kampfer family was told that she would never be able to hear, would never have vision and - in fact - that she had four days to live.
Kristin turned 25 in February, has hearing and vision, and has exceeded all projections as "a miracle child," according to Karyn Kampfer.
But that miracle may have never happened if it weren't for the staff at Mott, as Kristin survived 29 separate surgeries - and even had to be brought back to life on the table in three separate occasions - to get to where she is today.
"He's actually grown up being in and out of Mott Hospital watching his sister going through all those trials and tribulations and he's just always really had a soft spot for the kids there," Karyn said. "And I think he feels pretty doggone blessed that he hasn't had to go through some of that. And now, he's at a point where he knows that if it weren't for that place - he wouldn't have a sister. And now, he gets a chance to make sure others have the same opportunities."
Kampfer's journey to the Stanley Cup wasn't without his own personal struggles either.
In 2008, Kampfer was severely injured during an on-campus altercation that left him with a serious head and neck injury, and also cost him six weeks of ice time.
Following his return, Kampfer was then dealt another blow in January of 2009 when he was injured again following an on-ice attack during a contest against Michigan State.
But as was the case before, Kampfer was able to heal, eventually finishing his career at Michigan and making his way to the NHL and the Boston Bruins as a rookie this past season.
The Kampfer family says it loves both the Ann Arbor community and the hockey program in general.
"He's loved Michigan (forever)," said father, Bruce, who recalled taking a young Steve to games and sitting in Section 8 at Yost. "He's been coming to games since he was three. When he was a little kid, he said he wanted to wear this helmet, he wanted to play for (Michigan coach Red Berenson).
"And when Red first looked at him, I think he wondered if he'd make it all the way through. And I think even Steven at times wondered if he'd make it all the way through. … But he's wanted to be here his whole life, and this was one of the first places he wanted to bring this."
Kampfer appeared in 38 games with the Bruins, scoring five goals and collecting five assists. He's not yet sure if he'll have his name etched on the Stanley Cup (as players must appear in either 41 regular-season games, or one game during the Finals) - but in the end, he's just happy to have skated it.
And with the past in the past, Kampfer says it feels great to give back to all those that impacted both he and his family's lives.
"It's every kid that's ever played hockey's dream," he said. "To win the Cup and to lift the trophy and skate that victory lap - it was exciting and a lot of fun."
Nick Baumgardner covers Michigan basketball for AnnArbor.com. He can be reached at 734-623-2514, by email at nickbaumgardner@annarbor.com and followed on Twitter @nickbaumgardner.