Posted on
Fri, Apr 26, 2013 : 4:35 p.m.
Fifteen Gabriel Richard students commit to play college sports and more community sports notes
By Kyle Austin
Father Gabriel Richard announced this week that 15 members of its 138-student senior class have signed to play sports in college. Several more are in talks to compete in college but have yet to commit.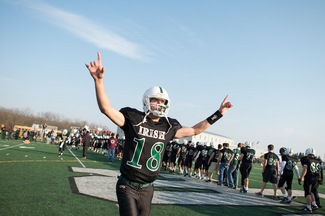 Courtney Sacco | AnnArbor.com file
"We pride our program on fostering champions in the classroom and the athletic arenas," FGR athletic director Hally Yonko said in a statement. "The Class of 2013 has contributed to numerous championship titles in their four years at FGR, so it was natural to see such a large group going on to compete at the next level."
2013 Father Gabriel Richard commitments
Malia Gabel, N Illinois, volleyball
Aspen Sims, St Mary (Ind.) College, women's golf
Gabby Gaeta, University of Michigan, dance
Ellery Sarosi, Wesleyan, women's ice hockey
Blaise Stearns, University of Michigan, football
Drew Diedrich, Cornell University, football
Joe Kendzicky, Hillsdale College, football
Tyler Kirchoff, Hope College, football
Patrick Wolf, Hope College, football
Mason Sarosi, Kalamazoo College, football
Steve Tracy, Mt Union (Ohio), football
Kendric Fowler, Siena Heights, football
Lauren Opplinger, Albion College, softball
Carsten Dembeck, Ashland (N.C.), baseball
Gunnar Gail, Tiffin, baseball
Jack Gage, Kalamazoo Valley CC, baseball
Skyline, Pioneer lacrosse to hold Vada Murray fundraisers
Daniel Brenner | AnnArbor.com
The Skyline and Pioneer boys and girls lacrosse teams will each hold fundraising games on Friday, May 3 to benefit the Vada Murray Fund for Cancer Research.
Each game will feature the school's boys lacrosse team against its girls lacrosse team, playing women's lacrosse rules. The Pioneer game begins at 6 p.m., and the Skyline game begins at 7 p.m. Tickets will cost $5.
The Vada Murray Fund was established in honor of the former Michigan football player and Ann Arbor Police officer, who died of lung cancer in 2011. Murray's wife Sarah and Ann Arbor Police Chief John Seto plan to attend both games.
Local gymnasts qualify for national championships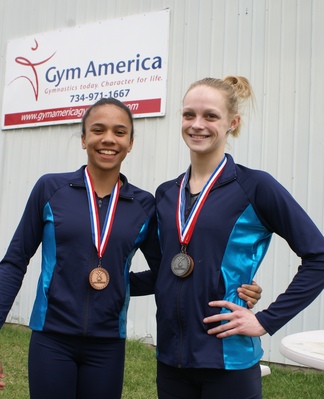 Courtesy Photo
Five area gymnasts have qualified for the USA Gymnastics Level 9 National Championships with their performances at a regional championship meet last weekend.
Morgan Bradford, Kendall Carlson, Leah Clapper, Nicole Fischoff and Vanessa Moody, who all train at Gym America in Ann Arbor, have qualified for the USA Gymnastics Eastern Nationals, May 3-5 in Battle Creek. A sixth gymnast, Katie Black, qualified as an alternate.
"These girls competed in the toughest regional championship in the country," Gym America coach Claudia Kretschmer said in a statement. "To place on any event in Region 5 is a huge honor. They worked hard and supported their teammates, and I couldn't have asked for anything more out of them."