Posted on
Fri, Apr 8, 2011 : 4:56 p.m.
For Michigan hockey team's seniors, wait for NCAA final was worth it
By AnnArbor.com Freelance Journalist
BY STEPHEN NESBITT For AnnArbor.com
ST. PAUL, Minn. -- Forget birthday cakes, these guys just wanted a chance at a lifelong dream — a national title. That wish, safe to say, was granted.
Three seniors on the Michigan hockey team — forwards Ben Winnett and Scooter Vaughan and goaltender Shawn Hunwick — have birthdays during Frozen Four week. But Michigan may have one last celebration remaining.
On Saturday night (7 p.m., ET, ESPN), the Wolverines will have their first shot at a national championship since 1998, when Michigan won its ninth title.
"It's everything you dream of coming in as a freshman," senior defenseman Chad Langlais said. "You hope to stay all four years and you hope to contribute and you hope to play your last game to make your last game a positive one."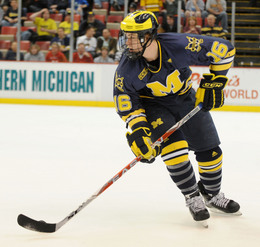 Melanie Maxwell | AnnArbor.com
These seniors know the bitter taste of disappointment of falling short of playing for a title game. As freshmen, they lost a heartbreaking overtime decision against underdog Notre Dame, 5-4.
"It feels great this time, I'm just trying to soak it up," Matt Rust said. "That's the biggest monkey off our back in a while. After coming so close our freshman year, finally winning this first game, it was one of the toughest games of my life."
In Michigan's 2-0 defeat of North Dakota on Thursday, it was the seniors — namely, the birthday boys — that led the unlikely upset of the Fighting Sioux.
Winnett opened the scoring in the first period, slipping around a screen and beating goaltender Aaron Dell with a quick wrist shot. Hunwick carried the Wolverines with 40 saves in arguably the best performance of his career. And Vaughan iced the victory with an empty-net goal in the final minute.
In a senior class headlined by the names of several future NHLers, it was the unsung seniors that carried the team.
"We know some guys are goal scorers and they can put the puck in when they can, but guys like me and Ben, when we get our opportunities, we're going to put the puck in the net and it's really going to be a tremendous help to our team," Vaughan said.
"Scooter has done it all year. He accepted a role on our fourth line at the start of the year; he scored goals for them, and led that line. Whatever line he has played on has played well. This has been a great year for Scooter, and he has set a great example for our other players."
But this team wouldn't even be eyeing the Frozen Four championship game were it not for the leadership and performance of its senior captains. Michigan coach Red Berenson credits Carl Hagelin, Louie Caporusso and Rust with eliciting a midseason switch to focusing on defense.
"I think the leadership of our team is not just the talk, it walking the talk and how you play," Berenson said.
Berenson knows that the trio of captains almost didn't make it back. As all three are NHL draftees, each of the players had a legitimate opportunity to forego their senior seasons to begin playing professionally.
But, as Berenson says, "they all stayed together."
"I knew we were going to have a good team, that's for sure, a lot of good seniors coming back, strong juniors, strong sophomores," Hagelin said. "Our goal was to come to the Frozen Four and do well, and now we're here. So it was obviously my dream and I'm so happy to be here right now.
"But one more game to go, and if we don't win that one, we're not satisfied.
Four years after losing to the Fighting Irish in the program's last Frozen Four, these seniors have learned how to win, and win the right way. With their careers down to a single game, they couldn't be better prepared.
"Tomorrow night we have the biggest game of all of our lives, so we have to keep our focus," Vaughan said. "We all have our roles, we all know what we need to do — blocking shots, beating our guys back to the front of the net, so as long as we do that and stick to the game plan, we'll be okay.
Extras
Thursday's game was North Dakota's first loss since Jan. 28. For Michigan, the win boosted the school's record to a 12-1 record since early February. Berenson climbs to 5-8 in the Frozen Four — his Michigan teams are 2-0 in national title games. …

Junior defenseman Brandon Burlon was left out of the Wolverine lineup Thursday, after missing two weekends of hockey due to esophagitis. Freshman defenseman Kevin Clare continues to replace Burlon; the team holds a 13-1-3 record in Clare's starts.