Posted on
Fri, Jul 16, 2010 : 3:23 p.m.
Former Michigan baseball players begin climb through Cleveland, Cincinnati minor league systems
By Brian Vernellis
LANSING - The first heat wave of the summer has baseball fans at Cooley Law School Stadium looking for relief wherever they can find it. Most retreat to the shady concourse to grab something cool to drink and wait for a breeze on this muggy July evening.
There's no relief for those on the field, though. The Lansing Lugnuts take on the Lake County Captains in about an hour, and the Captains' third baseman Adam Abraham is soaked with sweat following batting practice.
Two major transitions awaited Abraham, a former Michigan standout, when he arrived in the minor leagues. First, the everyday grind of pro ball is excruciating.
"That and getting used to failure," Abraham said. "It's bound to happen."
Abraham, a 13th round pick of the Cleveland Indians in 2008, is in his second full season of professional baseball stationed with Lake County of the Class A Midwest League. He is one of 18 former Michigan players chugging through the minor leagues, playing affiliated or independent ball. Four Wolverines - Jake Fox, Chris Getz, J.J. Putz and Clayton Richard - are currently in the majors.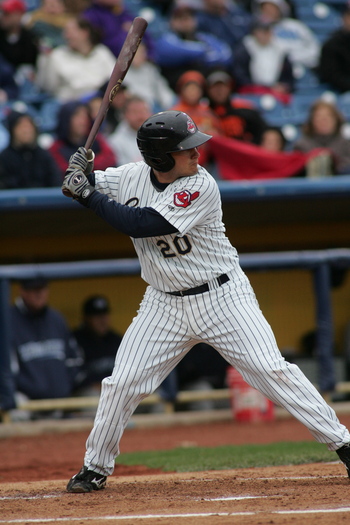 Photo credit: Lake County Captains
Before Lake County's game, a former teammate of Abraham's was in Grand Rapids, experiencing his first season of professional baseball.
Ryan LaMarre is one of the newest Wolverines to crack the pro ball ranks. A second round pick of the Cincinnati Reds in June, LaMarre has spent four weeks with the Reds' Class A affiliate, the Dayton Dragons.
"It was crazy when I first got here," LaMarre said. "They always ask rookies in the major leagues, 'What was your major league moment?'
"I would say my 'welcome to professional baseball' moment was my first day and Ken Griffey is throwing batting practice. I was like, 'What is going on here?'"
The realization over the differences between professional and collegiate ball quickly set in.
"Playing 140 games is hard," said Abraham, prior to Lake County's game No. 81. "When you're struggling, five games pile up quick. When you're going good, five games pile up quick.
"In college, you play your three or four on the weekend and one mid-week game. It's a lot easier."
Part of Abraham's adjustment has required accommodation. A pitcher and third baseman at Michigan, the Indians wanted him to try catching last season.

Photo credit: Lake County Captains
"It was an interesting transition," said Abraham, who's back at third base this season. "I learned a lot from doing that every day. Now I'm back at third so it's different again this year, and I'm learning things all over again."
Even with the move to a new position, Abraham finished the 2009 season hitting .257 with six home runs and 31 RBIs.
This year, he's struggled to find his swing, hitting .203 with four home runs and 19 RBIs through 63 games played.
"The greatest thing about Adam is his attitude," said Lake County manager Ted Kubiak. "He's been in a position here where he wasn't playing early, but now he's in there pretty much every day. Not playing all the time naturally affected his timing and rhythm.
"He's been able to handle that as well as I've seen anybody do it. He still needs to get consistency at the plate. He's got some things he's working on there. He can play a couple of positions, so if he gets his bat going, you never know."
Kubiak, a 10-year major league veteran, understands the toll climbing through the organization takes on young ballplayers.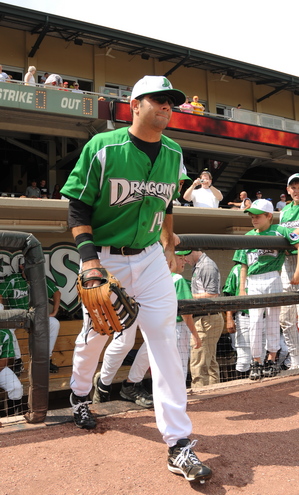 Photo credit: Davyton Dragons
"This game is all mental," Kubiak said. "Despite what you see out there, it's all mental. The physical stuff is the easiest part.
"For most of these guys, trying to learn how to play the game and learn how to deal with it every day and all the little things they have to work on, focus on and try to improve upon is tough on them. It's not easy."
LaMarre discovered that in his first season. Though he had been with the club a few days, the grueling schedule was wiping him out.
"A couple days ago I was getting frustrated in batting practice, and my manager told me, 'You have played for 18 straight days,' and even if my mind doesn't think I'm tired, I'm more tired than I think," LaMarre said.
"So they gave me the night off, and it helped a lot to just sit back and relax and watch a game instead of worrying about hitting and playing defense."
With his dad in the stands, LaMarre showed what made him a commodity for the Reds organization against the West Michigan Whitecaps. LaMarre was 4-for-5 with a double, stole three bases and scored four of Dayton's seven runs.
Through 26 games, LaMarre is hitting .263 with a home run and 10 RBIs.
"The main thing with Ryan is he's got special skills," said Dayton manager Todd Benzinger, who nearly accepted a scholarship to Michigan.
"He runs well, he's got a good arm from the outfield and a really quick release. He runs the bases aggressively. He's a smart player which you would think he would be coming out of a great program like Michigan."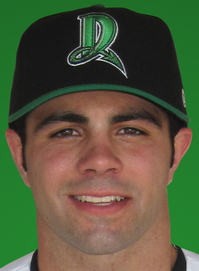 Photo credit: Dayton Dragons
Though his game with West Michigan was impressive, Benzinger made sure LaMarre understood what to expect when he arrived for his first game.
"He had just come off the plane, and I didn't want to rush him around," Benzinger said. "I think we hit four, five home runs and we won by seven, eight runs.
"When you're a second-round pick, you might be thinking I'm going to progress and be in the major leagues in a couple of years. It's a good eye-opener to see that these guys can really play."
While LaMarre had a strong outing against West Michigan, Abraham struggled in Lansing. Abraham was 0-for-4 and made a throwing error against the Lugnuts.
"It's a matter of staying within what you know what to do and not trying to do anything else and be someone you're not out there," Abraham said. "It's a big learning curve."
Brian Vernellis is a reporter for AnnArbor.com. He can be reached at 734-623-4617 or brianvernellis@annarbor.com.