Posted on
Sat, Dec 4, 2010 : 2:27 p.m.
Frozen Faceoff kicks off Big Chill at the Big House festivities, provides dress rehearsal for main event
By Jeff Arnold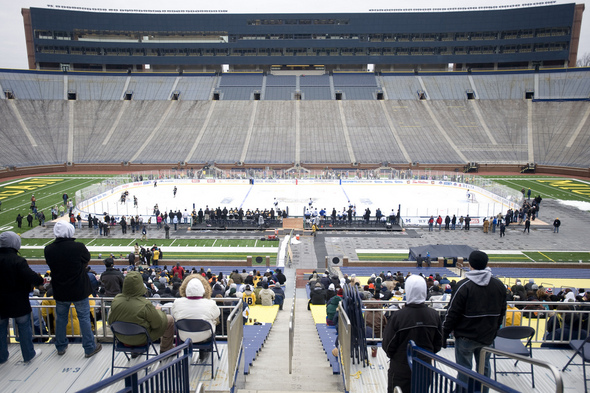 Angela J. Cesere
Ross and Darlene Cousineau sat inside a mostly-vacant Michigan Stadium on Saturday morning, 57 rows above ice level.
They drove 352 miles from their home in Penetanguishene, Ontario, curious to see what a hockey rink dropped into a 109,000-seat football stadium normally reserved for sell-out crowds on autumn afternoons looks like.
As the first Division III outdoor hockey game was played, the parents of Adrian College freshman center Josh Cousineau marveled in the environment they had traveled 6 1/2 hours to see.
"It's awesome - it's really awesome," Darlene Couinseau said. "It's just phenomenal. It really goes back to our (Canadian) roots of pond hockey."
Just on a much grander scale.
The Cousineaus moved to higher ground after starting in the lower in the bowl for the Adrian-Concordia (Wis.) game billed as the Frozen Faceoff.
Closer to the ice, the vantage point wasn't anything like what they got from where they finished watching the game. Above, they had an easier time tracking the puck and watching plays develop.
"This is unbelievable," Ross Cousineau said. "I've been to a football game here before, but to have a rink in the middle is fantastic."
The game - the first Division III outdoor contest - drew 1,470 fans, most of whom were bundled in layers. The game is the first of 26 that will be played leading up to next weekend's Big Chill At The Big House.
The main event - a 3 p.m. showdown on Dec. 11 between Michigan and rival Michigan State - is expected to draw more than 109,000 fans. Game officials used Saturday morning's Frozen Faceoff as a dress rehearsal.
The outdoor atmosphere forced everyone involved to make adjustments. Late in the first period of Adrian's 3-0 victory, linesman Mike Gulenchyn skated over to give the scorekeeper information about the game's first penalty so it could be relayed to the press box and announced over the stadium's public address system.
Before he skated away, though, there was a problem: He couldn't locate the penalty clock counting down the 2-minute infraction.
Game officials pointed to the bottom of the Michigan Stadium scoreboard that has been tweaked for hockey use. In addition to having to adjust his line of sight to find game clocks, there were other logistical issues.
"It's a little unpredictable out there," Gulenchyn said. "With the ice surface, you don't know if it's going to chip out or if there are going to be other issues with the puck bouncing off the boards weird, and so you always have to keep your eyes open."
Yost Ice Arena operations manager Craig Wotta arrived at the stadium at 7 a.m., prepared to work the first of a string of eight consecutive game days. He woke up to find overcast skies and brisk air temperatures, providing perfect weather.
His staff spent Saturday's game taking notes. Among the notes: His staff forgot to drill a hole in the glass for the referee to communicate with the scorekeeper. And workers had to rush a bullhorn over to signify the end of periods.
Wotta spent intermissions on the ice surface, communicating with his staff via walkie-talkie.
"Some of the (details) may seem knit-picky, but that's what I asked for," Wotta said. "Some of them may seem very simple and some of them may not be do-able, but we're just trying to control everything we can."
Crew members from Ice Rink Events - the company responsible for constructing the temporary rink - spent Friday night skating on the surface, preparing it for Saturday's game. Over the next week - more than two dozen games will be played - readying the ice for the Michigan-Michigan State main event.
"A sheet of ice is sort of like a bottle of wine," project manager Patrick Seltsam said Saturday. "It has to have time to make it right. It's not, here it is, brand new. ... You've got to give it a little bit of history."
Saturday's Frozen Faceoff has plenty of history in itself. Adrian College senior left-winger Joel Workman scored the game's first goal, firing a shot from the wing just 1:48 into the first period. While the goal wasn't the first of Workman's career, it likely will go down as his most memorable.
"(Workman) will be watching a Michigan football game when he's 35 years old, and he'll remember when he scored at the 27-yard line," Adrian coach Ron Fogarty said. "None of us will ever forget this moment."
Fogarty admitted he got caught up in the atmosphere. He missed senior Kyle Watson's goal midway through the first period as he found himself looking at the suites that were part of Michigan Stadium's $226 million renovation.
Afterward, players lingered on the Olympic-sized rink, posing for photos with friends and family. While the 3-0 victory will go down a just another regular-season victory, Fogarty's players will remember it for so much more.
"It was unbelievable - it was a feeling like I've never felt before," Workman said of his goal. "It was kind of a lucky play, but when I saw the puck go in, it was a huge relief. It's the first D-3 outdoor goal, and so that's a pretty big deal.
"I've never seen anything this big before in my life and seeing the rink here is just breathtaking. It's just unbelievable."
Slideshow
Public skate schedule | Slideshow of Berenson skating | Web cam of rink
Jeff Arnold covers Michigan hockey for AnnArbor.com and can be reached at (734) 623-2554 or by e-mail at jeffarnold@annarbor.com. Follow him on Twitter @jeffreyparnold.