Posted on
Sat, Dec 11, 2010 : 7:55 p.m.
He may not remember it all, but Jon Merrill scored twice for Michigan in the Big Chill
By Michael Rothstein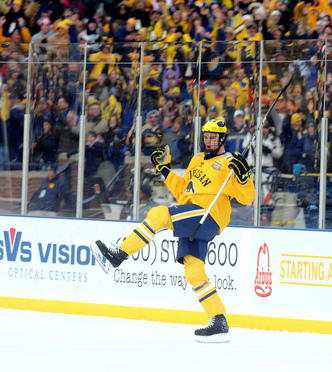 Lon Horwedel | AnnArbor.com
Renee Merrill sent her son a text message Saturday morning. Jon Merrill was about to play in the biggest hockey game of his young Michigan career and she wanted to offer a little bit of encouragement.
"I'm your No. 1 fan," Renee texted. "I'll be there. Just play hard. Be proud."
Renee often texts Jon Merrill on game days. And she's around a lot, too, as he grew up in nearby Brighton.
What Merrill did on Saturday in the Big Chill at the Big House at Michigan Stadium, though, was unexpected. On a team of experienced forwards, it was the 18-year-old freshman defenseman who scored Michigan's first goal during a 5-0 rout of Michigan State in front of a record crowd of 113,411.
And then the second.
After the Big Chill ended, it seemed like Merrill didn't quite believe it either. If you had told him earlier in the week that he -- and not forwards Louie Caparusso or Carl Hagelin or David Wohlberg -- would be the game's first goal scorer, he would have laughed.
"No way," Jon said. "Get out of here. I wanted to play simple. … I wanted to get a win as a team, and to get two goals, it's nuts."
His first goal came on the Michigan power play as Merrill lined up just to the left of the right faceoff circle in the zone, closed his eyes and took the shot. It ricocheted off a Michigan State player's stick and found the back of the net at the 12:04 mark in the first period.
Two minutes later, he broke out on a run when goaltender Shawn Hunwick kicked out a save. Center Matt Rust found the streaking Merrill for goal No. 2.
In many ways, though, Merrill's play is unsurprising. The Pioneer High School graduate was a second-round pick of the New Jersey Devils this year. He represented the United States in the World Under-18 championships.
And as an offensive defenseman, he's had three goals in two games.
"He's played well and probably been as consistent a player as we've had, and he's a freshman defenseman," Michigan coach Red Berenson said. "But for him to step up in a game like this, an event like this, and score the first two goals is pretty special. He'll never forget that."
Well, not quite.
Merrill actually doesn't remember the first goal. He closed his eyes when he shot it and the next thing he knew, he was mobbed by teammates. Everything else is a happy blur.
"To get that first one, it was awesome," Merrill said. "Couldn't even imagine."
One person did. Renee.
She said after the game that when she woke up this morning, she thought her son would score in the Big Chill. It isn't a vision she has often, but something told her today would be that kind of day.
She didn't text that to her son - no need for useless pressure and all - but when he scored she started screaming. So did the fans around her in Michigan's parents section. She heard the crowd chanting "Merrill" washing down the Michigan Stadium stands.
It was a surreal feeling.
"It was very cool," Renee said almost an hour after the game with the beaming smile of a mother on her face. "Very cool.
"Yes, very cool."
Michael Rothstein covers University of Michigan basketball for AnnArbor.com. He can be reached at (734) 623-2558, by e-mail at michaelrothstein@annarbor.com or follow along on Twitter @mikerothstein