Posted on
Mon, Jul 1, 2013 : 6:50 p.m.
New Eastern Michigan athletic director Heather Lyke aims to establish winning culture
By Pete Cunningham
Heather Lyke called Michigan softball coach Carol "Hutch" Hutchins when she learned she would be working just down the road from her as Eastern Michigan's athletic director and vice president.
Hutchins didn't just congratulate her former first baseman on landing the new job, but also on her new wardrobe.
"She said, 'It's about time you got back to Michigan and at least you won't be wearing that awful red any more,'" said Lyke shortly after being introduced as the university's vice president and athletic director at Eastern Michigan's Convocation Center on Monday.
Lyke has worked for the past 15 years as associate athletic director at Ohio State University and graduated from the University of Michigan in 1992.
"I said well, maize and blue together make green; that's why I'm here," Lyke said.
Eastern Michigan President Susan Martin introduced Lyke as the school's 12th athletic director on Monday in front of media members, the school's board of regents and others involved with the academic and athletic community. Lyke is the first female to hold the position at Eastern and one of just six female athletic directors in NCAA Division I athletics.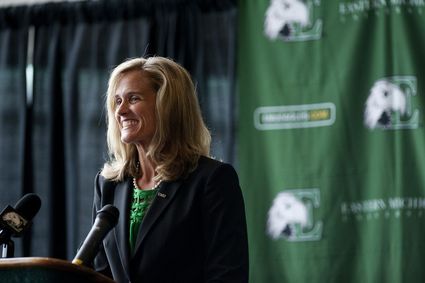 Daniel Brenner | AnnArbor.com
Members of both the men's and women's basketball teams as well as men's coach
Rob Murphy
and women's coach Tory Verdi, who was on the hiring committee, were on hand in support of Lyke as well as Lyke's parents.
"The president's vision was very important to me and her enthusiasm for athletics and her genuine understanding of how helpful athletics and the value of it to a university, so that was important and also it's an opportunity for me personally to lead an organization," Lyke said.
Lyke spoke of the tremendous opportunity the job presented and how she believes the school is in position to compete for MAC championships in all sports.
"My goal would be for us to excel at the highest level in the MAC across the board. If we sponsor a sport, if we keep score, we want to win," Lyke said. "It's a branding it's a mentality that this is an excellent environment."
Lyke's contract is for five years at an annual salary of $245,000 plus incentives based on championship and bowl appearances, academics, attendance, and more. Unlike her predecessor, Derrick Gragg—who spent seven years at the helm of Eastern Michigan's athletic department before accepting the same position at Tulsa University in March —Lyke will have the title of vice president of the university.
"As a member of the president's executive council, this is a new title," Lyke said. "President Martin thought it was important to include the vice president title because of the role that you play on campus and represent athletics as part of the academic community and integrate the athletic department into the university community as well."
Martin spoke of how glowingly people who had interacted with Lyke, from athletes to administrators, spoke of her during the interview process. More than 80 people applied for the position.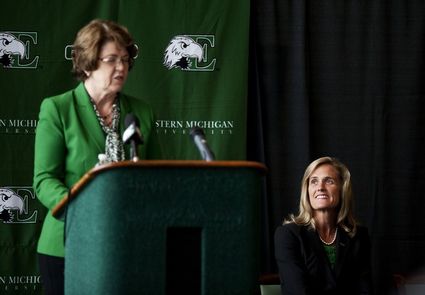 Daniel Brenner | AnnArbor.com
"It illustrates how she cares about student athlete's well-being and success," Martin said. "(Ohio State athletic director)
Gene Smith
talked about how great she is at evaluating talent, her presence her organizational skills, how great she is with people and given his knowledge of Eastern how great of a fit she'd be for Eastern."
Smith was Eastern's athletic director from 1985-1993.
Lyke's first official day is July 22. In her current role at OSU, Lyke is a member of the athletic department's executive team and is responsible for the assessment, design and development of the department's strategic plan. She directly oversees 10 of OSU's 36 athletic programs and manages and supervises 31 full-time coaches and staff. She also has oversight over all facets of the athletic councils involving budget oversight, revenue generation and facilities as well as the golf course operations.
Ohio State had a total revenue of $142,043,057 versus expenses of $124,419,412, second highest in the nation, according to USA Today, and was one of few Division I programs operating in the black and receiving no subsidies. Eastern Michigan is at the opposite end of the spectrum with $29,062,905 in revenue versus $27,798,118 in expenses, but with $24,298,925 in subsidies, according to USA Today.
"In reality there's probably only a handful of schools in the country that are like Ohio State," Lyke said. "I would say at Eastern Michigan we have to be creative with our resources and be aggressive about seeking new resources and revenue opportunities. I think you take your same standard of excellence that I've been ingrained in. And yes. We have to scale it back financially, but it doesn't mean our accountability and level of performance has to be scaled back any. As far as what we do on a daily basis and how hard we're going to work."
Eastern Michigan's so-called "large revenue" sports of football and men's basketball have for years struggled with poor attendance and performance. The football and men's basketball teams struggled mightily in Gragg's tenure, going 18-66 and 91-133, respectively.
Lyke said getting fans out to games will be a unique challenge, but thinks the first step is establishing a winning culture.
"First of all you have to look at your product and our product is our team and winning is important," Lyke said. "so we've got to have the right leaders in place to put the best team on the field and on the court. That's what engages people. People are attracted to exemplars and to winners."
Pete Cunningham covers sports for AnnArbor.com. He can be reached at petercunningham@annarbor.com. Follow him on Twitter @petcunningham.