Posted on
Mon, Nov 12, 2012 : 5:45 a.m.
A closer look at Willow Run freshman quarterback Marquis Smith, on and off the field
By Daniel Brenner

Editor's note: We first learned about Willow Run varsity quarterback Marquis Smith in early September. Smith's gaudy numbers stuck out, but it was another that piqued our interest: 13, which was Smith's age at the beginning of the season. AnnArbor.com photographer Daniel Brenner spent time with the young quarterback and his family throughout the season to see what life is like for the potential star on the rise.
Before taking a step in a high school classroom, 13-year-old Marquis Smith was already taking snaps as the Willow Run High School varsity quarterback.
"It's whatever to me, as long as I'm playing football," Marquis says.
Smith accumulated more than 550 yards of total offense in a game this season. Marquis says he's a passer first, but knows he can rely on his footwork if he gets into trouble.
His mother Valerie says he's been able to throw since he was six. Besides being a quarterback, he's also played as safety, linebacker, wide receiver and even kicker.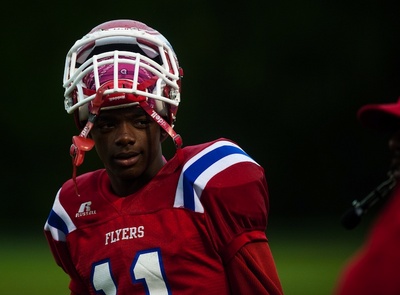 Daniel Brenner | AnnArbor.com
From an early age, Marquis' dad, Maurice, has been conditioning him to be athletic. He remembers Marquis running around the neighborhood and tossing a ball with him. "I wanted him to perfect the game of football," Maurice says. "But anything Marquis puts his mind to he masters."
Vallerie was skeptical about Marquis playing at the varsity level.
"I can be as nervous as I want to be, but I know he knows what to do on that field," Vallerie says. "I think it's important to support him because I'm his mom, I'm his parent. Me and his dad have been there every single game."
Marquis says he plays harder when his family attends the games. "That make me want to show off more because all my family is there to support me," he says. "My mom, she's been the loudest out of all of them."
After being together for 18 years, Marquis' parents recently divorced. "A couple of months ago, we decided we wanted to go our separate ways, but still be cordial for the kids," Maurice says.
Valerie has noticed a change in Marquis at home, but knows he is staying strong. "Honestly, Marquis is very humble, he keeps his opinions and his feelings kind of locked up," she says. "He kinda feel like the man of the house, but then again, that's a lot on his shoulders."
Maurice still attends the majority of family events, but knows he spends less time with his kids. Still his relationship with Marquis is strong.
"He want to make me and his mom happy," Maurice says. "If it's on the football field or in school, that's his biggest thing, making his mom and I happy. To the best of his ability, so far, he's doing it, he's succeeding."
Daniel Brenner is a photographer for AnnArbor.com.