Posted on
Thu, Feb 14, 2013 : 10:03 p.m.
Alexis Garner's game-winner gives Huron 55-53 win over defending state champs Goodrich
By Kyle Austin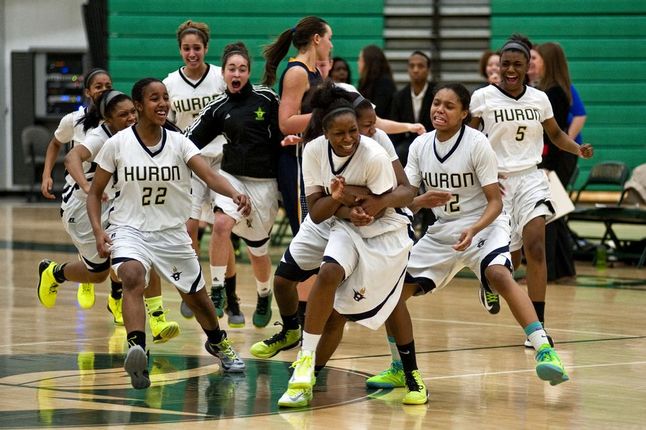 Joseph Tobianski | AnnArbor.com
It was the third option on the play, but it was good enough to send
Huron
to one of its biggest wins of the season.
With the clock winding down in a tie game, Alexis Garner caught a pass in the lane and drilled a jumper with one second left on the clock to send the Huron High School girls basketball team to a 55-53 win over defending Class B state champion Goodrich Thursday night at home. Goodrich (14-3) is currently No. 2 in the Class B Associated Press rankings.
"It feels really good," Garner said. "I'm really glad we pulled out the win. The team, altogether, they played so good. We had a lot of energy today."
More Coverage: Boxscore | Photo Gallery | Manchester wins Cascades Conference and more Tuesday results
After Goodrich opted not to hold for the last shot, and missed with less than 30 seconds left, Huron had a chance to inbound with 10.3 seconds left. The play's first option wasn't available, so forward Micah Robinson took the ball in the backcourt.
Garner went to set a screen for her, but when Robinson found herself double-teamed, she dished to an open Garner, who hit the shot and was immediately mobbed by her teammates.
"Micah did a great job of kind of being patient, and then she saw Alexis in the middle and then Alexis did a great job of finishing the shot," Huron coach Steve Vinson said.
The matchup proved a late-season test for both defending Class B state champion Goodrich and Class A semifinalist Huron, who together feature some of the top prospects in the state. Michigan coach Kim Barnes Arico, Eastern Michigan coach Tony Verdi, Western Michigan coach Shane Clipfell and a Central Michigan assistant were among those in attendance.
And despite the loss, Goodrich coach Jason Gray knew the game provided good experience with district play starting next Monday.
"We said before we came into this, win or lose, this is going to be a nice little jumping point for us the rest of the year," Gray said. "Even if we were to win tonight, we weren't going to roll them."
Illinois commit Taylor Gleason and sophomore guard Tania Davis had 19 points apiece to lead the Martians. Gleason added nine rebounds.
Garner had 11 for Huron, while sophomore Payton Sims had 15 on five 3-pointers, including one with two minutes to go that tied the game at 51.
"Payton's capable of doing that," Vinson said. "If she gets hot and in a zone, she's fantastic, so she kind of got us going early."
After Goodrich took a 9-6 lead, Huron (12-5) hit 3-pointers on three consecutive possessions and led the rest of the half, going up six at the break. The River Rats used selective pressing to keep the Martians off balance in the third quarter.
"Their pressure and speed really bothered us," Gray said.
But starting with a 3-pointer from Davis to start the third quarter, Goodrich went on a 9-3 run at the start of the second half to tie the game at the 5:10 mark.
"We did a nice job of executing, we got the ball into Taylor and Tania's hands and they made nice plays," Gray said. "Defensively, we took some time at the half to reassess what we're doing."
Goodrich led by five entering the fourth quarter, before Huron slowly chipped away, tying the game again on Sims' 3 with 2:02 left.
Two days ago, Huron saw its eight-game winning streak snapped when it faded down the stretch at Clarkston, ranked No. 6 in Class A.
But when Thursday's game started going the same way, the River Rats turned it around.
"We could have folded a little bit and put our heads down, which is kind of what happened a little bit on Tuesday at Clarkston," Vinson said. "We were never able to really respond to what Clarkston was able to give us. The fact that we kind of learned from that and responded today, it speaks volumes for our team."
Game of the Week
Time is running out, but all five games are still in the mix of this week's Game of the Week poll.
Kyle Austin covers sports for AnnArbor.com. He can be reached at kyleaustin@annarbor.com or 734-623-2535. Follow him on Twitter @KAustin_AA.