Posted on
Thu, Feb 14, 2013 : 10:31 p.m.
Manchester girls top Michigan Center to win Cascades Conference and more Thursday results
By MLive Media Group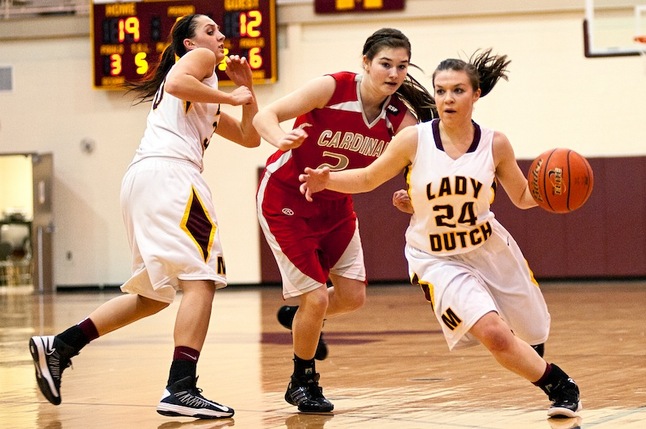 Mike Mulholland | Mlive.com
By Rich McGowan, Mlive.com
It wasn't the most dramatic conference championship-clinching game in the world, but that made it all the more fitting.
Manchester's girls basketball team has rolled through its Cascades Conference schedule all season and it wrapped up what had long been a one-team race for the title with a 60-38 win over Michigan Center.
More Coverage: Boxscore | Photo Gallery
The Flying Dutch, who split the league championship with Grass Lake last year, are back-to-back Cascades Conference champions and become the first outright champions in the program's history.
"It's one goal at a time and, definitely, this was first one the list," said Manchester coach Cori Kastel. "What we did last year, having a share of the conference title with Grass Lake, that was huge, that was something the program had never done. But now, to go back-to-back, that's even better. "
Ranked No. 4 in Class C by the Association Press, Manchester (17-1 overall,12-0 Cascades) outscored its league opponents by an average of 31.1 points a game.
"It feels really good because I think we know, deep down, we should have won it last year by ourselves," said senior Taylor Manders. "Now that it's my senior year, it means the most to win back-to-back and to take it ourselves."
As it had done so many times this season, Manchester found the gas pedal in the early going Thursday night and quickly pulled away.
Michigan Center jumped out to a 7-3 lead in the opening minutes, but aggressive man-to-man defense from the Flying Dutch quickly changed that. Michigan Center turned the ball over five times in the opening quarter's final five minutes, leading to several transition baskets by the Flying Dutch. Manchester went on a 14-0 run, answered only by a Michigan Center basket in the final seconds of the quarter, and entered the second quarter with a 17-9 lead.
Manchester started off the night taking high-percentage shots from inside the paint and continued to do so throughout the night. The Flying Dutch connected of 54 percent of its field goal attempts.
"That's awesome," Kastel said. "It's so tempting to have those 3-pointers but using better judgment, knowing the pressure defense they were getting, they weren't forcing that and looked inside."
With Sophomore Jessie Manders leading the way, Manchester grew its lead before halftime, taking a 33-18 lead into intermission.
Manders scored eight of her game-high 23 points in the second period by driving to the basket for layups and getting to the foul line. Manders went 13-for-15 at the free-throw line and her 23 points was a new career high. She also grabbed a game-high nine rebounds.
"We have a lot of depth," Jessie Manders said. "If one person is off, another person steps up, which is what we need. And not only talent, I think this is the closest team I've ever been a part of. We get along really well and it's fun on and off the court."
Freshman Sarah Thompson added 13 points while Taylor Manders and McKenna Erkfritz each added 10 for the offensively-balanced Flying Dutch.
With the Cascades title behind them, the Flying Dutch now turn their attention to the postseason where they hope to make more program history. Manchester has never won a regional championship.
"We are so motivated," Taylor Mander said. "I've been to the regional final twice in my high school career and I want to win the regional title, I don't want to get there and not win. But we can't look ahead, we have a good team in our district (Ypsilanti Arbor Prep)."
Girls Basketball
Willow Run 44, Highland Park 33
Story | Boxscore
Playing in the final home game of school history, Willow Run won its fourth Michigan Metro Athletic Conference game, led by Samaria Gibbs' 13 points. Shamaria Canada added 10 points.
"This was the best all-around game we've had this year," Willow Run (8-8, 4-2 MMAC) coach Cliff Russell said. "We were aggressive, we played smart defense and had great passing on offense."
Davis scored 12 of her 27 points in the fourth quarter after both teams had pulled their starters.
"She's talented and able to do a lot," Russell said.
Monroe Jefferson 35, Milan 30
Story | Boxscore
Trailing by three points in the last minute, Monroe Jefferson's Olivia Boos nailed a 3-pointer to propel her team to victory. Katelynn Silvernail had a team-high nine points for Milan (2-17, 0-14 Huron League).
"We had a three-point lead in the last minute, then Boos came down and hit their only 3-pointer of the game," Milan coach Brad Baden said. "From then, it was a dogfight in the last minute and we didn't convert and they did. Our girls did a good job of battling tonight; just wish we were five points more prepared.
Greenhills 54, Sterling Heights Parkway Christian 49
Story | Boxscore
Jackie Oestreich scored 21 points and had 12 rebounds to lead Greenhills (10-7, 7-2 MIAC) to a 54-49 home victory Thursday.
Greenhills also had Elisia Ceballo-Countryman add 19 points, seven steals and five rebounds.
"We just told the girls to focus on their fundamentals that we've talked about," Ann Arbor Greenhills coach Rachel Cortis said about her team's fourth quarter performance. "Depending on how things play out, we could be first in our league."
Boys Basketball
Greenhills 65, Warren Macomb Christian 22
Story | Boxscore
Andikan Archibong and Andrew Diehl both scored 12 points to help Ann Arbor Greenhills improve to 14-1 on the year. Andrew Khouri added 11.
Greenhills (14-1) will go for a perfect 14-0 league record tomorrow night on the road against Lutheran Westland.
"Westland gave us our toughest game early this year," said Greenhills coach Andrew Wright. "It'll be an interesting game."
AnnArbor.com Coverage
Huron 55, Goodrich 53
Story | Boxscore | Photo Gallery