Posted on
Mon, Oct 15, 2012 : 5:45 a.m.
Ann Arbor Public Schools officials meeting Monday to determine next steps in aftermath of football brawl
By Matt Durr
Related story: Top 5: Considerations for Ann Arbor as officials resolve Friday's high school football brawl
Ann Arbor Public Schools officials will meet Monday morning with the principals, athletic directors and administrators of Huron and Pioneer high schools to determine what the next course of action will be for those involved in an on-field fight involving players and coaches after Friday night's football game between the schools.
According AAPS director of communications Liz Margolis, Huron and Pioneer athletic directors Dottie Davis and Eve Claar are expected to present their findings on what happened during the fight and give their recommendations on what actions should be taken.
Davis and Claar each said that they would be reviewing the tapes over the weekend to determine which players and coaches were involved in the fight.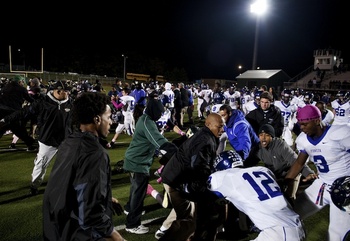 Daniel Brenner | AnnArbor.com
"We'll have to see what the ADs are recommending and we'll review those findings," Margolis said. "I'm sure we're going to be acting fairly quickly on this. No one wants this to linger. We have games scheduled for Friday night and the teams and everyone involved are wondering what the outcome will be."
Margolis also said that if any sort of disciplinary measures are taken against players or coaches, those consequences may not immediately be made available to the public because of privacy laws concerning students and teachers.
She said AAPS would attempt to release as much information as they can to the public.
'We're going to try to be as open as we can with this," Margolis said.
The meeting is a result of a massive brawl that occurred after Pioneer defeated Huron 35-6 Friday at Huron's Riverbank Stadium.
During the game both teams were called for numerous unsportsmanlike conduct penalties as emotions intensified throughout the game. None of the unsportsmanlike conduct penalties appeared to be out of the ordinary for a crosstown rivalry game, as most of the penalties were the result of pushing after the play.
But as the game wound down, Huron head coach Cory Gildersleeve became upset with Pioneer head coach Paul Test for continuing to attempt to score even though Pioneer was ahead by 29 points with under a minute to play in the game.
After the final whistle blew, the coaches met at midfield for the traditional post-game handshake and that's where things got ugly.
According to multiple accounts including Test's, Gildersleeve pushed Test. When one of Test's assistant coaches saw the push he struck Gildersleeve.
Gildersleeve has vehemently denied pushing Test.
As a result of the fight one Huron player was sent to the hospital to receive stitches.
Ann Arbor police are still investigating the fight, and according to Lt. Renee Bush, detectives will begin reviewing the footage on Monday or Tuesday of this week before determining if any criminal charges need to be filed.
The Michigan High School Athletic Association may also discipline players and coaches based on the referee's reports of the game. According to MHSAA rules, the officials still have jurisdiction over the contest even after the game is completed.
If the officials determined that any player or coach needed to be ejected from the contest, those ejected would not be eligible for Friday's regular season finales.
Pioneer is 5-3 on the year and a win Friday would guarantee the Pioneers a berth in the state playoffs. Pioneer plays Livonia Franklin Friday night at Franklin High School. Huron is 0-8 on the year and plays on the road against Westland John Glenn on Friday.
Mat Durr covers sports for AnnArbor.com.