Posted on
Sat, Oct 13, 2012 : 1:39 p.m.
Mother of Huron player injured in high school football brawl: 'It's just terrible'
By Matt Durr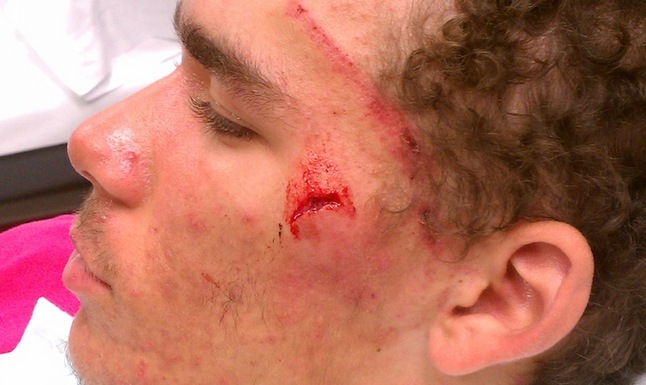 Photo courtesy of Debbie Harris
Previous coverage: One victim sent to hospital, no arrests made after on-field brawl at Huron, Pioneer football game
The mother of the Huron High School football player that went to the hospital following Friday night's brawl at Riverbank Stadium says her son is resting at home, but is feeling the effects of the fight.
Debbie Harris of Ann Arbor said her son, Will Harris, a junior at Huron, was kicked in the face by a Pioneer player and a crutch also was swung at her son during the fight.
"Everything is on tape. We were fortunate to see part of the tape. We do know who exactly kicked and who swung the crutch," Debbie said. "They are two different people, both Pioneer players."
The result of the attack required Will to receive five stitches on his left cheek. He also has numerous scratches that run along the side of his face and down to his neck, and he is experiencing concussion-like symptoms, which the family is monitoring.
Debbie, who watched the incident unfold from her seat in the stands then reviewed the video later, said her son was not involved in the fighting.
"My son did not throw a punch. One of his teammates was involved in a scuffle and (Will) pulled a Pioneer player off of him. He was trying to defuse that situation," Debbie said. "When he fell to the ground is when a Pioneer kid came up and kicked him in the face with a cleat."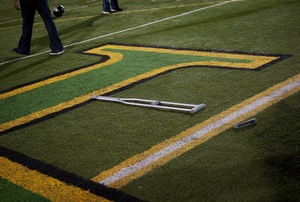 Daniel Brenner | Annarbor.com
Will eventually was picked up off the ground by a Huron parent and pulled away from the chaos.
"These are kids from Pioneer and Huron that he has known his whole life. He's played basketball and football and other sports together (with them for) his whole life. Yeah, they compete against each other, but they're friends," Debbie said.
The fight started after the Pioneers defeated Huron 35-6. As the Huron head coach Cory Gildersleeve and Pioneer head coach Paul Test met at midfield for their post-game handshake, a fight broke out between the two teams that involved players and coaches.
Test and Gildersleeve have each given different accounts of what exactly started the physical contact between the two schools, igniting the brawl.
Debbie said that her family has received lots of support from coaches and administrators at Huron. They've called to check on Will's condition.
As much as the physical pain is bothering Will, the ugliness of the incidents is also hurtful.
"My son is upset and embarrassed for his team and school," Debbie said.
Harris would not say if the family will be taking legal action following the injuries sustained by Will.
"Its just terrible, it's a terrible thing that happened at a kids game," Debbie said. "Some of them are big and grown and look like men, but they are kids. This is a kid's game.
"When did it come to this? When did it become more than a football game?
"They came to our field and substantially beat us. Just shake hands and go home."