athletes to know:

Father Gabriel Richard's Conor Dishman and Chelsea's Corinne Carpenter

Posted on Wed, May 4, 2011 : 10:46 a.m.
AnnArbor.com's first installment of Athletes to Know introduces you to a pair of seniors, Father Gabriel Richard's Conor Dishman and Chelsea's Corinne Carpenter.
Dishman recently one-upped Joe Dimaggio and set a state and national record in the process, while Carpenter took first place in all four races she entered over the weekend.
CONOR DISHMAN
School: Father Gabriel Richard High School.
Class: Senior.
Sport: Baseball.
Accomplishment: Extended his hit streak to 58 games in the opening game of a doubleheader against Madison Heights Bishop Foley on Saturday, a state and national record. Dishman's streak was snapped in the second game. The previous Michigan record, according to MHSAA.com was 49, set by Reading's Matt Dillon in 2002-03. The previous national record, according to National Federation of State High School Associations was 52, set by Brandon Boles of Kokomo, Ind., in 1998-2000.
Other interest: Working out ... for baseball. He put on 20 pounds of muscle over the summer.
Favorite athletes: Atlanta Braves second baseman Dan Uggla and Minnesota Twins catcher Joe Mauer.
Favorite music: Eminem, Wiz Khalifa, Lil' Wayne and Deadmau5 (pronounced dead mouse).
Next year: Dishman plans to play baseball in college but is undecided on his choice. He is leaning heavily toward Wabash Valley College, a junior college in Illinois.
Coach Greg Lenhoff says: "That's a long time to get a hit. Every now and then you should have a bad day. To go that long is pretty special."
CORINNE CARPENTER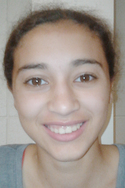 School: Chelsea High School.
Class: Senior.
Sport: Track and field.
Accomplishment: Won the 100- and 200-meter dashes and also ran legs on Chelsea's first place 400 and 800 relay teams, helping the Bulldogs win Saturday's Mason Invitational.
Other interests: Working at Thompson's Pizzeria in Chelsea and playing video games with friends, preferably first-person shooters or RPGs (role-playing games).
Favorite athletes: U.S. Olympic sprinter Allyson Felix and U.S. women's national soccer team forward Natasha Kai.
Favorite music: Hip hop. At the top of Carpenter's playlist list lately is Lupe Fiasco.
Next year: Attending Arizona State University.
Coach Burt Kruse says: "She's been a four-year, steady performer. We can basically count on Corinne for hitting her time and place, she's very steady and reliable."
Does your school have an "Athlete to Know" walking the halls? Tell us why by sending nominations to petercunningham@annarbor.com.