Posted on
Mon, Feb 11, 2013 : 9:50 p.m.
Arbor Prep backcourt steals and scores its way to big win over Greenhills
By Kyle Austin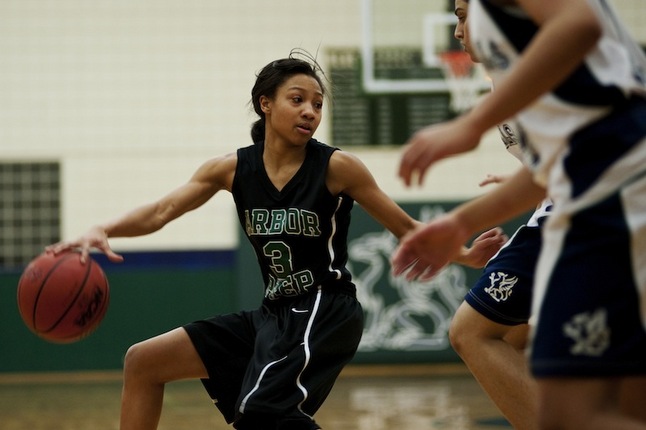 Daniel Brenner | AnnArbor.com
The Arbor Prep backcourt of Zakiya Wells and Nastassja Chambers has been together since third grade, so chemistry isn't an issue.
And the two teamed up in a stretch early in Monday's game against Greenhills that helped set the tone in a 74-34 win on the road.
Game of the Week coverage: Boxscore and live chat recap | Photo Gallery | Two teams with eight players equals no problems for Arbor Prep
With their team up five midway through the first quarter, Wells scored a bucket and a foul. After Greenhills inbounded the ball, she recorded a steal and passed to Chambers, who made a bucket with a Wells assist.
And on the Gryphons' next inbound, it was Chambers who recorded the steal, one of 11 on the night for her.
The sequence ended a 14-2 Arbor Prep run, the first of two first-half Gator runs that effectively put the game away.
The Gryphons cut the deficit to two on their first possession of the second quarter, on an Jackie Oestreich putback that gave her 10 points on the night.
But from there, the Gators tore off an 18-4 run that put the game away. In that stretch alone, the Gators made four steals and forced eight turnovers.
Greenhills, which starts a freshman at point guard, struggled to get the ball inbounds and up the floor against the tenacious Arbor Prep pressure defense.
"We're not used to that pressure," Greenhills coach Rachel Cortis said. "It's just getting used to that type of play. We have a freshman point guard."
Wells led Arbor Prep with 19 points and added five steals. Chambers had 17 with 11 steals and five assists.
Their coach, Rod Wells -- Zakiya's father -- isn't shy about calling the two the best backcourt combination in the state.
"We're both quick guards, we both push the ball up, we know where each other are on the floor and everything," Zakiya Wells said. "We've played together for a while."
And the two helped feed the ball to forward Jamie Rittenhouse, who finished with 18 points and 10 rebounds.
"They're good, they have good chemistry together, they share the ball, they're quick, they penetrate and they get the bigs involved," Rod Wells said. "If you noticed, they were hitting my bigs with a lot of passes, they kind of make my bigs superstars because they cause so much attention."
Their offense was enough to overcome 25 points and nine rebounds from Greenhills forward Jackie Oestreich, the area's leading scorer.
But nearly every time she touched the ball, especially in the second half, Oestreich found herself swarmed by up to four Gators players.
"She's just getting hacked," Cortis said. "She's just getting hammered down low, and she fights through it. I think a lot of times they don't call it because she's big and it looks like she's pushing them around."
But most of the Arbor Prep defense focused on pressure, which led to 23 total steals.
"Our team prides ourself in just getting in the grill," Zakiya Wells said. "We say that every day, get in the grill, staying low, that's what we're all about."
And on offense, facing a rare man-to-man defense, Arbor Prep could play at its fast tempo and keep the Gryphons off-balance the whole night.
"It's just a different pace of game than we're used to playing," Cortis said. "They got intimidated from the get-go, and it was just a domino effect."
AnnArbor.com Washtenaw County Girls Basketball Scoreboard

Chelsea 50, Gabriel Richard 39
Story | Boxscore
Monroe St. Mary Catholic Central 38, Milan 26
Story | Boxscore
Kyle Austin covers sports for AnnArbor.com. He can be reached at kyleaustin@annarbor.com or 734-623-2535. Follow him on Twitter @KAustin_AA.