Posted on
Mon, Feb 11, 2013 : 10:29 p.m.
Two teams with eight players equals no problems for Arbor Prep girls basketball team
By Pete Cunningham
Arbor Prep coach Rod Wells had a decision to make before the season began.
Have an average sized varsity team, or split his squad into two and have a small varsity squad, and a small JV squad.
There was no debate for Wells.
"We just told the girls we're going to go with small teams, everybody will get to play and have fun," Wells said. "We have some girls that really should be playing ninth grade basketball so we wanted the to have fun and play."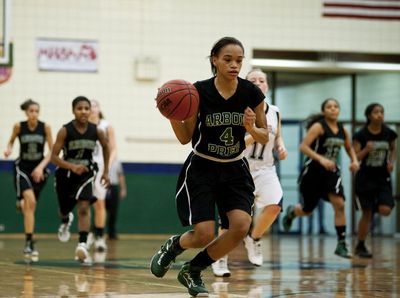 Daniel Brenner | AnnArbor.com
The decision made scheduling easier for Arbor Prep than it was last year, when the first year program couldn't offer opponents a JV game, but it also left the varsity team with just eight players.
A concussion has the Gators currently down to seven.
"I want to field a program," Wells said. "I don't want this to be about having one varsity team, I want all the girls to be able to enjoy the experience and learn something."
The small numbers haven't impacted how the Gators play. They run on offense, and they press on defense. Not exactly the methods of a team trying to conserve energy.
Wells prepares his team to run all the time by, how else: having them run all the time. "We run to the locker room, we run to the huddle, everything we do…all our drills are fast paced so they're used to that motor going," Wells said. "They go get water, they run and go get the water, and run back to their spots. If we go to different sections and run through different drills, they run from drill-to-drill."
Game of the Week coverage: Game Story Boxscore and live chat recap | Photo Gallery
Arbor Prep had 23 steals in its 74-34 win over Greenhills on Monday and didn't look tired in the slightest at any point in the game. The Gators average 61.6 points per game and give up 37.8.
Wells said he rarely has to sub somebody for fatigue and won't sub someone for taking too many shots. Not getting back on defense is his only pet peeve.
"I say 'y'all can shoot the ball when you're open, I don't mind everybody has the green light on the team, but you gotta play D," Wells said.
When the playoffs come around, Wells said he'll expand his roster to 10, giving him a little more leeway to run even more.
Pete Cunningham covers sports for AnnArbor.com. He can be reached at petercunningham@annarbor.com. Follow him on Twitter @petcunningham.