Posted on
Tue, Jan 22, 2013 : 10:58 p.m.
Arbor Prep shuts down Rudolf Steiner late, takes 65-58 win
By Kyle Austin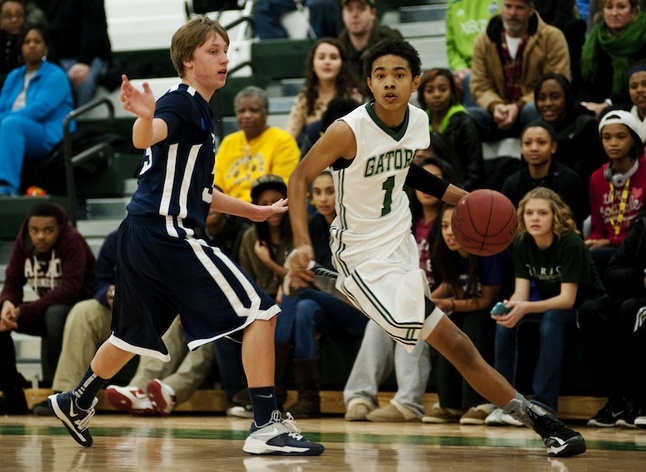 Daniel Brenner | AnnArbor.com
Where many teams would get nervous, freeze up or make mistakes, Arbor Preparatory feels right at home.
It found itself in one of those situations on Tuesday: a two-point game with two minutes left at home against Rudolf Steiner.
And the team with five freshmen and four sophomores finished out a close game like it has all year, scoring the final points of the game to win, 65-58 Tuesday in AnnArbor.com's Game of the Week.
More Coverage: Boxscore | Photo Gallery | Steiner has stamina despite short bench
"We've been in close games all year long," said Gators coach Don Spencer, whose team has six wins by an average of less than six points. "I think they're more comfortable playing in close games than with a lead. We haven't done that very much."
After Rudolf Steiner's Ben Hadlock hit a 3-pointer with 2:32 left, the Gators clamped down on defense and didn't allow another point, and sank five free throws down the stretch to seal the win.
Rudolf Steiner (7-5) missed a shot that would have tied the game after Hadlock's 3, then turned the ball over on on three of its final four possessions.
"You can't win a basketball game with that," Steiner coach Nick Sherwood said. "...We came up a little short simply because of turnovers. We just didn't execute."
Arbor Prep (6-4) played 11 players, and each one of them scored. Michael Donatelli led the team with 13 points, and Adrian Harrison and Tariq Stinson each had 12.
The Gators had several players, including Stinson, just return from ineligibility. While each one was able to score, Spencer was frustrated overall by his team's play, as new players acclimate to playing with one another.
"It's going to be a process integrating those guys," Spencer said. "So I think you saw some real sloppy moments out there. It's a work in progress."
But once those players can gel together, the Gators have high hopes for the future.
"We're going to be dangerous," Spencer said. "This is just the tip of the iceberg. We're going to be champions. We talk about it every day."
Rudolf Steiner was led by Steven Molitor's 21 points, one short of his season-high.
"Steven played out of his mind," Sherwood said. "When he gets it in his mind that he wants to attack the basket, I don't think there's many people that can stop him."
Hadlock also finished in double figures with 15.
Arbor Prep came out of the locker room shooting lights out, scoring 15 points in the first 4:15, and held a double-digit lead soon thereafter.
But holding a large lead is something the Gators' haven't done well this season.
"I think sometimes we play down to the opponents' level," Donatelli said. "We don't play our own game."
The Storm started the second quarter on a 10-2 run, and eventually tied the game 29-29 with 2:50 left in the first half.
Arbor Prep led by as many as nine in the second half, before Steiner came back again.
In a game that featured 41 fouls, 22 of which were committed by Arbor Prep, the Storm failed to take advantage at the free throw line. Steiner finished 13-for-26 from the stripe for the game.
"Two games ago, we decided to shoot 50 free throws in practice, normally we shoot a few," Sherwood said. "The last two games, we just haven't shot well. We hadn't had a problem before we started practicing them."
Kyle Austin covers sports for AnnArbor.com. He can be reached at kyleaustin@annarbor.com or 734-623-2535. Follow him on Twitter @KAustin_AA.