Posted on
Tue, Jan 22, 2013 : 10:14 p.m.
Rudolf Steiner basketball team doesn't allow seven-man roster be an excuse or weakness
By Pete Cunningham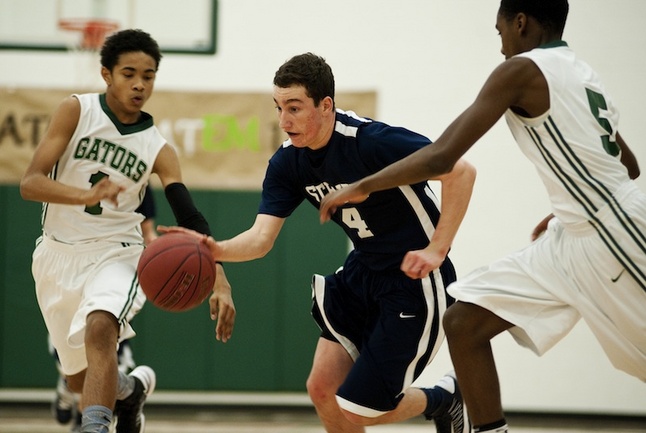 Daniel Brenner | AnnArbor.com
Just minutes into the first quarter of the AnnArbor.com Game of the Week on Tuesday, the
Arbor Preparatory High School
boys basketball team substituted its entire lineup against
Rudolf Steiner
.
By the end of the frame, 11 Gators players had played and eight had scored.
Rudolf Steiner had subbed in its entire lineup by the end of the quarter as well, but that doesn't mean every starter got a breather.
Steiner doesn't have the luxury of giving every starter a rest. That's because there are only seven players on the entire current Storm roster.
With a high school student population of less than 100 students, Steiner's participation numbers aren't the greatest. Coach Nick Sherwood doesn't let his players use it as a crutch.
"That's our team we have seven guys. We're over it," Sherwood said after Steiner's loss on Tuesday. "We try to get our rotations going to where our bench players get some minutes."
More Game of the Week coverage: Game story | Boxscore | Photo Gallery
Arbor Prep won 65-58 on Tuesday thanks to a 5-0 run in the final two minutes, 28 seconds of the game. It would be easy to say that fatigue set in and Prep used its fresh legs at the end to pull away.
But that wasn't the case. Sure, Prep pulled away, but it wasn't for lack of conditioning on the part of the Storm.
"I actually looked at my guys in the fourth quarter and I said I think (Arbor Prep is) more tired than we are and that's because we run," Sherwood said. "That's all we do, all practice long."
Arbor Prep coach Don Spencer was impressed with stamina of the short-benched team as well.
"I thought (Rudolf Steiner) deserved to win the game. I thought they played with more focus, more effort and more passion than we did," Spencer said. "He had them ready to play."
The Storm players aren't just forced to be well-conditioned because of their small roster size. They're forced to play smarter. The referees were quick with their whistles on Tuesday and by the end of the game nearly every player on Steiner had three or four fouls.
But no one fouled out.
"You have to play smart defense. You have to be cognizant of how many players you have," said Steiner forward Steven Molitor who led all scorers with 21 points, and played much of the fourth quarter with four fouls. "All of us had three or four by the end of the game. You just have to roll with it."
One luxury of having only seven players: there's no dissent in the Steiner locker room about playing time, and literally everyone has a significant contribution every single night.
"When we win, it's a team win, everyone does their part," Molitor said. "We're going to win as a team and lose as a team."
Game of the Week
You have until Saturday at noon to vote for next week's Game of the Week:
Pete Cunningham covers sports for AnnArbor.com. He can be reached at petercunningham@annarbor.com. Follow him on Twitter @petcunningham.