Posted on
Thu, Jul 4, 2013 : 5:30 a.m.
Baseball all-star game gives Demetrius Sims and family one final sendoff
By Pete Cunningham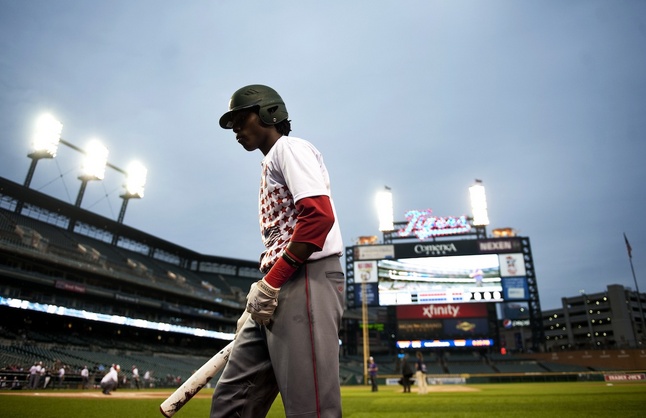 Daniel Brenner | AnnArbor.com
As the rain relentlessly poured down at Comerica Park in Detroit on Monday, many of the 1,100 fans at the Michigan High School Baseball Coaches Association All Star Game hoped aloud that the game would be moved to Tuesday. Former Huron High School standout Demetrius Sims and the 30 family members and friends who showed up to watch him were not among them.
Sims had an 8:15 a.m. flight to catch on Tuesday that would take him back to Florida where he would resume the jumpstart to his college baseball career. While most high school seniors get to enjoy a summer of graduation parties before heading off to college, Sims began classes at Bethune-Cookman University in Daytona Beach just two weeks after his final high school game.
Sims moved down to Florida on June 23 and began taking classes and participating in workouts with baseball team two days later. Members of Bethune-Cookman's baseball team live in off-campus apartments rather than dorms so as to avoid the distractions of being the most popular team on a campus located in Spring Break heaven.
Sims' roommate won't arrive until the fall, so he's on his own as he gets acclimated to the college life and playing in the extreme heat.
"It's definitely different to adapt to. Making your own breakfast, just getting the food prepared. Getting up and going to class on your own," said Sims. "I had a choice, but the head coach wanted us to come in and get adapted to the environment to be on top of everything for the fall."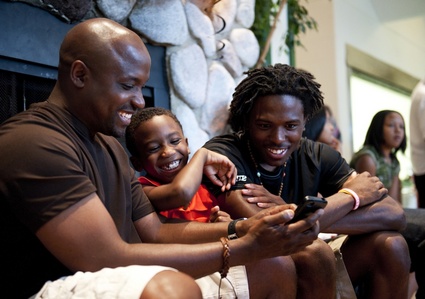 Daniel Brenner | AnnArbor.com
Sims spent a week at school before returning home to participate in the MHSBCA All-Star game. His short time home was packed full of family activities, including six graduation parties and the christening of
his niece, Onestee.
"It feels like I haven't seen them in forever and I've only been away from them for like a week," Sims said. "It's definitely different not being with my family every day, so I'm excited to see them."
Sims' weekend, much like his life, was a balance of family and baseball. In addition to working out with the all-star team and attending a banquet in Detroit, Sims and his father Don snuck away for batting and fielding practice at Huron's field.
Demetrius still has a key to the equipment shack.
"A nice thing about it is, at Huron he's played football, baseball and basketball all four years, which is great, but he's never really had an opportunity to focus just on baseball," Don said. "We're looking forward to his being 100 percent into the sport that he loves and just going for it and seeing where it can carry you."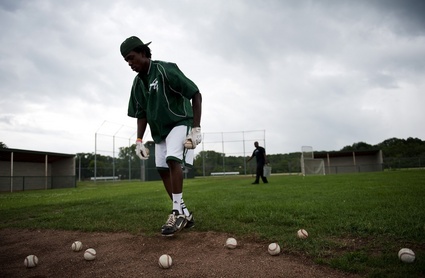 Daniel Brenner | AnnArbor.com
It has been an exciting year for Demetrius and his family with him accepting his scholarship offer to Bethune-Cookman and his older brother Dion - who played football and basketball at Michigan State -
getting drafted by the Miami Dolphins
. Don said it's a dream come true to have both of his boys in the same state, one starting his professional career, the other his collegiate.
It's a stark contrast to where the family was when Demetrius and Dion were at the beginning of their high school and college careers three years ago. Don lost his administrative job at the University of Michigan and pleaded guilty to embezzlement charges for purchasing computers using university funds and reselling them to pocket the cash. Dion, charged in a related case, was suspended for a year from football. Both received probation.
"We're all recovering from that unfortunate incident," Don said. "You go through adversity and if you can withstand all the rough times and the heartaches and you can overcome it, there's always good things on the other side."
"It was a very emotional and disappointing time in our lives. But we are very strong in our faith and we believed we would bounce back from it as a family and we have," said Daphne Sims, Demetrius' mother.
Don said the support from the community made it an easy choice for him and his family to stay. Don said he spoke with Demetrius about the negativity he would no doubt encounter following the case and has admired the way his son dealt with everything.
"It was basically like, 'you are an individual. You have goals and we will be there to support you, no matter what happens, you just keep doing athletically as well as you can, academically, socially. This has nothing to do with you,'" Don recalled. "Everything that you may hear or read, you won't understand it.
"Just let it be like water off a duck's back. Just let it roll off."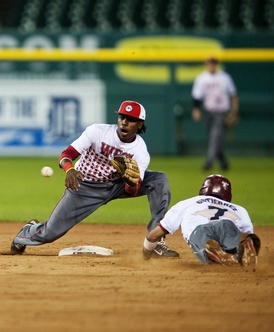 Daniel Brenner | AnnArbor.com
The weather finally cleared up at Comerica Park on Monday and after an hour-and-a-half delay - much to the joy of all who showed up in support of Demetrius - the teams played ball. Demetrius started at shortstop and from the lead off spot for the West team, going 0-for-3 from the plate with a solid performance in the field
during a 9-4 loss.
Regardless of the results, no one was happier to see the game played than Daphne, who proudly sported her new Bethune-Cookman sweatshirt. She choked back tears as she discussed the fact that after the game, Demetrius would be on a plane back to Florida.
"It's been emotionally a roller coaster because I'm not ready to let him go… but it's his dream and I want him to go live his dream, even if he has to be far away," Daphne said. "Thank goodness for FaceTime and Skype."