Big shoes to fill at Skyline and Pioneer and more Washtenaw County 2012 football preview notes
Posted on Thu, Aug 16, 2012 : 5:45 a.m.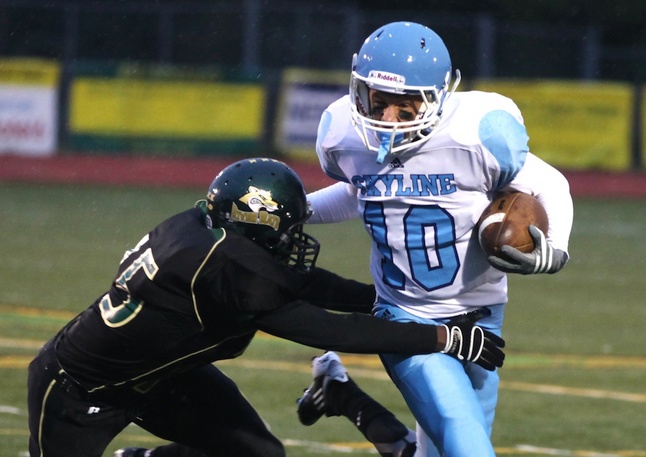 Skyline High School wide receiver Jack Clark was able to fly under the radar in his junior season. Well, as much as leading the team in receptions with 49 catches for four touchdowns and gaining 510 yards is flying under the radar.

They were impressive numbers, but they paled in comparison to his All-State teammates Jordan Woods (45 receptions, 1,163 yards, 16 TDs) and Theron Wilson (25 receptions, 607 yards, 11 TDs).

With Wilson and Woods both graduated, Clark knows he'll be the focus of many teams' coverage.

"To really take that role as the number one receiver after having obviously two all-staters last year is going to be some big shoes to fill, but I think I'm capable of doing it," Clark said. Clark's happy to simply get the opportunity to fill those shoes and not those of graduated quarterback Andrew Copp who completed 96 of 156 passes (61.5 percent) for 1,732 yards and 27 touchdowns in just six-and-a-half games last year and was also an All-State selection.
ANNARBOR.COM HIGH SCHOOL FOOTBALL PREVIEW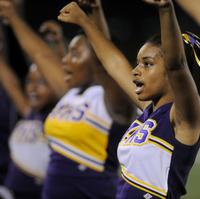 Ready for the high school football season to begin? Be sure to check out AnnArbor.com's team-by-team breakdown of every team in Washtenaw County, available
online
and in print on Sunday.
Clark filled in at quarterback some last year after Copp's injury, but receiver is his preferred position, especially after experiencing some arm issues during the baseball season.
"I mean I'll do what I have to do to make this team successful, but right now that's play receiver," Clark said.
While Clark is the a proven entity trying to fill the void of two stars, at Pioneer High School two unproven entities will attempt to fill the void left by one star, Drake Johnson.
Johnson rushed for 2,800 yards and 38 touchdowns last year and Bashir Garain and Zak Davis will try to fill the gap his absence leaves. Their offensive line have confidence they can get the job done.
"We have a bunch of good backs this year, so it's not going to be that hard to replace (Johnson) because we have a bunch of good athletic players," said senior center Joe Osinski.
Davis was effective in limited time last season averaging 8.9 yards per carry and scoring three touchdowns on the year. He wasn't just a change of pace back, he liked to change the jersey on his back. Davis often switched uniforms at halftime, much to the dismay of anyone keeping stats.
Davis made his final uniform switch this offseason, to number two, Johnson's old number.
"I got Drake's jersey, now it's time to follow what he did," Davis said.
Former coach, current teacher showdowns
There will be some interesting games on the schedule for many Washtenaw County coaches in the early weeks as they square off against old teams and current pupils.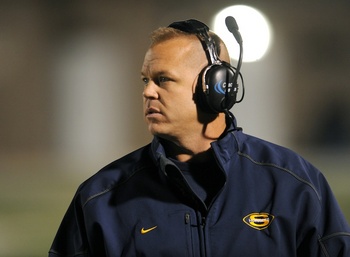 Former
Saline High School
head coach
Mike Glennie
- who led Saline to the playoffs five times during his tenure - is now the offensive coordinator at Pioneer under
Paul Test
. Also on Test's staff is
Tom Barbieri
, who was fired as coach at Dexter two years ago.
Both Barbieri and Glennie led their respective teams for a decade and both still teach in the those districts. Pioneer takes on Dexter and Saline in back-to-back weeks.
"Weeks three and four are going to be a lot of fun," said Test with a sly grin.
In a similar situation is Ann Arbor Father Gabriel Richard coach Brian Lemons, who takes on his former team, Whitmore Lake in Week 2. Lemons is a teacher at Whitmore Lake High School.
"Thank God that game's happening before school starts," said Lemons.
Power in platooning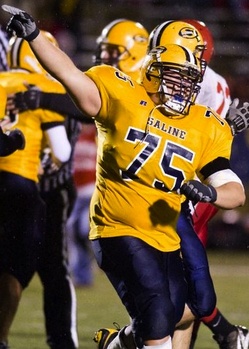 Both Palka and Lemons preach the benefits of platooning the offense and defense in order to keep players' bodies more fresh. Both are putting their money where their mouth is and moving players effective in the trenches on both sides of the ball exclusively to defense.
Palka with senior Casey Schukow, who at 6-0, 275 pounds has been a starter on the offensive line since he was a sophomore, and Lemons with 6-2, 220 pound senior Drew Deidrich who started on offense last year.
"I just think Casey can be a force if he just focuses on the defensive side," Palka said.
With a significantly smaller student body at Class B Gabriel Richard than Saline (515 students to 1,849) platooning is not always feasible, but Lemons said he's going to try to stick with it as much as possible.
"We have four or five guys who are hard to get off the field," Lemons said. "If we get into a pinch we might put our best 11 out there, but we're trying to limit that as much as possible."
Home field advantage
After making the playoffs for the first time last season, expectations for the Lincoln High School football team are high. Head coach Chris Westfall expects his team to return to the playoffs, but with one difference.
AnnArbor.com file photo
"The goal this year is to play a home game in the playoffs," Westfall said. "That's what we'd like to see, that's what we're working for."
Lincoln was 4-1 at home last season highlighted by a victory over Dexter that came in the final minutes of the game and perennial playoff and SEC White title contender Adrian. As the Railsplitters find more success, Westfall feels that his team can capitalize on the atmosphere created by the fans.
"You got to come here to see it. It is old time, band going, cheerleaders going, the stands are packed, everybody's here; it is a great place to play a game."
Lincoln spends the first three weeks of the season on the road with it's first home game coming September 14 vs. Tecumseh.
Returning leaders
Here are some seniors to watch in Washtenaw County who led their teams as juniors: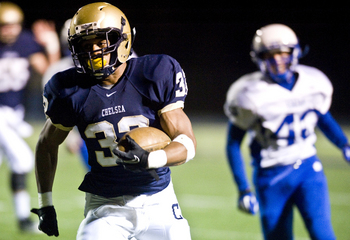 AnnArbor.com file photo
Berkley Edwards, Chelsea, RB, rushed for 1,520 yards and 18 touchdowns last season.

Ashton Hundley, Gabriel Richard, DB/RB/WR, had three interceptions on defense and 354 rushing yards and three touchdowns and 118 receiving yards.

Andrew Grafton, Dexter, LB, led Dexter with 75 tackles including 5.5 for loss, a sack, a forced fumble and three pass breakups.

Willie Elam, Skyline, LB, led team with 50 tackles and an interception.

Nate Bossory, Chelsea, QB, threw for 2,034 yards and 26 touchdowns in leading Manchester to the playoffs.

Steve Tracy, Father Gabriel Richard, DB/WR, Had 54.5 tackles for the Irish and two interceptions. Was also team's leading receiver with 26 receptions for 397 yards and five touchdowns.
Honoring fallen coach
Former Saline High School football assistant coach Dean Ledford, who was also a former player at Saline, died on Wed. July 11 at the age 25. It was a blow that shocked the program and the team will be honoring him this season.
Stickers with his initials will be worn on the helmets of the freshman and JV teams and possibly the varsity team faccording to Palka. Palka also plans to honor one senior annually with the "Dean Ledford Leadership Award."
Ledford's parents have set up the Dean Ledford Memorial Fund which will be used to fund pay-to-play scholarships at the high school.
Game of the week poll
Don't forget to vote in the AnnArbor.com/Mlive.com high school game of the week poll. The winning game will get the Super Bowl treatment from our sports staff, with with two reporters to provide a variety of stories, photos, stats and a live chat.
The Pioneer versus Warren De La Salle matchup has been leading since day one of the poll, so any Ypsilanti, Milan, Chelsea or Skyline fans have some catching up to do.
-- Matt Durr contributed to this report.