Posted on
Fri, Apr 26, 2013 : 8:15 a.m.
Brody Stevens hopes to become next athlete to compete for both Skyline and USA Hockey
By Kyle Austin
Daniel Brenner | AnnArbor.com
Brody Stevens went to two sports team tryouts last month, and did well at both of them — but that may soon be a problem.
Stevens tried out for Skyline's varsity baseball team in mid-March, and made the team for this spring as its starting shortstop.
A week later, he tried out for USA Hockey's Under-17 National Team Development Program, and soon after received an invitation to join one of the most prestigious youth hockey programs in the country for its 2013-14 winter season.
Here's the catch: USA Hockey players typically haven't been allowed to play high school sports. So Stevens' first season of varsity baseball also could be his last.
"I have to have a conversation with the coaching staff at USA," Stevens said. "They have to see how far a season goes, because playoffs usually go into the beginning of baseball."
If he is to become a USA Hockey player, as well as a high school athlete, he's in the right place. Last year, the NTDP made an exception for Andrew Copp to play football at Skyline while also suiting up for USA Hockey.
"He was really the first player to do that, so they're trying to do it a little bit more," Stevens said. "USA's kind of stingy about their players, and they protect them really well, and it's a good thing because players that are there should be there and should be one-sport athletes."
While Copp set a precedent of competing in high school sports, Stevens said he's aware of at least one player who wanted to play high school baseball but couldn't. The decision will depend on how far his hockey team advances in the playoffs, how much overlap that would be with Skyline's baseball season, and — according to Stevens — how much USA Hockey wants to protect him.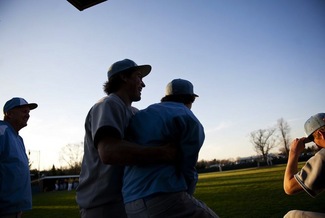 Daniel Brenner I AnnArbor.com
"It depends on how good of a hockey player they think I am, I guess." Stevens said with a smile
Stevens' big break as a hockey player is coming just as he's starting to come into his own as a baseball player, too. He played junior varsity last year at Jackson Lumen Christi, and transferred to Skyline after his family moved to Ann Arbor.
When he showed up to tryouts, he wasn't sure if he would make the team. Skyline coach Frank Garcia said his athleticism immediately shined through, and made him the No. 6 hitter in the lineup for the season opener.
His time there didn't last long.
"After one game he was our four hitter, he proved himself," Garcia said. "Just a phenomenal baseball player."
That's where Stevens hit in Monday's doubleheader sweep against Chelsea, when he went 3-for-6 with five RBIs.
"The fact that he moved me up to the four hole shows that he has confidence in me and helped me swinging the bat, just gave me more confidence at the plate, just in being able to hit the ball," Stevens said.
His hockey season didn't go too badly, either. Stevens put up 29 points in 26 games playing for Detroit Compuware's Midget Minor team last season.
And being a two-sport athlete actually means Stevens is slowing down.
"I get really sore, and I'm kind of used to being sore now," Stevens said. "I used to play tennis, golf and swim too. I've always been good with balancing other sports. So it's actually kind of a break for me."
And while his days as a two-sport athlete may be numbered, that's only because his hockey career is going well, and Stevens is OK with that.
"I'd be sad to give up baseball, but hockey's been my number one sport since I started playing it," Stevens said. "It's always been my favorite thing to do."
Kyle Austin covers sports for AnnArbor.com. He can be reached at kyleaustin@annarbor.com or 734-623-2535. Follow him on Twitter @KAustin_AA.