Posted on
Fri, Jan 11, 2013 : 10:30 p.m.
Chelsea moves to 3-0 in SEC with win over Tecumseh, and more Friday night results
By Kyle Austin
This file will be updated
AnnArbor.com Washtenaw County Scoreboard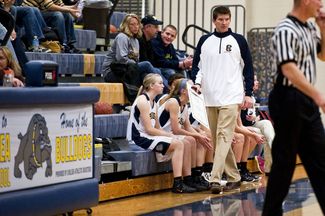 Joseph Tobianski | AnnArbor.com
Chelsea 53, Tecumseh 28
Story | Boxscore
Chelsea's Grace Sauers scored 21 points and had four steals, and Riley Singleton had nine points, eight rebounds and eight blocks. Bailey Darwin added 12 points.
Chelsea (5-3, 3-0 Southeastern Conference) led 23-9 at halftime.
"We controlled the tempo; we made them play faster in the first half and we got some easy baskets," Chelsea coach Todd Blomquist said.
Pioneer 37, Monroe 35
Story | Boxscore
In a Southeastern Conference Red Division showdown, Pioneer outscored Monroe 11-7 in the fourth quarter and came back for the victory.
Pioneer improved to 6-2 overall and 2-1 in league play with the win.
Jennifer Fichera and Lizzie Fichera each scored eight points for Pioneer.
Temperance Bedford 53, Skyline 49
Story | Boxscore
Temperance Bedford outscored Ann Arbor Skyline 12-6 in the fourth quarter to earn the four-point win.
Skyline (5-5, 0-3 SEC Red) jumped out to a 22-13 lead after the end of the first quarter, but Bedford made a run of its own in the second quarter and cut its deficit to two points by halftime.
"We did a great job of battling a lot of adversity, and we had a tough time getting to the line tonight," Skyline coach Keith Wade said. "We had a chance with a few minutes left to make some plays and win the game, but we just didnt make those plays and couldn't come away with the win."
Skyline's Janae Sims led her team with 14 points, and Mea Morris added 12 points. Anita Vandermeulen rounded out the Skyline double-digit scoring with 11 points.
Lincoln 43, Adrian 25
Story | Boxscore
Arie Cargor led Ypsilanti Lincoln with 17 points, and Dominique Foley added 13 as Lincoln improved to 8-2.
"We were able to really pressure them in the halfcourt and we forced quite a few turnovers that we were able to capitalize on," said Lincoln coach Mike Foley.
"The system we run really doesn't allow one player to dominate the game. We want balance, so when the pressure is on, we aren't relying on one person."
Milan 45, Dearborn Advanced Tech 11
Story | Boxscore
Lexus Kersey scored a game-high 15 points to lead Milan (2-7) and Maddy Splitt scored nine in contribution.
"Our girls played tough tonight," Milan coach Brad Baden said. "Once we got some of the early jitters out of the way, we played incredibly well. The girls really found a lot of success tonight."
Willow Run 58, Detroit Henry Ford Academy 33
Story | Boxscore
Sarah Tubbs led Ypsilanti Willow Run (3-4) with 21 points, while Julia Holston added 10.
"Sarah is certainly one of our most competitive and aggressive players," Willow Run coach Cliff Russell said. "She has no quit in her and I think tonight that came together. She dictated the play much of the night, and her scoring had a lot to do with her aggressiveness when taking the ball to the basket."
Manchester 66, East Jackson 38
Story | Boxscore
McKenna Erkfritz's 25-point, 15-rebound output spearheaded Manchester's move to 6-0 in the Cascades Conference.
The visiting Flying Dutchmen outscored East Jackson in every quarter, as they built a 33-21 lead by halftime and continued to grow the margin in the second half.
Manchester's Jessie Manders had 13 points, five rebounds and five assists; she and Erkfritz recorded four blocks and three steals apiece. Taylor Manders scored 10.
Greenhills 49, Sterling Heights Parkway Christian 38
Story | Boxscore
Greenhills (3-4) earned its third win of the season, as Jackie Oestreich scored 29 points and had 14 rebounds and seven steals.
Greenhills entered the second half up by two points, but used its 26-point second half to distance itself from Parkway Christian.
"We were up by a lot in the first quarter and let it get away from us," Greenhills coach Rachel Cortis said. "I got the girls heads back in the game, and we were fine though the third and fourth quarter. We got back to the basics, tweaked some fundamentals, and then we were fine."
Arbor Prep 78, Dearborn Henry Ford 31
Story | Boxscore
Arbor Prep (7-3) had five players score in the double digits and was led by Karlee Morris who scored 16 points and had seven rebounds and five steals.
"(Henry Ford) played our style of basketball," Arbor Prep coach Rod Wells said. "They started four guards, and played at a fast pace. They played right into our hands."
After allowing Henry Ford to score 26 points in the first half, Arbor Prep held its opponent to only five points in the second half.
Rudolf Steiner 51, Marshall Academy 14
Story | Boxscore
Annika Sproull scored 15 points and Abby Andrews had a double-double, 11 points and 11 rebounds, to lead Ann Arbor Rudolf Steiner to the Mid South Conference home win.
"Abby is a very good center; she's averaging 14 or 15 a game," Rudolf Steiner assistant coach Eric Sproull said. "She played big in the middle."
Georgie Andrews added 10 points for Rudolf Steiner (5-0, 2-0 conference)
Washtenaw Christian 49, Livingston Christian 24
Story | Boxscore
Kara Doss scored 15 points and Michaela Donat 14 as Saline Washtenaw Christian bounced back from a loss the previous day and gained the home win.
"We had a tough game yesterday, so we were motivated to get the win tonight and it showed in the girls' effort," Washtenaw coach Bob Trevino said. "The girls got off to solid start right off the bat, which has been a problem for us all year. We're a young squad, so we are developing as we go along."
In addition to Doss and Donat's big nights, Washtenaw (2-4) also gained 10 points from Rachel Ballantyne and six from Jurnee Tipton.
Sand Creek 68, Whitmore Lake 43
Details not available.
AnnArbor.com coverage
Dexter 54, Ypsilanti 26: Story | Boxscore | Photo Gallery
Game of the Week
Game of the Week voting closes at noon Saturday, and it'll take some work to catch Huron-Pioneer boys.