Posted on
Fri, Jan 11, 2013 : 10:44 p.m.
Dexter girls basketball presses early, cruises to big win over Ypsilanti, 54-26
By Kyle Austin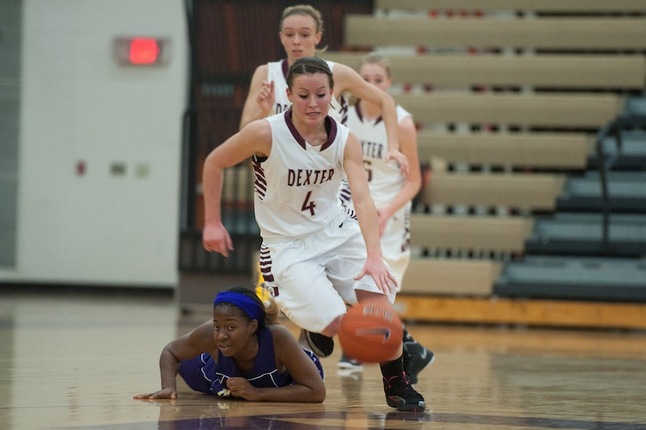 Courtney Sacco | AnnArbor.com
The goal from the start, according to Dexter point guard Makenzie Svirha, is to mess the other team up. Get in their face, corner them, and get the ball.
With six forced turnovers on seven possessions, and the first eight points of the game, the Dreadnaughts did just that Friday night at Dexter High School against Ypsilanti.
The Dexter girls' press defense did its job out of the gate, as the Dreadnaughts jumped out to a big lead and never looked back in a 54-26 win Friday night at home.
More coverage: Boxscore | Photo Gallery | Girls roundup
Dexter moves to 3-0 in the SEC White and 9-1 on the year. Ypsilanti is 5-2 overall, 1-2 in the league.
Ypsilanti settled down after the opening minutes, but still finished the first quarter with 11 turnovers, as Dexter led 19-8.
The Phoenix mounted a comeback in the beginning of the second quarter, pulling to within seven as 19-12.
From there, though, Dexter went on a 14-0 run and sealed the win before halftime.
"We were just out of it," Ypsilanti coach Chris Slater said. "We were helter skelter, and we needed to relax more, that's what I tried to go over: relax, relax, relax."
Svirha and Teia McGahey each had 16 points to lead Dexter. Emma Kill also finished in double figures with 10, and Riley McDonald had a team-high nine rebounds.
Ypsilanti's Cara Easley, meanwhile, finished with 17 points and 13 rebounds while taking a beating underneath from Dexter's forwards.
"I was happy with her performance," Slater said. "She seemed like she was the only one that had something going."
Outside of Easley, though the Phoenix were able to get little going. After committing an over-and-back violation just after the tipoff, Dexter hit a 3-pointer on the other end. The Dreadnaughts would go on to score on their next three possessions, too.
Svirha finished with nine of her team's first 21 points, keying the Dreadnaughts' early run.
"She penetrates into the lane and she has great vision," Dexter coach Mike Bavineau said. "She's always ready to make that next extra pass, and I thought that we did that a few times, which opened us up for some really quality jumpshots."
And even when they led comfortably, the Dreadnaughts still scored consistently, and didn't let down on defense.
"I would definitely say this was one of our strongest games," Svirha said. "Everyone was putting up shots, everyone was rebounding, everyone was playing aggressively."
Game of the Week
AnnArbor.com Game of the Week voting is open until Saturday at noon.
Kyle Austin covers sports for AnnArbor.com. He can be reached at kyleaustin@annarbor.com or 734-623-2535. Follow him on Twitter @KAustin_AA.