Posted on
Fri, Oct 5, 2012 : 11:28 p.m.
Special teams give Chelsea the edge in 31-28 win over Tecumseh
By Pete Cunningham
Updated at 11:15 p.m.
Chelsea High School kicker Zach Rabbit was 13-for-13 in his career for field goals when the Bulldogs' game against undefeated Tecumseh began Friday night.
With a steady rain growing heavier by the minute in the fourth quarter and with the wind in the face of Rabbitt as he stared down a 42-yard attempt, Chelsea coach Brad Bush said he had a lot of hesitation to call for a kick.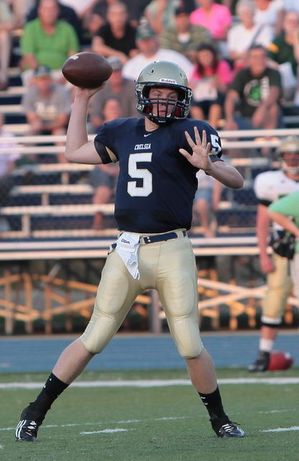 AnnArbor.com file photo
Bush decided to go with the guy who has yet to let him down, and it proved to be the difference in Chelsea's 31-28 win.
"All he does is make field goals," Bush said. "I had a lot of hesitation (because of the weather and distance), but if you've got a guy who's 13-for-13, you give him a shot…he's 14-for-14. I mean I've never heard of that, ever. Ever."
A chop block penalty on Tecumseh inside the red zone stalled the Indians' final comeback attempt with under a minute remaining in the game.
More coverage: Boxscore at MLive.com | Friday night football roundup
Alex Maloney intercepted a Ben Dreslinski pass in the end zone on fourth down and 20 to go from the Chelsea 25-yard line to end a late Indians comeback attempt with 40 seconds left on the clock.
It was Tecumseh's first loss of the season, tying the teams atop the Southeastern Conference White standings with identical 4-1 league records.
Tecumseh (6-1, 4-1 SEC White) hadn't trailed all year and has won every game by an average of nearly four touchdowns. But the Indians never led against Chelsea (4-3, 4-1 SEC White), who went ahead with a halfback pass late in the first quarter and made it 14-0 seconds later, scoring on a fumble return on the ensuing kickoff.
Colton Platt took a reverse deep in the Chelsea backfield and the Tecumseh secondary bit hard, leaving Kyle Koseck wide open down the middle of the field. Platt threw the halfback pass pass perfectly and Koseck went into the end zone untouched to cap a six-play, 71 yard drive.
"My whole thought process was if we're going to do it, we gotta do it before it starts raining," Bush said.
On the ensuing kickoff there was some confusion as the Tecumseh returner fumbled. The Indians thought the play was dead, but Chelsea's Tyler Fullerton scooped up the fumble and returned it 18 yards for a score.
With 1:11 left in the quarter, the score was tied 0-0. Eight seconds of game clock later and the Bulldogs had a 14-0 lead.
Dreslinski, who finished 17-of-30 for 270 yards passing and a touchdown and also ran for a touchdown, was disappointed in the loss, but encouraged by his team's ability to nearly comeback in the end.
"We really needed (to play in a close game). It told me a lot about my team that we wouldn't give up even though we were down," Dreslinski said. "Showed a lot of fight in our team. Showed a lot of fight in the defense, offense, special teams everybody, so I think this loss is going to perfect for us going on in the season and into the playoffs"
There wasn't much of a difference in talent on offense or defense between the teams on Friday night. But Chelsea's special teams stood head and shoulders above Tecumseh. Chelsea scored on a 42-yard field goal, a fumbled kickoff, recovered an onside kick and blocked an extra point.
It certainly didn't hurt Chelsea to have Berkley Edwards in the backfield, either. Edwards had his third straight multiple touchdown game with more than 200 yards rushing as he finished with 232 yards and a two touchdowns on 29 attempts.
With Tecumseh down 14-13, Edwards ripped off a 65 yard run with under a minute left in the first half. Though he was brought down shy of the goal line, he would score three plays later as Chelsea took a 21-13 lead into the break.
After the defense stopped Tecumseh on fourth-and-short deep in Chelsea territory on the opening drive of the third quarter, Edwards scored on a 77 yard run to put the Bulldogs up 28-13.
After recovering an onside kick, it looked like Chelsea might comfortably put Tecumseh away, but Dreslinski had other plans.
A steady downpour had hindered Tecumseh's comeback efforts early in the second half as spot on passes were being dropped by normally sure-handed Tecumseh receivers. But the wet conditions worked in the Indians' favor as well as they were able to recover an Edwards fumble on the Chelsea 30-yard line.
Dreslinski completed a seven yard pass on fourth-and-three and ran the ball in on the next play. A two-point conversion made the score 28-21 in the third quarter. Rabbitt's field goal in the fourth made it a two-score game.
Rabbitt didn't hit it true and thought he may come up short at first.
"I dragged my foot a little and it was a little short," Rabbitt said. "Once I saw it get there and go over, it was awesome. I sweated a little."
Tecumseh receiver Casey Hunt finished with five catches for 100 yards.
Pete Cunningham covers sports for AnnArbor.com. He can be reached at petercunningham@annarbor.com. Follow him on Twitter @petcunningham.