Posted on
Thu, Aug 29, 2013 : 11:42 p.m.
Clinton running attack too strong for Manchester in 113th meeting between teams
By Matt Durr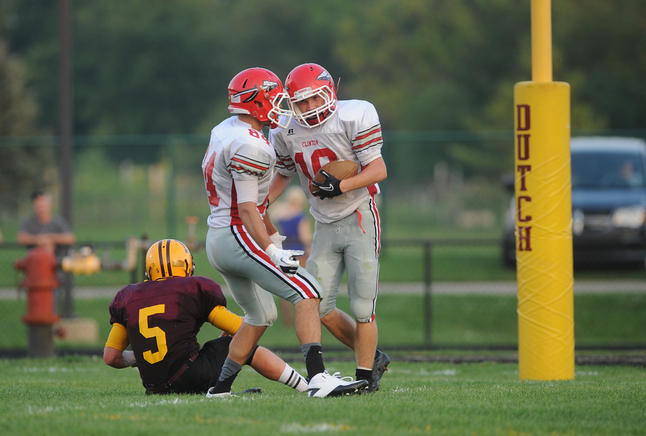 Brianne Bowen | AnnArbor.com
Just because you know what the other team is going to do, doesn't mean you can stop it.
The Manchester Flying Dutchman found that out the hard way Thursday night, dropping their season-opening game to the rival Clinton Redskins 26-14 in the 113th meeting between the teams.
Everyone in the stadium picked up early on that the Redskins' game plan was to run the football, then run it again and run it just a little more for good measure. However, the Dutch were unable to contain the barrage of running backs coming at them as the Redskins piled up 444 yards of offense, 340 of which came via the running game.
More coverage: Boxscore | Photo Gallery | Football roundup
"The defense was on the field forever and those defensive guys are our offensive guys," said Manchester head coach Wes Gall. "So when it goes the other way, they don't have the juice they normally would. We knew the heat was going to be a factor and we ran some people to make some changes. But we had to put our best against their best.
"An offense that controls the ball the way they controlled the ball, they get to rest."
The Redskins dominated time of possession, holding on to the ball for almost 34 of the game's 48 minutes. The Redskins ran 67 plays compared to Manchester's 27. Gall said he was surprised at how much the Redskins ran the football, but knew the opposing offense provided some challenges.
"(T.J.) Baker is a heck of a quarterback. I don't think they ran him as much as they have in the past," Gall said. "They have other guys that can run the ball. (Brett) Tschirhart is a monster, with him you want to have a six front, but you can't always do that because you have to worry about Baker slipping out.
"I thought they were going to pass more than they did. I think their game plan was my game plan. They wanted 16-play drives and so did we."
The Dutch showed some life midway through the third quarter when Trenton Upshaw forced Clinton running back Mathew Sexton to fumble. Romell Westcott recovered the fumble for the Dutch and two plays later, quarterback Ryan Stiles ran a draw for a 25-yard touchdown remaking the score 14-6.
Clinton would respond with a 16-play, 69-yard drive that ate up more than nine minutes of clock and was capped off by a Baker 2-yard touchdown run giving the Redskins a 20-6 lead.
"There's the ballgame right there," said Clinton head coach Scott McNitt. "If you have to pinpoint something, that's the ballgame. Because they had the momentum, we were on our heels a little bit and we were able to grind it out."
The Redskins pounded the ball using a thunder and lightning approach with junior speedster Collin Poore leading Clinton with 118 yards rushing and a touchdown on 19 carries. A Bruising fullback, Tschirhart added 77 yards on the ground on 14 carries.
Baker added 112 yards on the ground to go along with two rushing touchdowns. He also was perfect passing on the day going 7-for-7 for 104 yards and a touchdown.
"That was our goal to run it and to pound it," McNitt said. "They've been a nemesis of ours for years… to win on their field in the first game of the year is huge for our team."
Aside from a late scoring drive, the Dutch struggled offensively mounting only 134 yards of offense on the day and gaining only four first downs. Stiles was just 5-of-9 passing for 69 yards, most of which came on the last drive of the game. Jim Kurasz ran the ball eight times for 25 yards and caught one pass for 25 yards and a touchdown to lead the Dutch.
"They didn't give us time to pass. I have to hand it to them defensively," Gall said. "They came right at us. Whether we didn't sustain blocks or they got off blocks, we'll know in the film. I don't think they did anything that we weren't expecting. It was a matter of their kids saying 'I want to get off that block and get the job done.'"
Clinton opened the scoring on its first possession with a nine-play drive capped by a 19 yard touchdown run by Poore. Baker found Sexton for a 34-yard touchdown pass late in the second quarter to give the Redskins a 14-0 lead at the half.